Old-Time Radio
Golden Age of Radio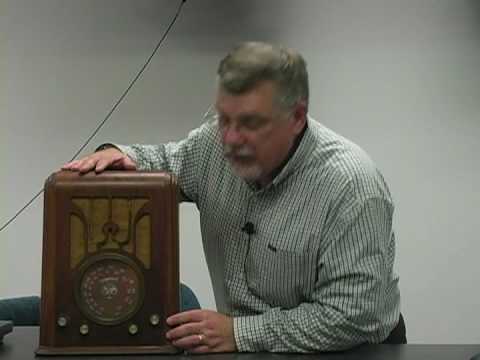 Usng a 1939 Crosley radio, the instructor takes you through a brief overview of the development of radio programming from 1916 through the early 1950's.
The Golden Age of Radio (sometimes referred to as old-time radio) refers to a period of radio programming in the United States lasting from the proliferation of radio broadcasting in the early 1920s until television's replacement of radio as the primary home entertainment medium in the 1950s. During this period, when radio was dominant and filled with a variety of formats and genres, people regularly tuned in to their favorite radio programs. In fact, according to a 1947 C. E. Hooper survey, 82 out of 100 Americans were found to be radio listeners.
Origins
The broadcasts of live drama, comedy, music and news that characterize the Golden Age of Radio had a precedent in the Théâtrophone, commercially introduced in Paris in 1890 and available as late as 1932. It allowed subscribers to eavesdrop on live stage performances and hear news reports by means of a network of telephone lines. The development of radio eliminated the wires and subscription charges from this concept.
Boy learning how to build his own radio circa 1922.
On Christmas Eve 1906, Reginald Fessenden is said to have broadcast the first radio program, consisting of some violin playing and passages from the Bible. While Fessenden's role as an inventor and early radio experimenter is not in dispute, several contemporary radio researchers have questioned whether the Christmas Eve broadcast took place, or whether the date was in fact several weeks earlier. The first apparent published reference to the event was made in 1928 by H.P. Davis, Vice President of Westinghouse, in a lecture given at Harvard University. In 1932 Fessenden cited the Christmas Eve 1906 broadcast event in a letter he wrote to Vice President S.M. Kinter of Westinghouse. Fessenden's wife Helen recounts the broadcast in her book Fessenden: Builder of Tomorrows (1940), eight years after Fessenden's death. The issue of whether the 1906 Fessenden broadcast actually happened is discussed in Halper and Sterling's article "Seeking the Truth About Fessenden"[1] and also in James O'Neal's essays.   An annotated argument supporting Fessenden as the world's first radio broadcaster was offered in 2006 by Dr. John S. Belrose, Radioscientist Emeritus at the Communications Research Centre Canada, in his essay "Fessenden's 1906 Christmas Eve broadcast."
It was not until after the Titanic catastrophe in 1912 that radio for mass communication came into vogue, inspired first by the work of amateur ("ham") radio operators. Radio was especially important during World War I as it was vital for air and naval operations. World War I brought about major developments in radio, superseding the Morse code of the wireless telegraph with the vocal communication of the wireless telephone, through advancements in vacuum tube technology and the introduction of the transceiver.
After the war, numerous radio stations were born in the United States and set the standard for later radio programs. The first radio news program was broadcast on August 31, 1920 on the station 8MK in Detroit, Michigan; owned by The Detroit News, the station covered local election results. This was followed in 1920 with the first commercial radio station in the United States, KDKA, being established in Pittsburgh, Pennsylvania. The first regular entertainment programs were broadcast in 1922, and on March 10, Variety carried the front page headline: "Radio Sweeping Country: 1,000,000 Sets in Use."  A highlight of this time was the first Rose Bowl being broadcast on January 1, 1923 on the Los Angeles station KHJ.
Radio networks
Several radio networks broadcasted in the United States, airing programs nationwide. Their distribution made the golden age of radiopossible.   The networks declined in the early 1960s, with networks going defunct or selling off their stations.
The major networks were:
Types of programs
During the Golden Age of Radio, radio featured genres and formats popular in other forms of American entertainment—adventure, comedy, drama, horror, mystery, musical variety, romance, thrillers—along with classical music concerts, big band remotes, farm reports, news and commentary, panel discussions, quiz shows (beginning with Professor Quiz), sidewalk interviews (on Vox Pop), broadcasts, talent shows and weather forecasts.
Rehearsal for the World War II radio show You Can't Do Business with Hitler with John Flynn and Virginia Moore. This series of programs, broadcast at least once weekly by more than 790 radio stations in America, was written and produced by the radio section of the Office of War Information (OWI).
In the late 1920s, the sponsored musical feature was the most popular program format. Commercial messages were regarded as intrusive, so these shows usually displayed the sponsor's name in the title, as evidenced by such programs as The A&P Gypsies, Acousticon Hour, Champion Spark Plug Hour, The Clicquot Club Eskimos, The Flit Soldiers, The Fox Fur Trappers, The Goodrich Zippers, The Ingram Shavers, The Ipana Troubadors, The Planters Pickers, The Silvertown Cord Orchestra (featuring the Silver Masked Tenor), The Sylvania Foresters, The Yeast Foamers, King Biscuit Time (with Sonny Boy Williamson), The Health and Happiness Radio Show (with Hank Williams) and the Light Crust Doughboys (with Bob Wills and Milton Brown). During the 1930's and 1940's, the leading orchestras were heard often through big band remotes, and NBC's Monitor continued such remotes well into the 1950's by broadcasting live music from New York City jazz clubs to rural America.
Classical music programs on the air included The Voice of Firestone and The Bell Telephone Hour. Texaco sponsored the Metropolitan Opera radio broadcasts; the broadcasts, now sponsored by the Toll Brothers, continue to this day around the world, and are one of the few examples of live classical music still broadcast on radio. One of the most notable of all classical music radio programs of the Golden Age of Radio featured the celebrated Italian conductor Arturo Toscanini conducting the NBC Symphony Orchestra, which had been created especially for him. At that time, nearly all classical musicians and critics considered Toscanini the greatest living maestro. Popular songwriters such as George Gershwin were also featured on radio. (Gershwin, in addition to frequent appearances as a guest, also had his own program in 1934.) The New York Philharmonic also had weekly concerts on radio. There was no dedicated classical music radio station like NPR at that time, so classical music programs had to share the network they were broadcast on with more popular ones, much as in the days of television before the creation of NET and PBS.
Country music also enjoyed popularity. National Barn Dance, begun on Chicago's WLS in 1924, was picked up by NBC Radio in 1933. In 1925, WSM Barn Dance went on the air from Nashville. It was renamed the Grand Ole Opry in 1927 and NBC carried portions from 1944 to 1956. NBC also aired The Red Foley Show from 1951 to 1961, and ABC Radio carried Ozark Jubilee from 1953 to 1961.
Top comedy talents surfed the airwaves for many years: Fred Allen, Jack Benny, Victor Borge, Fanny Brice, Billie Burke, Bob Burns, Judy Canova, Jimmy Durante, Phil Harris, Bob Hope, Groucho Marx, Jean Shepherd, Red Skelton and Ed Wynn. More laughter was generated on such shows as Abbott and Costello, Amos 'n' Andy, Burns and Allen, Easy Aces, Ethel and Albert, Fibber McGee and Molly, The Goldbergs, The Great Gildersleeve, The Halls of Ivy (which featured screen star Ronald Colman and his wife Benita Hume), Meet Corliss Archer, Meet Millie, and Our Miss Brooks.
Radio comedy ran the gamut from the small town humor of Lum and Abner, Herb Shriner and Minnie Pearl to the dialect characterizations of Mel Blanc and the caustic sarcasm of Henry Morgan. Gags galore were delivered weekly on Stop Me If You've Heard This One and Can You Top This?, panel programs devoted to the art of telling jokes. Quiz shows were lampooned on It Pays to Be Ignorant, and other memorable parodies were presented by such satirists as Spike Jones, Stoopnagle and Budd, Stan Freberg and Bob and Ray. British comedy reached American shores in a major assault when NBC carried The Goon Show in the mid-1950's.
Radio-related World War II propaganda poster
Some shows originated as stage productions: Clifford Goldsmith's play What a Lifewas reworked into NBC's popular, long-running The Aldrich Family (1939–1953) with the familiar catchphrases "Henry! Henry Aldrich!," followed by Henry's answer, "Coming, Mother!" Moss Hart and George S. Kaufman's Pulitzer Prize-winning Broadway hit, You Can't Take It with You (1936), became a weekly situation comedy heard on Mutual (1944) with Everett Sloane and later on NBC (1951) with Walter Brennan.
Other shows were adapted from comic strips, such as Blondie, Dick Tracy, Gasoline Alley, The Gumps, Li'l Abner, Little Orphan Annie, Popeye the Sailor, Red Ryder, Reg'lar Fellers, Terry and the Pirates and Tillie the Toiler. Bob Montana's redheaded teen of comic strips and comic books was heard on radio's Archie Andrews from 1943 to 1953. The Timid Soul was a 1941–1942 comedy based on cartoonist H. T. Webster's famed Casper Milquetoast character, and Robert L. Ripley's Believe It or Not! was adapted to several different radio formats during the 1930s and 1940's.
The first soap opera, Clara, Lu, and Em was introduced in 1930 on Chicago's WGN. When daytime serials began in the early 1930s, they became known as soap operas because many were sponsored by soap products and detergents. The line-up of late afternoon adventure serials included Bobby Benson and the B-Bar-B Riders, The Cisco Kid, Jack Armstrong, the All-American Boy, Captain Midnight, and The Tom Mix Ralston Straight Shooters. Badges, rings, decoding devices and other radio premiums offered on these adventure shows were often allied with a sponsor's product, requiring the young listeners to mail in a box top from a breakfast cereal or other proof of purchase.
Outstanding radio dramas were presented on such programs as 26 by Corwin, NBC Short Story, Arch Oboler's Plays, Quiet, Please, and CBS Radio Workshop. Orson Welles's The Mercury Theatre on the Air and The Campbell Playhouse were considered by many critics to be the finest radio drama anthologies ever presented. They usually starred Welles in the leading role, along with celebrity guest stars such as Margaret Sullavan or Helen Hayes, in adaptations from literature, Broadway, and/or films. They included such titles as Liliom, Oliver Twist (a title now feared lost), A Tale of Two Cities, Lost Horizon, and The Murder of Roger Ackroyd. It was onMercury Theatre that Welles presented his celebrated-but-infamous adaptation of H. G. Wells's The War of the Worlds, formatted to sound like a breaking news program. Theatre Guild on the Air presented adaptations of classical and Broadway plays. Their Shakespeare adaptations included a one-hour Macbeth starring Maurice Evans and Judith Anderson, and a ninety-minute Hamlet, starring John Gielgud.   Recordings of many of these programs survive.
During the 1940s, Basil Rathbone and Nigel Bruce, famous for playing Sherlock Holmes and Doctor Watson in films, repeated their characterizations on radio on The New Adventures of Sherlock Holmes, which featured both original stories and episodes directly adapted from Arthur Conan Doyle's stories. None of the episodes in which Rathbone and Bruce starred on the radio program were filmed with the two actors as Holmes and Watson, so radio became the only medium in which audiences were able to experience Rathbone and Bruce appearing in some of the more famous Holmes stories, such as "The Speckled Band". There were also several dramatizations of Sherlock Holmes stories on radio without Rathbone and Bruce.
During the latter part of his career, celebrated actor John Barrymore starred in a radio program, Streamlined Shakespeare, which featured him in a series of one-hour adaptations of Shakespeare plays, many of which Barrymore never appeared in either on stage or in films, such as Twelfth Night (in which he played both Malvolio and Sir Toby Belch), and Macbeth.
Lux Radio Theater and The Screen Guild Theater presented adaptations of Hollywood movies, performed before a live audience, usually with cast members from the original films. Suspense, Escape, The Mysterious Traveler and Inner Sanctum Mysteries were popular thriller anthology series. Leading writers who created original material for radio included Norman Corwin, Carlton E. Morse,David Goodis, Archibald MacLeish, Arthur Miller, Arch Oboler, Wyllis Cooper, Rod Serling, Jay Bennett, and Irwin Shaw.