Delta Air Lines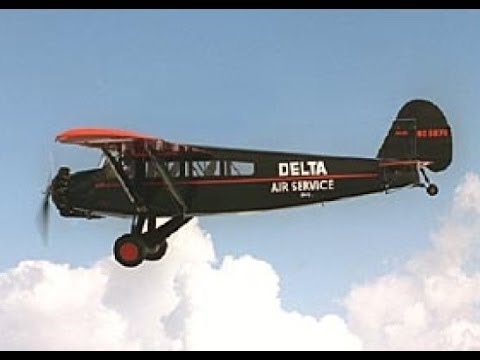 Delta through the Decades – The Evolution of an Air Line, highlights some of the historical events during Delta's rise from it's humble beginning as crop-duster to the World's Largest International Airline. The music Adiemus – that accompanies the presentation is from a 1994 Delta television commercial that aired in Europe.
History – 1924 through 1940
A Douglas DC-7 in Delta livery, circa 1955
Delta's origins can be traced to a decision by B. R. Coad and Collett E. Woolman. Coad was an employee of the U.S. Department of Agriculture's field laboratory in Tallulah, Louisiana; Woolman was with its extension service. They worked on finding a solution to the boll weevil infestation of cotton crops and concluded that the "dusting" of aninsecticide powder from the air would be the most effective form of treatment. Born from this decision was Huff Daland Dusters Incorporated, a crop-dusting operation founded on May 30, 1924, in Macon, Georgia, becoming the world's first aerial crop dusting company. The company moved to Monroe, Louisiana, in 1925. Woolman left his position with the extension service and in the off-season traveled with the company to Peru, where he helped to establish crop-dusting and passenger services. With this experience Woolman returned to the United States and in 1928 raised the capital to buy Huff Daland, executing the purchase on September 13, 1928, and renaming the company Delta Air Service, with headquarters in Monroe. The name Delta, referring to the Mississippi Delta, was suggested by Catherine Fitzgerald, a secretary who later would rise to the rank of an executive in the company.
Woolman purchased three Travel Air six-seat monoplanes and on June 17, 1929, inaugurated Delta's passenger service from Love Field in Dallas, Texas, to Jackson, Mississippi, via Shreveport and Monroe. Later in that year, service to Birmingham, Alabama, and Meridian, Mississippi, was added. The original directors of Delta Air Service were C.H. McHenry, Travis Oliver, and M.S. Biedenharn.
In 1930 the Delta Air Corporation (as it was then called) expanded eastward to include service to Atlanta, the fastest-growing city in the South, and westward to Fort Worth, Texas.   This service was terminated in 1930 after the "Spoils Conference" and the Post Office awarded the route to American Airlines. Delta's lack of success in winning a commercial airmail contract—the bread and butter of any aspiring air service—jeopardized its existence, and the company was forced to suspend passenger service.
A reprieve came for Delta on the heels of the "airmail scandal," when the U.S. Congress enacted the Air Mail Act of 1934. Woolman secured a low-bid contract for the new Route 33 airmail service between Dallas and Charleston, South Carolina, via Atlanta.   In August of that same year Delta resumed passenger services, flying Stinson Trimotors, with a route from Charleston, SC to Fort Worth, with stops in Columbia, SC, Augusta, Atlanta, Birmingham, and Meridian along the way.
1940s and 1950s
With the exception of the "Big Four" airlines (Eastern, TWA, United, American) that were favored with mail contracts and routes, the aviation industry in the 1930s was less a business than a high-stakes gamble. Safety remained a constant concern. An important step in regulation was the passage of the Civil Aeronautics Act of 1938, which created the Civil Aeronautics Board (CAB). The legislation was typical of U.S. president Franklin D. Roosevelt's second term, favoring business stabilization, growth, and safety within a competitive market. Delta was an early beneficiary and by 1943 obtained CAB approval to expand its route system toCincinnati, Ohio, to the north, Savannah to the east, and New Orleans, Louisiana, to the south. In the meantime, Delta upgraded its fleet to include Douglas DC-2s and DC-3s, and in 1940 added flight attendants to the flight crews. These aircraft established standards of reliability, safety, and passenger comfort; they also signaled the company's policy of staying technologically competitive.
With its headquarters in Atlanta since 1941, Delta was becoming an established southern-based carrier in the national air system.   In 1941, Delta moved its headquarters from Monroe to Atlanta, to center itself along its new route network that now stretched to Chicago, Miami, and New Orleans. The logo for Monroe Regional Airport is based on the Delta logo, in honor of it being the airline's birthplace and the original headquarters for Delta. America's entry into World War II (1941–45) slowed Delta's growth. With fewer aircraft in operation, Delta converted its Atlanta facility and personnel into aviation maintenance and training cogs in the national war effort. In 1945 the company's official name became Delta Air Lines, and Woolman, Delta's first vice president, became president and general manager.
In the decade after the peace of 1945, Delta stayed current with technology advances by purchasing new equipment and seeking new routes. In 1945 the CAB approved a Chicago–Miami, Florida, route via Atlanta—Delta's second foray outside the South. In 1948 the company began flying the all-new Douglas DC-6, a pressurized, four-engine passenger plane that cruised at 328 miles per hour.
The company next purchased the impressive DC-7 and replaced its DC-3 aircraft with Convair 440s. Delta also benefited from "interchange service" agreements with TWA, National Airlines, and American Airlines, which allowed Delta aircraft to carry passengers to and from airports in Michigan, Florida, and California. Under Woolman's guidance, Delta gained a reputation as a well-managed, competitive line that carefully but ambitiously paced its expansion outside the region. It also gained employee loyalty by Woolman's "people-oriented" approach.
In 1953 Delta purchased Chicago and Southern Air Lines, and flew under the name Delta C&S for the next two years.   This gave it access to a Great Lakes route system in the upper Midwest and, importantly, to points in the Caribbean Sea served by C&S.   In 1955 Delta obtained approval to operate an Atlanta to New York route. (Like Braniff, Delta was initially exiled to Newark, but both airlines made it across the Hudson River to Idlewild in a couple of years.) Scheduled service extended to Philadelphia; Baltimore, Maryland; and Charlotte, North Carolina. Delta celebrated New York as an especially sweet corporate victory, for it symbolized national commercial visibility for itself, its home base of Atlanta, and the region it served. It was also in 1955 that Delta introduced the "hub and spoke" system of connecting flights, now used by most major airlines.
has several Delta timetables from 1938-62, showing where they flew, how often, how long it took and how much it cost.
1960s and 1970s
Delta's streak of fortune continued in 1961 with CAB approval to operate in its own right (as opposed to interchange service) from points in California and Florida. Two years later, Delta's continuing foray into international markets received CAB approval for an interchange agreement with Pan Am that allowed Delta aircraft to fly from Atlanta and New Orleans to points in Europe. Delta's second National Safety Award (the first council award was in 1945) added to the company's reputation.[1] When Woolman died in 1966, the company lost the leader who had dominated the airline from the start and stamped it with his personality. Successor chief executive officers over the next two decades were Charles H. Dolson (1965–70), W. T. Beebe (1970–71), and David Garrett (1971–87).
Delta also moved into jets in the 1960s, following the purchase of the new Douglas DC-8 jet that entered service in 1959. Delta's new red, white, and blue triangle logo (the "widget") which began appearing on Delta's aircraft at that time was a representation of the jet's graceful swept wing. Its fleet grew with the addition in 1960 of swift Convair 880s (they set a coast-to-coast record of just over three hours) and in 1965, the DC-9. When Delta became an all-jet airline in 1970, its inventory of new equipment economically—and with engineering advantage—accommodated the airline's diversifying market, from short-haul to international flights.