American Export Airlines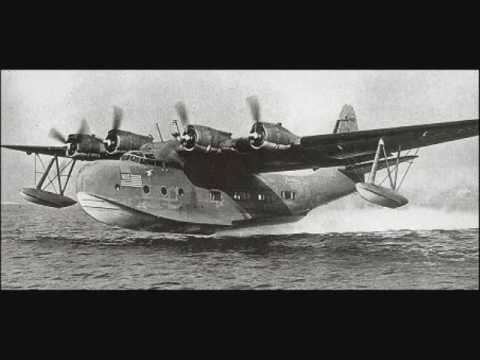 The Sikorsky VS-44 was a large four-engined flying boat built in the USA in the early 1940's. The VS-44 was designed primarily for the trans-Atlantic passenger market, with a capacity of 40+ passengers. Only three aircraft were produced: Excalibur, Excambian, and Exeter.
By 1940, Sikorsky, now merged with Chance Vought under the umbrella of United Aircraft, produced the VS-44. A single deck seaplane with four twin-row Pratt & Whitney Twin Wasps rated at 1,200 hp each, the new aircraft was 80 ft in length and weighed in at 57,500 lb for takeoff. The Boeing 314 Clipper was larger and boasted more powerful Wright Twin Cyclones of 1,600 hp, but the VS-44 was 30 mph faster and could fly an average payload more than 4,000 mi, out distancing the big Boeing by 500 mi and earning bragging rights with the longest full-payload range of any aircraft in the world. The VS-44 brought home several new world records after it went into operation, but the limited production would never even recoup the VS-44s development costs.
American Export Airlines (AEA) ordered three VS-44s, dubbed Flying Aces and named Excalibur (NX41880; later as NC41880), Excambian (no NX; later as NC41881), and Exeter (no NX; later as NC41882) after the parent company's Four Aces. AEA had grown out of the American Export Lines steamship line, so naturally these planes gave nothing away to cruise ships. Sikorskys standard of luxury boasted full-length beds, dressing rooms, full galley, snack bar, lounge and fully controlled ventilation.
American Overseas Airlines (AOA) was an airline that operated between the United States and Europe between 1945 and 1950. It was headquartered in Midtown Manhattan, New York City.
Early history
Douglas C-54 N90905 at Bromma Airportin Stockholm 1947.
American Export Airlines (AEA), commonly known as Am Ex, was founded in April 1937 as a wholly owned subsidiary of the shipping company American Export Lines. Transatlantic surveys were done with a Consolidated PBY-4 flying boat and in 1939 AEA placed an order for three Vought-Sikorsky VS-44 flying boats, dubbed 'Flying Aces', named after the parent company's Four Aces. That same year, AEA made an application to the US Civil Aeronautics Board (CAB) for routes across the Atlantic from the United States to the United Kingdom, France, and Portugal. On July 15, 1940, in spite of strong protests by Juan Trippe, the president of Pan American World Airways (PAA), President Franklin D. Roosevelt gave his approval to AEA for a seven-year temporary certificate to serve Lisbon (Portugal) from New York City-La Guardia Flying Boat base. Later, services were also flown toFoynes (Ireland). These services ended in 1944 when AEA started operations on behalf of the US Air Transport Command (ATC), using Douglas C-54 Skymasters mainly between the USA and military bases in North Africa.
AEA could not begin its New York City (USA)–Foynes (Ireland) flying boat service before June 1942, due in part to vigorous objections from PAA.
Postwar operations
In 1945, AEA was awarded transatlantic rights, which covered destinations in Northern Europe. The airline subsequently cut its ties with the shipping company. American Airlines was interested in acquiring AEA since it wanted to break into the overseas market – at that time – dominated by PAA. The US CAB approved the acquisition of AEA by American Airlines on July 5, 1945. The La Guardia –Botwood – Shannon route was initially operated by Vought-Sikorsky flying boats using the Marine Air Terminal at LaGuardia Airport.   By 1948 the airline also served Prestwick, Amsterdam, Frankfurt, Berlin, Keflavik, Oslo, Copenhagen, Stockholm and Helsinki.
The AEA name was retained until November 1945 when AEA was renamed to American Overseas Airlines.   The new entity started operations with six C-54's at the end of AEA's ATC contract.
AOA launched international landplane flights on October 24, 1945, with DC-4 Flagship New England (N90904), on the route New York City (USA) to London (England UK) via Boston (USA), Gander (Newfoundland) and Shannon (Ireland).
AOA's Flagship Denmark Boeing 377 Stratocruiser
The reliable but unpressurised DC-4s were replaced on the Atlantic routes by Lockheed Constellations from 23 June 1946.   From Summer 1949 the Constellations were supplemented and then largely replaced by Boeing Stratocruisers, the first AOA service by the type being on 17 August that year to London Heathrow.
AOA was acquired by PAA but on May 17, 1950, the US CAB ruled against this merger.   President Harry S. Truman, however, overturned the CAB decision, and AOA was merged into what would become Pan American's Atlantic Division on September 25, 1950. This unit would ultimately become part of Delta Air Lines.
Accidents and incidents
On October 3, 1942, AEA's Excalibur (NC41880) crashed on take-off at Botwood (Newfoundland) when flaps were inadvertently extended to landing position, thus causing the aircraft to stall immediately after lift-off. In the crash, 5 out of the 11-strong crew and 6 out of 26 passengers perished.
On October 3, 1946, AOA's Flagship New England (N90904) crashed into a steep ridge en route from Stephenville (Newfoundland) to Shannon (Ireland). This plane crash happened 7.1 miles past the departure runway. There were 8 crew and 31 passenger fatalities; no survivors. The crash investigators determined "The action of the pilot in maintaining the direction of take-off toward higher terrain over which adequate clearance could not be gained."