Northwest Airlines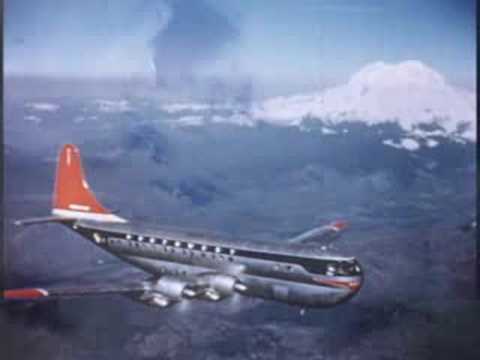 Brief company produced promo film. 82 years of airline history in 140 seconds.
Northwest Airlines Corp. (often abbreviated NWA) was a major United States airline founded in 1926 and absorbed into Delta Air Lines Inc. by a merger approved on October 29, 2008, making Delta the largest airline in the world.   Northwest continued to operate under its own name and brand until the integration of the carriers was completed on January 31, 2010.
Northwest was headquartered in Eagan, Minnesota, near Minneapolis-St. Paul International Airport. After World War IIit became dominant in the trans-Pacific market with a hub in Tokyo, Japan (initially Haneda Airport, later Narita International Airport). After acquiring Republic Airlines in 1986, Northwest also established major hubs at Detroit Metropolitan Wayne County Airport and Memphis International Airport. In 1993 it began a strategic alliance with KLM and a jointly-coordinated European hub at Amsterdam Airport Schiphol. These hubs were all retained as Delta hubs.
Prior to its merger with Delta, Northwest was the world's sixth largest airline in terms of domestic and international scheduled passenger miles flown and the U.S.'s sixth largest airline in terms of domestic passenger miles flown.   In addition to operating one of the largest domestic route networks in the U.S., Northwest carried more passengers across the Pacific Ocean (5.1 million in 2004) than any other U.S. carrier, and carried more domestic air cargo than any other American passenger airline.
Regional flights for Northwest were operated under the name Northwest Airlink by Mesaba Airlines, Pinnacle Airlines, and Compass Airlines. Northwest Airlines was a minority owner of Midwest Airlines, holding a 40% stake in the company.
Northwest Airlines' tagline was "Now you're flying smart." Itsfrequent flyer program was called WorldPerks.
History – Beginnings
Northwest Airlines was founded on September 1, 1926, by Colonel Lewis Brittin, under the name Northwest Airways, a reference to the historical name for the Midwestern United States that derived from the Northwest Territory. Like other early airlines, Northwest's focus was not in hauling passengers, but in flying mail for the U.S. Post Office Department.   The airline was originally based inDetroit, Michigan.   The fledgling airline established a mail route between Minneapolis and Chicago, using open-cockpit biplanessuch as the Curtiss Oriole and the Waco JYM. From 1928 the enclosed cabin six-passenger Hamilton H-45 and H-47 designs were used.
1920s roundel logo
1929 Northwest Airways Waco JYM used on the Minneapolis-Chicago mail route
Northwest Airlines Douglas DC-3
Northwest Airlines began carrying passengers in 1927. In 1928, Northwest started its first international route with service to Winnipeg. The airline's operations had expanded to many smaller cities in that region by the end of the 1920s.   In 1929, a group headed by Richard Lilly, a businessperson from St. Paul, Minnesota, purchased the airline.
In 1933, Northwest airlines was selected to fly the "Northern Transcontinental Route" from New York City to Seattle, Washington. It adopted the name of Northwest Airlines during the following year as a result of the Air Mail scandal.   Northwest Airways, Inc. changed its name to Northwest Airlines, Inc. and the airline was incorporated under its new name in the State of Minnesota.
By 1939 Northwest had five daily flights from Chicago to Minneapolis; three continued west to Seattle through North Dakota and Montana. Northwest also served Winnipeg, Manitoba and Portland, Oregonby spurs from its transcontinental route.
Northwest Airlines common stock began to be publicly traded in 1941.
Transpacific network development
In 1931 Northwest sponsored Charles and Anne Lindbergh on a pioneering test flight to Japan via Alaska, scouting what would become known as the Northwest Airlines' Great Circle route that could save as much as 2,000 miles (3,000 km) on a New York City to Tokyo flight. Northwest developed this route further during World War II, when it flew soldiers and supplied from the Northwestern United States to Alaska. During that time Northwest began painting its airliners' tails bright red as a visual aid in the often harsh weather conditions. The airline's experience with the sub-arctic climate led the U.S. federal government to designate Northwest as the main airline over the North Pacific following the war.
In spring of 1947 Northwest began stationing employees at Haneda Airport in Tokyo, flying them from the United States via Alaska on its Great Circle route. On July 15, 1947 Northwest became the first airline to begin direct service between the United States and Japan, using a Douglas DC-4 airliner named The Manila. (All pre-war airline service to the Orient had been via Hawaii and the Philippines.) The flight to Japan originated at Wold-Chamberlain Field in Minneapolis and stopped at Blatchford Field in Edmonton, Elmendorf AFB in Anchorage, and Shemya AAF in the westmost Aleutian Islands. The flight continued from Tokyo to Lunghwa Airport in Shanghai and then to Nichols Field at Manila.
A flight between Tokyo and Seoul (Gimpo Airport) began on October 20, 1947, and Naha Airport in Okinawa was included as a stop on the Tokyo to Manila route on November 16, 1947. Northwest service to Shanghai was suspended in May 1949 because of the civil war in China, with the Republic of China nearly ready to collapse, and its government evacuated to the island of Formosa. Northwest Airlines added Songshan Airport in Taipei, the new capital city of the Republic of China, as a stop on the Tokyo-Okinawa-Manila route on June 3, 1950, with ongoing interchange service to Hong Kong operated by Hong Kong Airways.
With its new system of transpacific flights established, Northwest began to advertise itself as Northwest Orient Airlines, although its registered corporate name remained "Northwest Airlines".
Northwest Boeing 707-351B departing from San Francisco in 1970
NWA continuously upgraded equipment on the transpacific routes. On June 22, 1949, Northwest received its first double-decker Boeing 377 "Stratocruiser", enabling more comfortable accommodations and faster service on transpacific flights. The Stratocruiser commenced service from the U.S. West Coast to Honolulu in 1950 and to Tokyo, viaAlaska, on September 27, 1952.
In 1954 Northwest Orient purchased DC-6Bs and started flying them to Tokyo and Manila. On July 8, 1960 Northwest placed the Douglas DC-8 jetliner into service, offering the shortest flight times to East Asia, but within a year the airline was negotiating the sale of the five DC-8s. Northwest retired the last of its Boeing 377 Stratocruisers that August. The airline purchased several Boeing 720B airliners in 1961, and in 1963 several new Boeing 707-320B; for a time it adopted the slogan "Northwest Orient: The Fan-Jet Airline". Nonstop transpacific flights became feasible with the introduction of the 707-320B/C. Northwest bought its first Boeing 747 airliners in 1970 and soon began retiring its older and smaller Boeing 707s. Besides its usefulness on transpacific flights, for a time Northwest also flew 747s on its busiest domestic routes.
For years Northwest was the largest foreign airline serving Japan. In 1951 Northwest became involved with the founding of Japan Air Lines (JAL) by leasing airliners and crewmembers to the new airline. In 1952 United States and Japan ratified a regional bilateral aviation treaty, under which Northwest and Pan American World Airways became the two U.S. airlines allowed to fly to Tokyo. These carriers also received fifth freedom rights to carry passengers from and via Tokyo to other Asian destinations such as Seoul, Busan,Taipei, Manila, Hong Kong, Bangkok and Singapore. Northwest also flew passenger routes that connected Japan with Guam andSaipan, U.S. possessions in Micronesia.
Northwest's meteorologists, led by Dan Sowa, pioneered the first clear-air turbulence forecasting system in 1957, important since the airline flew many northern routes over turbulence-prone mountain areas. Northwest remains a leader in turbulence prediction, providing TPAWS (turbulence prediction and warning services) to other airlines.
Revenue passenger traffic, in millions of passenger-miles (scheduled flights only, domestic plus international)