The 1936 Olympic Summer Games Open in Berlin, Germany
August 1, 2011 New York Post Robin Wallace
Jesse Owens Wins 100m Olympic Gold in front of Hitler at 1936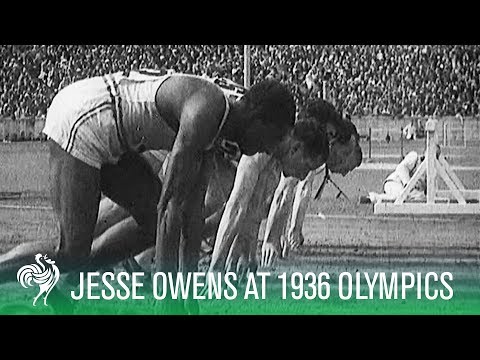 On August 1, 1936, the Berlin Summer Olympics opened in Nazi Germany. Although German Chancellor Adolf Hitler was already beginning to mobilize the reign of terror he would inflict across Europe during World War II, much of the world was still in the dark about what was to come.
Jesse Owens salutes during the presentation of his gold medal for the long jump, after defeating Nazi Germany Lutz Long (right) Naoto Tajima of Japan, left, placed third.
Athletes and fans from around the world arrived in Berlin to compete against the best in their fields for Olympic medals. Hitler, however, had another agenda. He believed that the white Aryan race was superior to other races. He hoped that the Berlin Olympics would showcase Aryan supremacy and confirm his beliefs on a world stage.
Germany won 33 gold medals at the Berlin Olympics, but still the games did not turn out as Hitler had hoped. The hands-down star of the games was Jesse Owens, an AfricanAmerican track and field phenomenon.
A gifted sprinter and long jumper, Owens won four gold medals and set world records in Berlin, and was revered as a hero by many of the four million people who attended the Olympics.
However, although the 1936 summer Olympics, coincidentally taking place in Germany only a few short years before the war broke out, are now viewed under the ominous cloud of what was to come, the games, at the time, were historic for entirely other reasons.
One of the most beloved Olympic traditions the cross-continental torch relay that brings the Olympic flame from Olympia, Greece, to the host city was introduced in 1936.  After leaving Greece, the torch traveled through Yugoslavia, Bulgaria, Czechoslovakia, Austria, Hungary and Germany on a seven-nation, 3,000kilometer journey.
In addition to Owens, several of the champions crowned in 1936 were newsmakers, two for their youth. The United States Marjorie Gestring was just 13 years old when she won the gold medal in springboard diving. She remains the youngest female gold medalist in the history of the summer Olympic games. Swimmer Inge Sorensen of Denmark, age 12 at the time, became the young person to ever win an individual event when she won the bronze in the 200m breast stroke.
The 1936 Olympics was the first to be televised, and introduced the events of men  handball and basketball to the Olympic program.
The 1936 Olympics closed on August 16, 1936. Hitler continued to push forward with his plan for Germany to conquer and control all of Europe, and soon the continent was consumed by war, forcing the cancellation of both the 1940 and 1944 Olympics.
It was not until 12 years later that the Olympic Games could be resumed, in London in 1948. London will again host the Olympics next summer.