Nissan Motor Company
Nissan Skyline History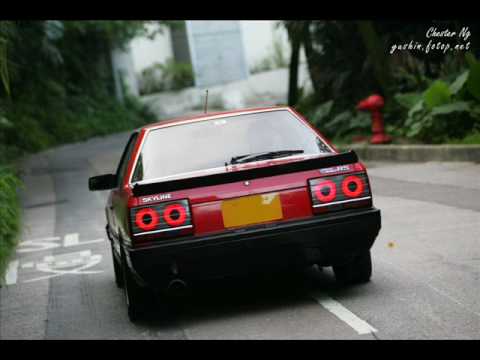 The history of the Nissan Skyline. The Nissan Skyline used to be called "Price Skyline" but Price and Nissan merged together and continued the production of the Nissan Skyline. The Skyline latest model was in 2009 Nissan Skyline GT-R R35, the Skyline used to have SUV's and trucks but the production was soon ended.
Nissan Motor Company Ltd (Japanese: 日産自動車株式会社 Nissan Jidōsha Kabushiki-gaisha) (TYO: 7201), usually shortened to Nissan (
 /ˈniːsɑːn/ orUK /ˈnɪsæn/; Japanese: [nisːaɴ]), is a multinational automaker headquartered in Japan. It was a core member of the Nissan Group, but has become more independent after its restructuring under Carlos Ghosn (CEO).
Nissan was the sixth largest automaker in the world behind Toyota, General Motors,Volkswagen AG, Hyundai Motor Group, and Ford in 2010. It formerly marketed vehicles under the "Datsun" brand name. As of 2011, the company's global headquarters is located in Nishi-ku, Yokohama. In 1999, Nissan entered a two way alliance with Renault S.A. of France, which owns 43.4% of Nissan while Nissan holds 15% of Renault shares, as of 2008. Along with its normal range of models, Nissan also produces a range of luxury models branded as Infiniti.
The Nissan VQ engines, of V6 configuration, have been featured among Ward's 10 Best Engines for 14 straight years.
History
Beginnings of Datsun name from 1914
Nissan Model 70 Phaeton, 1938
Masujiro Hashimoto founded The Kwaishinsha Motor Car Works in 1911. In 1914, the company produced its first car, called DAT.
The new car's name was an acronym of the company's investors' family names:
Kenjiro Den (田 健次郎 Den Kenjirō?)
Rokuro Aoyama (青山 禄朗 Aoyama Rokurō?)
Meitaro Takeuchi (竹内 明太郎 Takeuchi Meitarō?).
It was renamed to Kwaishinsha Motorcar Co., Ltd. in 1918, and again to DAT Motorcar Co. in 1925.   DAT Motors built trucks in addition to the DAT and Datsun passenger cars. The vast majority of its output were trucks, due to an almost non-existent consumer market for passenger cars at the time. Beginning in 1918, the first DAT trucks were produced for the military market. It was the low demand of the military market in the 1920s that forced DAT to merge in 1926 with Japan's second most successful truck maker, Jitsuyo Motors.
In 1926 the Tokyo-based DAT Motors merged with the Osaka-based Jitsuyo Jidosha Co., Ltd. (実用自動車製造株式会社 Jitsuyō Jidōsha Seizō Kabushiki-Gaisha?) a.k.a. Jitsuyo Motors (established 1919, as a Kubota subsidiary) to become DAT Automobile Manufacturing Co., Ltd. (ダット自動車製造株式会社 Datto Jidōsha Seizō Kabushiki-Gaisha?) in Osaka until 1932. (Jitsuyo Jidosha began producing a three-wheeled vehicle with an enclosed cab called the Gorham in 1920, and the following year produced a four-wheeled version. From 1923 to 1925, the company produced light cars and trucks under the name of Lila).
In 1931, DAT came out with a new smaller car, the first "Datson", meaning "Son of DAT". Later in 1933 after Nissan took control of DAT Motors, the last syllable of Datson was changed to "sun", because "son" also means "loss" (損) in Japanese, hence the name "Datsun" (ダットサン Dattosan?).
In 1933, the company name was Nipponized to Jidosha-Seizo Co., Ltd. (自動車製造株式会社 Jidōsha Seizō Kabushiki-Gaisha?, "Automobile Manufacturing Co., Ltd.") and was moved to Yokohama.