Mitt Romney 2012 Election
Mitt Romney: "Believe in America"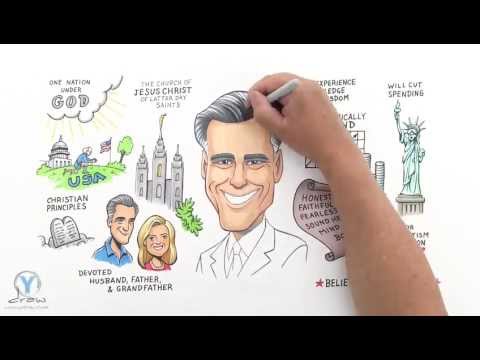 Mitt Romney on Wall Street and inequality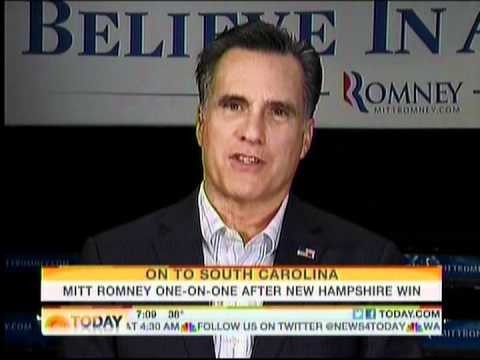 Willard Mitt Romney (born March 12, 1947) is an American businessman and politician. He was the 70th Governor of Massachusetts from 2003 to 2007 and is a candidate for the 2012 Republican Party presidential nomination.
The son of George W. Romney (the former Governor of Michigan) and Lenore Romney, Mitt Romney was raised in Bloomfield Hills, Michigan, and during his college years served as amissionary for The Church of Jesus Christ of Latter-day Saints in France. He married Ann Daviesin 1969 and they have five children. He received his undergraduate degree from Brigham Young University, and then earned a joint JD and MBA from Harvard University. Romney entered themanagement consulting business, which led to a position at Bain & Company. Eventually serving as CEO, Romney brought the company out of crisis. He was co-founder and head of the spin-off company Bain Capital, a private equity investment firm that became highly profitable and one of the largest such firms in the nation. His wealth helped fund most of his future political campaigns. Active in his church, he served as ward bishop and later stake president in his area. He ran as the Republican candidate in the 1994 U.S. Senate election in Massachusetts, losing to long-time incumbent Ted Kennedy. Romney organized and steered the 2002 Winter Olympics as head of the Salt Lake Organizing Committee, and helped turn the troubled games into a financial success.
Romney was elected Governor of Massachusetts in 2002 but did not seek re-election in 2006. He presided over a series of spending cuts and increases in fees that eliminated an up to $1.5 billion deficit. He also signed into law the Massachusetts health care reform legislation, which provided near-universal health insurance access via subsidies and state-level mandates and was the first of its kind in the nation. During the course of his political career, his positions or rhetorical emphasis have shifted more towards American conservatism in several areas.
Romney ran for the Republican nomination in the 2008 U.S. presidential election, winning several primaries and caucuses but losing the nomination to John McCain. In the following years, he gave speeches and raised campaign funds on behalf of fellow Republicans. In June 2011, Romney announced that he would seek the 2012 Republican presidential nomination. The results of the caucuses and primaries have placed him as the clear leader and the Republican National Committee has declared him the presumptive nominee.
Heritage and youth
Romney was born in Detroit, Michigan.  He was the youngest child of George W. Romney, who by 1948 had become an automobile executive, and Lenore Romney (née LaFount). His mother was a native of Logan, Utah, and his father had been born in a Mormon colony in Chihuahua, Mexico, to American parents.  Romney is of primarily English descent, and also has more distant Scottish and German ancestry.  Romney is a fifth-generation member of The Church of Jesus Christ of Latter-day Saints.  A great-great-grandfather, Miles Archibald Romney, converted to the faith in its first decade, and another great-great-grandfather, Parley P. Pratt, was an early leader in the church during the same time.
The three siblings before him were Margo Lynn, Jane LaFount, and G. Scott, followed by Mitt after a gap of six years.   Romney was named after hotel magnate J. Willard Marriott, his father's best friend, and his father's cousin Milton "Mitt" Romney, 1925–1929 quarterback for the Chicago Bears.   When he was five, the family moved from Detroit to the affluent suburb of Bloomfield Hills.   His father became CEO of American Motors and turned the company around from the brink of bankruptcy; by the time he was twelve, his father had become a nationally known figure in print and on television  Romney idolized his father, read automotive trade magazines, kept abreast of automotive developments, and aspired to be an executive in the industry.  His father also presided over the Detroit Stake of the LDS Church.
The Cranbrook School, which Mitt Romney attended from seventh grade on Romney went to public elementary school and then from seventh grade on, attended Cranbrook School in Bloomfield Hills, a private boys preparatory school of the classic mold where he was the lone Mormon and where many students came from even more privileged backgrounds.  He was not particularly athletic and at first did not excel at academics. While a sophomore, he participated in the campaign in which his father was elected Governor of Michigan.  George Romney was re-elected twice; Mitt worked for him as an intern in the governor's office, and was present at the 1964 Republican National Convention when his moderate father battled conservativeparty nominee Barry Goldwater over issues of civil rights and ideological extremism.  Romney had a steady set of chores and worked summer jobs, including being a security guard at a Chryslerplant.
Initially a manager for the ice hockey team and a member of the pep squad and various school clubs, during his final year at Cranbook, Romney joined the cross country running team and improved academically, but was still not a star pupil.  His social skills were good, however, and he won an award for those "whose contributions to school life are often not fully recognized through already existing channels."  Romney was an energetic child who enjoyed pranks.
In March of his senior year, he began dating Ann Davies, two years behind him, whom he had once known in elementary school; she attended the private Kingswood School, the sister school to Cranbrook.   The two informally agreed to marriage around the time of his June 1965 graduation.
The Romneys' first son, Tagg, was born in 197 while the Romneys were undergraduates at Brigham Young and living in a basement apartment.   Ann subsequently gave birth to Matt (1971), Josh (1975), Ben (1978), and Craig (1981).   Ann Romney's work as a homemaker would enable her husband to pursue his career.
While Mitt attended Harvard, his father George W. Romney (pictured here with Richard M. Nixon) served as United States Secretary of Housing and Urban Development.
Romney still wanted to pursue a business path, but his father, by now serving in President Richard Nixon's cabinet as U.S. Secretary of Housing and Urban Development, advised that a law degree would be valuable.   Thus Romney became one of only fifteen students to enroll at the recently created joint Juris Doctor/Master of Business Administration four-year program coordinated between Harvard Law Schooland Harvard Business School.   Fellow students considered Romney guilelessly optimistic, noting his solid work ethic along with a buttoned-down demeanor and appearance.   He readily adapted to the business school's pragmatic, data-driven case study method of teaching, participated in class well, and led a study group whom he pushed to get all A's.   He had a different social experience from most of his classmates, since he lived in a Belmont, Massachusetts, house with Ann and two children; he was non-ideological and did not involve himself in the political or social issues of the day.  He graduated in 1975 cum laude from the law school, in the top third of that class, and was named a Baker Scholar for graduating in the top five percent of his business school class.