Massachusetts General Hospital
http://en.wikipedia.org/wiki/Massachusetts_General_Hospital
The History of Massachusetts General Hospital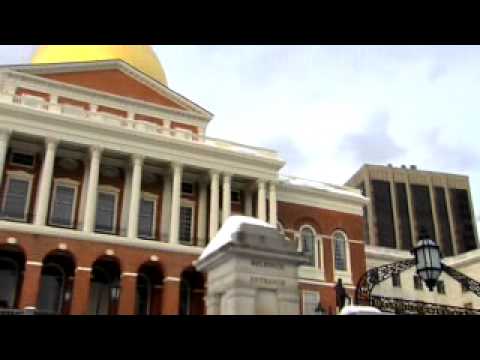 Founded in 1811, the original hospital was designed by the famous American architect Charles Bulfinch.   It is the third-oldest general hospital in the United States, only Pennsylvania Hospital (1751) and NewYork–Presbyterian Hospital (1771) are older.   John Warren, Professor of Anatomy and Surgery at Harvard Medical School, spearheaded the move of the medical school to Boston. Warren's son, John Collins Warren, along with James Jackson, led the efforts to start the Massachusetts General Hospital, which was initially proposed in 1810 by Rev. John Bartlett, the Chaplain of the Almshouse in Boston. Because all those who had sufficient money were cared for at home, Massachusetts General Hospital, like most hospitals that were founded in the 19th century, was intended to care for the poor.   During the mid-to-late 19th century, Harvard Medical School was located adjacent to Massachusetts General Hospital.
The first American hospital social workers were based in the hospital.
The hospital's work with developing specialized computer software systems for medical use in the 1960s led to the development of the MUMPS programming language, which stands for "Massachusetts General Hospital Utility Multi-Programming System," an important programming language and data-base system heavily used in medical applications such as patient records and billing. A major patient database system called File Manager, which was developed by the Veterans Administration (now the Department of Veterans' Affairs), was created using this language.
Early use of anesthesia
Monument in Boston commemorating Morton's demonstration of ether's anesthetic use.
It was in the Ether Dome of MGH in October 1846, that a local dentist, William Thomas Green Morton, was invited to perform a public demonstration of the administration of inhaled ether to produce insensibility to pain during surgery.   Several years prior, Dr. Crawford Long of Danielsville, Georgia had given ether for surgery, but his work was unknown outside Georgia until he published his experience in 1849. On 16 October 1846, after administration of ether by Morton, MGH Chief of Surgery, John Collins Warren, painlessly removed a tumor from the neck of a local printer, Edward Gilbert Abbott.   Upon completion of the procedure, which was without screaming or restraint, the usually skeptical Warren reportedly quipped, "Gentlemen, this is no humbug." News of this "anesthesia" invention rapidly traveled within months around the world.
A reenactment of the Ether Dome event was painted in 2000 by artists Warren and Lucia Prosperi. They used the then-MGH staff to pose as their counterparts from 1846.   The Ether Dome still exists and is open to the public.
An anesthesia department was established at the MGH in 1936 under the leadership of Henry Knowles Beecher.
Facilities and current operations
The Bulfinch Building as it appeared in 1941, including the Ether Dome.
The main MGH campus is located at 55 Fruit Street in Boston, Massachusetts. It has expanded into an area formerly known as the West End, adjacent to the Charles Riverand Beacon Hill. The hospital handles over one million outpatients each year at its main campus, as well as its seven satellite facilities in Boston at Back Bay, Charlestown, Chelsea, Everett, Revere, Waltham and Danvers. With more than 14,000 employees, the hospital is the largest non-governmental employer in Boston.
The hospital has 907 beds and admits over 45,000 patients each year.  The surgical staff performs over 34,000 operations yearly.   The obstetrics service handles over 3,500 births each year.  The Massachusetts General Hospital Trauma Center is the oldest and largest American College of Surgeons-verified Level One Trauma Center in New England,  evaluating and treating over 2600 trauma patients per year   Architect Hisham N. Ashkouri, working in conjunction with Hoskins Scott Taylor and Partners, provided the space designs and schematics for the pediatrics, neonatal intensive care, and in-patient related floors, as well as the third floor surgical suites and support facilities. In the fall of 2004, the Yawkey Center for Outpatient Care (named for Jean R. Yawkey) opened. This 440,000-square-foot (41,000 m2) ten-floor facility is the largest and most comprehensive outpatient building in New En   In 2011, the Lunder Building, a 530,000 square foot, 14-floor building opened. The building houses new operating rooms, emergency room, radiation oncology suites, inpatient neurology floors, inpatient neurosurgery floors, and inpatient oncology floors, increasing inpatient capacity by 150 beds.
Since 1994, MGH has been awarded the most research funding for an independent hospital by the National Institutes of Health, receiving over $285 million dollars alone in 2004.   MGH is also home to the world-renowned Mallinckrodt General Clinical Research Center.