U.S. Supreme Court Sonia Maria Sotomayor

From Wikipedia, the free encyclopedia
Sonia Maria Sotomayor (English pronunciation: /ˈsoʊnjə ˌsoʊtoʊmaɪˈjɔr/, Spanish: [ˈsonja sotomaˈʝor]; born June 25, 1954) is an Associate Justice of the Supreme Court of the United States, serving since August 2009. Sotomayor is the Court's 111th justice, its first Hispanic justice, and its third female justice.
Sotomayor was born in The Bronx, New York City and is of Puerto Rican descent. Her father died when she was nine, and she was subsequently raised by her mother. Sotomayor graduated summa cum laude fromPrinceton University in 1976 and received her J.D. from Yale Law School in 1979, where she was an editor at the Yale Law Journal. She was an advocate for the hiring of Latino faculty at both schools. She worked as anassistant district attorney in New York for five years before entering private practice in 1984. She played an active role on the boards of directors for the Puerto Rican Legal Defense and Education Fund, the State of New York Mortgage Agency, and the New York City Campaign Finance Board.
Sotomayor was nominated to the U.S. District Court for the Southern District of New York by PresidentGeorge H. W. Bush in 1991, and her nomination was confirmed in 1992. In 1997, she was nominated by President Bill Clinton to the U.S. Court of Appeals for the Second Circuit. Her nomination was slowed by theRepublican majority in the Senate, but she was eventually confirmed in 1998. On the Second Circuit, Sotomayor heard appeals in more than 3,000 cases and wrote about 380 opinions. Sotomayor has taught at the New York University School of Law and Columbia Law School.
In May 2009, President Barack Obama nominated Sotomayor for appointment to the U.S. Supreme Court to replace retired Justice David Souter. Her nomination was confirmed by the United States Senate in August 2009 by a vote of 68–31.
Judge Sonia Sotomayor Sworn In As Supreme Court Justice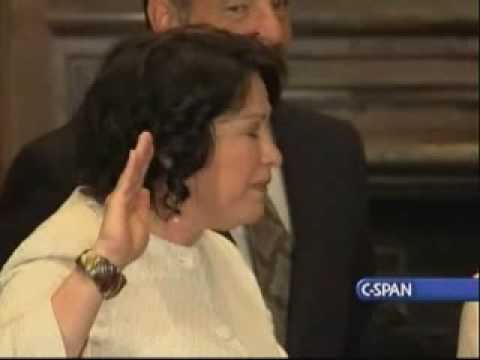 Judge Sonia Sotomayor is officially sworn is as an Associate Justice of the U.S. Supreme Court by Chief Justice John Roberts in Washington, D.C.