The Twilight Zone
The Twilight Zone: I Dream of Genie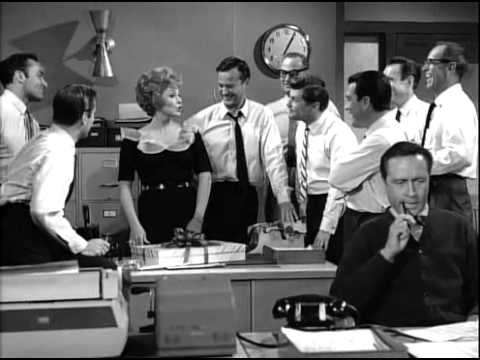 The original logo in 1959 
The Twilight Zone is an American television anthology series created by Rod Serling. Each episode (156 in the original series) is a mixture of self-containeddrama, psychological thriller, fantasy, science fiction, suspense, or horror, often concluding with a macabre or unexpected twist. A popular and critical success, it introduced many Americans to serious science fiction and abstract ideas through television and also through a wide variety of Twilight Zone literature.
The program followed in the tradition of earlier shows like Tales of Tomorrow(1951–1953)—which also dramatized the short story "What You Need"—and Science Fiction Theatre (1955–1957), as well as radio programs such as The Weird Circle, X Minus One, and the radio work of Serling's hero, dramatist Norman Corwin.
The success of the series led to a feature film, a radio series, a comic book, a magazine, and various other spin-offs that spanned five decades, including two "revival" television series. The first ran on CBS and in syndication in the 1980's, the second ran on UPN from 2002 to 2003.
Original series (1959–1964) – Main article: The Twilight Zone (1959 TV series)
Rod Serling working on his script with a dictating machine, 1959
The series was produced by Cayuga Productions, Inc. a production company owned and named by Serling. It reflects his background in Central New York State and is named after Cayuga Lake, on which Cornell University is located.
Aside from Serling, who crafted nearly two-thirds of the series' total episodes, writers for The Twilight Zone included leading authors such as Charles Beaumont, Ray Bradbury, Earl Hamner, Jr., George Clayton Johnson, Richard Matheson, Reginald Rose, and Jerry Sohl. Many episodes also featured adaptations of classic stories by such writers as Ambrose Bierce, Jerome Bixby, Damon Knight, and Lewis Padgett.
Twilight Zone's writers frequently used science fiction as a vehicle for social comment; networks and sponsors who had censored all potentially "inflammatory" material from the then-predominant live dramas were ignorant of the methods developed by writers such as Ray Bradbury for dealing with important issues through seemingly innocuous fantasy. Frequent themes include nuclear war, mass hysteria, and McCarthyism, subjects that were strictly forbidden on more "serious" prime-time drama. Episodes such as "The Shelter" or "The Monsters Are Due on Maple Street" offered specific commentary on current events. Other stories, such as "The Masks" or "The Howling Man", dealt with a central allegory, parable, or fable that reflected the characters' moral or philosophical choices.
Despite his esteem in the writing community, Serling found The Twilight Zone difficult to sell. Few critics felt that science fiction could transcend empty escapism and enter the realm of adult drama. In a September 22, 1959, interview with Serling, Mike Wallace asked a question illustrative of the times: "…[Y]ou're going to be, obviously, working so hard on The Twilight Zone that, in essence, for the time being and for the foreseeable future, you've given up on writing anything important for television, right?" While Serling's appearances on the show became one of its most distinctive features, with his clipped delivery still widely imitated today, he was reportedly nervous about it and had to be persuaded to appear on camera. Serling often steps into the middle of the action while the characters remain seemingly oblivious to him, but on one notable occasion they are aware he's there: In the episode "A World of His Own", a writer with the power to alter his reality objects to Serling's narration, and promptly erases Serling from the show.
In season two, due to budgetary constraints, the network decided—against Serling's wishes—to cut costs by shooting some episodes on videotape rather than film. The requisite multi-camera setup of the videotape experiment precluded location shooting, severely limiting the potential scope of the story-lines, and so, the short-lived experiment was ultimately abandoned. The six episodes are: Twenty-Two, Static, The Whole Truth, The Lateness of the Hour, Night of the Meek, and Long Distance Call.
The original series contains 156 episodes. Unlike seasons one through three, season four (1962–1963) consists of one-hour episodes. Season five returned to the half-hour format.