Spencer Tracy
Guess Who's Coming To Dinner: Katharine Hepburn and Spencer Tracy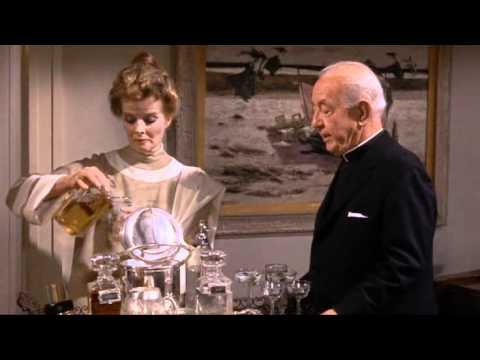 Promotional image for State of the Union (1948)
Spencer Bonaventure Tracy (April 5, 1900 – June 10, 1967) was an American actor. Respected for his natural style and versatility, Tracy was one of the major stars of Hollywood's Golden Age. In a screen career that spanned 37 years, he was nominated for nine Academy Awards for Best Actor and won two, sharing the record for nominations in this category with Laurence Olivier.
Tracy discovered his talent for acting while attending Ripon College, and later received a scholarship for the American Academy of Dramatic Arts. He spent seven years in the theatre, working in a succession of stock companies and intermittently on Broadway. Tracy's breakthrough came in 1930, when his lead performance in The Last Mile caught the attention of Hollywood. After a successful film debut in Up the River, Tracy was signed to a contract with Fox Film Corporation. His five years with Fox were unremarkable, and he remained largely unknown to audiences after 25 films. In 1935, Tracy joined Metro-Goldwyn-Mayer, Hollywood's most prestigious studio. His career flourished with a series of hit films, and in 1937 and 1938 he won consecutive Oscars for Captains Courageous and Boys Town. By the 1940s, Tracy was one of the studio's top stars. In 1942 he appeared with Katharine Hepburn in Woman of the Year, beginning a popular partnership that produced nine movies over 25 years.
Tracy left MGM in 1955 and continued to work regularly as a freelance star, despite an increasing weariness as he aged. His personal life was troubled, with a lifelong-struggle against alcoholism and guilt over his son's deafness. Tracy became estranged from his wife in the 1930s but never divorced, conducting a long-term relationship with Katharine Hepburn in private. Tracy worked almost exclusively for director Stanley Kramer in the 1960s. It was for Kramer that he made his last film, Guess Who's Coming to Dinner (1967), completed 17 days before Tracy's death. During his career, Tracy appeared in 75 films and developed a reputation among his peers as one of the screen's greatest actors. In 1999, the American Film Institute ranked Tracy as one of the top ten Hollywood legends.
Fox (1930–1935)
With Dickie Moore in Disorderly Conduct (1932), Tracy's seventh film
In 1930, Broadway scouts searched for actors to work in the "talkies", the new medium of sound film.   After two screen tests failed to elicit a response from the studios, Tracy did not consider becoming a film actor: "I had no ambition in that direction and I was perfectly happy on the stage."   Within a month of opening The Last Mile, he made his screen debut in Taxi Talks, a Vitaphone short movie,  followed by a second short, The Hard Guy.   One of the scouts who saw Tracy in The Last Mile was director John Ford. Ford wanted Tracy for the lead role in his next picture, a prison movie. Production company Fox Film Corporation were unsure about Tracy, saying that he did not photograph well in make-up.   Ford convinced Fox that Tracy did not need make-up, and he was cast in the movie.   Up the River (1930) marked the film debut of both Tracy and Humphrey Bogart. After seeing the rushes, Fox immediately offered Tracy a long-term contract.   Knowing that he needed the money for his family—his young son was deaf and recovering from polio—Tracy signed with Fox and moved to California.  He appeared on the stage again only once more in his life.
Winfield Sheehan, the head of Fox, committed to making Tracy a bankable commodity.   The studio went to efforts to promote the actor, releasing adverts for his second film Quick Millions (1931) with the headline "A New Star Shines."   Three films were made in quick succession, all of which were unsuccessful at the box office.   Tracy found himself typecast in comedies, usually playing a crook or a con man.   The mold was broken with his seventh picture, Disorderly Conduct (1932), and it was the first of his films sinceUp the River to make a profit.   In mid-1932, after nine pictures, Tracy remained virtually unknown to the public.   He considered leaving Fox once his contract was up for renewal, but a rise in his weekly rate to $1,500 convinced him to stay.   He continued to appear in unpopular films, with Me and My Gal (1932) setting an all time low attendance record for the Roxy Theatre in New York City.   He was loaned to Warner Bros. for 20,000 Years in Sing Sing (1932), a prison drama co-starring Bette Davis. Tracy was hopeful that it would be his break-out role, but despite good reviews this failed to materialize.
Tracy appeared with Loretta Young in Man's Castle (1933)
Critics began to notice Tracy with The Power and the Glory (1933). The story of a man's rise to prosperity, written by Preston Sturges, Tracy's performance as railroad tycoon Tom Garner received uniformly strong reviews.    William Wilkerson of The Hollywood Reporter wrote: "This sterling performer has finally been given an opportunity to show an ability that has been boxed in by gangster roles … [the film] has introduced Mr. Tracy as one of the screen's best performers."  Mordaunt Hall of The New York Times stated: "No more convincing performance has been given on the screen than Spencer Tracy's impersonation of Tom Garner."   Shanghai Madness (1933), meanwhile, gave Tracy a previously unseen sex appeal and served to advance his standing.   Despite this attention, Tracy's next two movies went largely unnoticed. Man's Castle (1933) with Loretta Young was anticipated to be a hit, but made only a small profit.   The Show Off (1934), for which he was loaned to Metro-Goldwyn-Mayer, proved popular, but his subsequent outings continued to be unsuccessful.
Tracy drank heavily during his years with Fox, and gained a reputation as an alcoholic.  He failed to report for filming on Marie Galante in June 1934, and was found in his hotel room, virtually unconscious after a two week binge.  Tracy was removed from the Fox payroll while he recovered in hospital, and then sued $125,000 for delaying the production.   He completed only two more pictures with the studio. The details on how Tracy's relationship with Fox ended are unclear: later in life Tracy maintained that he was fired for his drunken behavior, but the Fox records do not support this account.  He was still under contract with the studio when MGM expressed their interest in the actor.   They were in need of a new male star, and contacted Tracy on April 2, 1935, offering him a seven-year deal.  That afternoon, the contract between Tracy and Fox was terminated "by mutual consent."  Tracy made a total of 25 pictures in the five years he was with Fox Film Corporation, most of which lost money at the box office.
Metro-Goldwyn-Mayer (1935–1955)
Tracy in Fritz Lang's Fury (1936), his first major hit
In the 1930s, Metro-Goldwyn-Mayer was the most respected movie production studio in Hollywood. When Tracy arrived there, his own reputation was not strong. Biographer James Curtis writes: "Tracy was scarcely a blip on the box office barometer in 1935, a critics' darling and little more."  He was, however, well known for being a troublemaker.   Producer Irving G. Thalberg was nevertheless enthusiastic about working with the actor, telling journalist Louella Parsons: "Spencer Tracy will become one of MGM's most valuable stars."   Curtis notes that the studio managed Tracy with care, a welcome change from the ineptitude he had known at Fox, which was like "a shot of adrenaline" for the actor.   His first film under the new contract was the quickly produced The Murder Man (1935).   Thalberg then began a strategy of pairing Tracy with the studio's top actresses:  Whipsaw (1935) co-starred Myrna Loy and was a commercial succeess.   Riffraff (1936) put Tracy opposite Jean Harlow. Both films were, however, designed and promoted to showcase their leading ladies, thus continuing Tracy's reputation as a secondary star.
Fury (1936) was the first film to prove that Tracy could make a success on his own merit.  Directed by Fritz Lang, Tracy played a man who swears revenge after narrowly escaping death by a lynch mob. The film and performance received excellent reviews.   It was popular with the public, going on to make $1.3 million worldwide.   Curtis writes: "audiences who, just a year earlier, had no clear handle on him, were suddenly turning out to see him. It was a transition that was nothing short of miraculous … [and showed] a willingness on the part of the public to embrace a leading man who was not textbook handsome nor bigger than life."   Fury was followed one month later with the release of the big-budget disaster movie San Francisco (1936). Tracy starred alongside Clark Gable in the film, allowing audiences to see him with the top male star in Hollywood.  Taking on the role of a priest, Tracy reportedly felt a heavy responsibility in representing the church.   Despite having only 17 minutes of screen time, Tracy was highly praised for his performance and received an Oscar nomination for Best Actor.   San Francisco became the highest grossing picture of 1936.   Donald Deschner, in his book on Tracy, credits Fury and San Francisco as the "two films that changed his career and gave him the status of a major star."   By this point, Tracy entered a period of self-imposed sobriety and MGM expressed pleasure with Tracy's professionalism.
Tracy's Oscar-winning role inCaptains Courageous (1937). He is seen here with co-star Freddie Bartholomew.
Oscar wins
Tracy's reputation continued to grow with the Libeled Lady (1936), a screwball comedy that cast him with William Powell, Loy and Harlow. According to Curtis, "Powell, Harlow and Loy were among the biggest draws in the industry, and equal billing in such a powerhouse company could only serve to advance Tracy's standing."  Libeled Lady was his third hit picture in the space of six months.   Tracy appeared in four movies in 1937. They Gave Him a Gun went largely unnoticed, but Captains Courageous was one of the major film events of the year.   Tracy played a Portuguese fisherman in an adventure movie based on the novel by Rudyard Kipling. He was uncomfortable feigning a foreign accent, and resented having his hair curled, but the role was a hit with audiences and Tracy won the Academy Award for Best Actor. The film was followed by Big City with Luise Rainer and Mannequin with Joan Crawford, the latter of which took good billings at the box office.  With two years of hit movies and industry recognition, Tracy became a star in the United States. A 1937 poll of 20 million people to find the "King and Queen of Hollywood" ranked Tracy sixth among males.
Tracy was reunited with Gable and Loy for 1938's Test Pilot. The film was another commercial and critical success.   Based on the positive response he had received in San Francisco, MGM again cast Tracy as a priest in Boys Town (1938).   Portraying Edward J. Flanagan, a Catholic priest and founder of Boys Town, was a role Tracy took seriously: "I'm so anxious to do a good job as Father Flanagan that it worries me, keeps me awake at night."   Tracy received strong reviews for his performance, and the movie grossed $4 million worldwide.  For the second year running, Tracy received an Academy Award for Best Actor. He was humble about the recognition, saying in his acceptance speech: "I honestly do not feel that I can accept this award … I can accept it only as it was meant to be for a great man—Father Flanagan."  He immediately sent the Academy Award statuette to Flanagan.   Tracy was listed as the fifth biggest money-making star of 1938.   He was absent from screens for almost a year before returning to Twentieth Century-Fox and appearing as Henry M. Stanley in Stanley and Livingstone, his only film of 1939. Curtis maintains that Tracy's non-visibility did little to affect his standing with the public or exhibitors.   In October of that year, a Fortune magazine survey to find the nation's favorite movie actor listed Tracy in first place.
Established star
MGM capitalized on Tracy's popularity, casting him in four movies for 1940. I Take This Woman with Hedy Lamarr was a critical and commercial failure, but the historical drama Northwest Passage—Tracy's first film in Technicolor—proved popular.   He then portrayedThomas Edison in Edison, the Man. Howard Barnes of the New York Herald Tribune was not charmed by the story, but wrote that Tracy, "by sheer persuasion of his acting", made the film worthy.   Boom Town was the third and final Gable-Tracy picture, also featuring Claudette Colbert, making it one of the most anticipated films of the year.   The film opened to the biggest crowd since Gone With the Wind.   Tracy signed a new contract with MGM in April 1941, which paid $5,000 a week and limited him to three pictures a year (Tracy had previously expressed a need to reduce his workload).  The contract also stated for the first time that his billing was to be "that of a star."  Boom Town was the last movie Tracy made in which his name did not feature in pole position.
Poster for Woman of the Year (1942), the first of nine pictures Tracy made with Katharine Hepburn
In 1941, Tracy returned to the role of Father Flanagan in Men of Boys Town. It was followed later that year by Tracy's only venture into the horror genre, an adaptation of Dr. Jekyll and Mr. Hyde, co-starring Ingrid Bergman and Lana Turner. Tracy was unhappy with the film, disliking the heavy make-up he needed to portray Hyde.   Critical response to the film was mixed.[112] Theodore Strauss of The New York Times wrote that "Mr. Tracy's portrait of Hyde is not so much evil incarnate as it is the ham rampant."   The film was popular with audiences, however, taking in more than $2 million at the box office.
Tracy was set to star in a film version of The Yearling for 1942, but on-set difficulties and bad weather forced the production to close.   With the end of that project, he became available for the new Katharine Hepburn movie, Woman of the Year (1942). Hepburn greatly admired Tracy, calling him "the best movie actor there was."  She had wanted him for her comeback vehicle, The Philadelphia Story (1940).   Hepburn was delighted that Tracy was available for Woman of the Year, saying "I was just damned grateful he was willing to work with me."   The romantic comedy performed well at the box office and received strong reviews.   William Boehnel wrote in the New York World-Telegram, "To begin with, it has Katharine Hepburn and Spencer Tracy in the leading roles. This in itself would be enough to make any film memorable. But when you get Tracy and Hepburn turning in brilliant performances to boot, you've got something to cheer about."
Woman of the Year was followed by an adaptation of John Steinbeck's Tortilla Flat (1942) which met with a tepid response.   MGM did not hesitate to repeat the teaming of Tracy and Hepburn and cast them in the dark mystery Keeper of the Flame (1942). Despite a weak critical reception the film was a popular success, outgrossing its predecessor and confirming the strength of the partnership.   Tracy's next three appearances were all war-based. A Guy Named Joe (1943) with Irene Dunne surpassed San Francisco to become his highest-grossing film to date.   The Seventh Cross (1944), about an escape from a Nazi concentration camp, met with critical acclaim.   It was followed by the aviation film Thirty Seconds Over Tokyo (1944). On the strength of these three releases, the annual Quigley poll revealed Tracy was MGM's biggest money-making star of 1944.   His only film the following year was Without Love (1945), a third film with Hepburn that performed well at the box office despite muted enthusiasm from critics.
Stage and screen
The Sea of Grass (1947)
In 1945, Tracy returned to the stage for the first time in 15 years. He had been through a dark patch personally—culminating with a stay in hospital—and Hepburn felt that a play would help restore his focus.   Tracy told a journalist in April, "I'm coming back to Broadway to see if I can still act."  The play was The Rugged Path by Robert E. Sherwood. It first previewed in Providence on September 28, to a sold out crowd and tepid response.   It was a difficult production; director Garson Kanin later wrote: "In the ten days prior to the New York opening all the important relationships had deteriorated. Spencer was tense and unbending, could not, or would not, take direction."  Tracy considered leaving the show before it even opened on Broadway, and lasted there just six weeks before announcing his intention to close the show.   It closed on January 19, 1946, after 81 performances.   Tracy later explained to a friend: "I couldn't say those goddamn lines over and over and over again every night … At least every day is a new day for me in films … But this thing—every day, every day, over and over again."
Tracy was absent from screens in 1946, the first year since his motion picture debut that there was no Spencer Tracy release.   His next film was The Sea of Grass (1947) a drama set in the American Old West with Hepburn. Similarly to Keeper of the Flame and Without Love, a lukewarm response from critics did not stop it from being a financial success both at home and abroad.   He followed it later that year with Cass Timberlane, in which he played a judge. It was a commercial success, but Curtis notes that co-star Lana Turner overshadowed Tracy in most of the reviews.   A fifth film with Hepburn came in 1948, Frank Capra's political drama State of the Union. Tracy played a presidential candidate in the movie, which was warmly received.   He then appeared in Edward, My Son (1949) with Deborah Kerr. Tracy disliked the role, and told director George Cukor, "It's rather disconcerting to me to find how easily I play a heel."   Upon its release, The New Yorker wrote of the "hopeless miscasting of Mr. Tracy."  The film became Tracy's biggest money-loser at MGM.   Tracy finished off the 1940s with Malaya (1949), an adventure film with James Stewart, and Adam's Rib (1949), a comedy with Tracy and Hepburn playing married lawyers who oppose each other in court. Tracy and Hepburn's friends, Garson Kanin and Ruth Gordon, wrote the parts specifically for the duo. The film received strong reviews and became the highest grossing Tracy-Hepburn picture to date.   Film critic Bosley Crowther wrote, "Mr. Tracy and Miss Hepburn are the stellar performers in this show and their perfect compatibility in comic capers is delightful to see."
Final MGM years
Tracy and Elizabeth Taylor in a promotional image for Father of the Bride(1950). The comedic role of Stanley Banks was one of Tracy's nine Oscar nominated performances.
Tracy received his first Academy Award nomination in 12 years for playing the role of Stanley Banks in Father of the Bride (1950). In the comedy film, Banks attempts to handle preparations for his daughter's (played by Elizabeth Taylor) upcoming wedding. "It's the second strong comedy in a row for Spencer Tracy, doing the title role, and he socks it", Variety noted.   Newsweek wrote, "Tracy hilariously sparks Father of the Bride with one of his surest comedy performances."   Bosley Crowther called the film "wonderful", and declared, "As a father, torn by jealousy, devotion, pride and righteous wrath, Mr. Tracy is tops."  The film was the biggest commercial success of Tracy's career to date, earning $6 million worldwide.   MGM wanted a sequel, and while Tracy was unsure, he accepted.   Father's Little Dividend (1951) was released ten months later and performed well at the box office. On the strength of the two movies, Tracy polled as one of the nation's top stars once again.
In 1951, Tracy portrayed a lawyer in The People Against O'Hara and re-teamed with Hepburn for the sports comedy Pat and Mike (1952), the second feature written expressly for the pair by Kanin and Gordon. Pat and Mike became one of the duo's most popular and critically acclaimed films.   Tracy followed it with Plymouth Adventure (1952), a historical drama set abroad theMayflower, co-starring Gene Tierney. It met with a poor response and posted a loss of $1.8 million.   In 1953, Tracy returned to the role of a concerned father in The Actress. "That film … got more [acclaim] from the critics than any film I ever made in all the years, and we didn't make enough to pay for the ushers in the theatre," recalled producer Lawrence Weingarten.   For his performance in The Actress, Tracy won a Golden Globe Award and received a nomination for the British Academy Film Award (BAFTA) .
MGM lent Tracy to Twentieth Century-Fox for the Western film Broken Lance, his only appearance of 1954. The Western was well received.   In 1955 Tracy turned down William Wyler's The Desperate Hours because he refused to take second-billing to Humphrey Bogart.  Instead, Tracy appeared as a one-armed protagonist who faces the hostility of a small town in Bad Day at Black Rock (1955), a film directed by John Sturges. For his work, Tracy received a fifth Oscar nomination and was awarded the Best Actor prize at the Cannes Film Festival. He had personally been unhappy with the picture, and threatened to leave it during production.   This behavior became a regular occurrence for the aging Tracy, who was increasingly lethargic and cynical. He began production on Tribute to a Bad Man in the summer of 1955, but pulled out when the location shooting in Colorado gave him altitude sickness.   The trouble caused by the picture fractured Tracy's relationship with MGM. In June 1955 he was the last remaining star of the studio's heyday, but with his contract up for renewal—Tracy opted to go independent for the first time in his movie career.