Rosa Parks
Rosa Parks – Mini Bio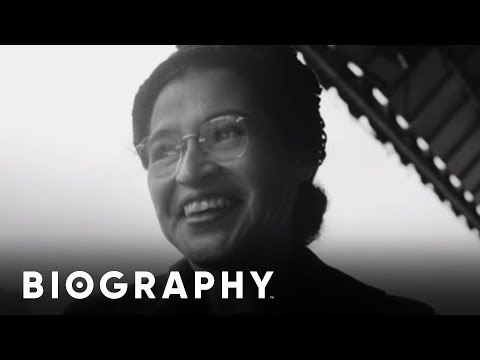 In Montgomery, Alabama, Rosa Parks was jailed for refusing to give up her seat on a public bus to a white man, a violation of the city's racial segregation laws.
Rosa Louise McCauley Parks (February 4, 1913 – October 24, 2005) was an African-American civil rights activist, whom the U.S. Congress called "the first lady of civil rights", and "the mother of the freedom movement".
On December 1, 1955, in Montgomery, Alabama, Parks refused to obey bus driver James F. Blake's order that she give up her seat to make room for a white passenger. Parks' action was not the first of its kind to impact the civil rights issue. Others had taken similar steps, including Lizzie Jennings in 1854, Homer Plessy in 1892, Irene Morgan in 1946, Sarah Louise Keys in 1955, and Claudette Colvin on the same bus system nine months before Parks, but Parks' civil disobedience had the effect of sparking the Montgomery Bus Boycott.
Parks' act of defiance became an important symbol of the modern Civil Rights Movement and Parks became an international icon of resistance to racial segregation. She organized and collaborated with civil rights leaders, including boycott leader Martin Luther King, Jr., helping to launch him to national prominence in the civil rights movement.
At the time of her action, Parks was secretary of the Montgomery chapter of the National Association for the Advancement of Colored People (NAACP) and had recently attended the Highlander Folk School, a Tennessee center for workers' rights and racial equality. Nonetheless, she took her action as a private citizen "tired of giving in". Although widely honored in later years for her action, she suffered for it, losing her job as a seamstress in a local department store. Eventually, she moved to Detroit, Michigan, where she found similar work. From 1965 to 1988 she served as secretary and receptionist to African-American U.S. Representative John Conyers. After retirement from this position, she wrote an autobiography and lived a largely private life in Detroit. In her final years she suffered from dementia, and became involved in a lawsuit filed on her behalf against American hip-hop duo OutKast on the song "Rosa Parks".
Parks eventually received many honors ranging from the 1979 Spingarn Medal to the Presidential Medal of Freedom, the Congressional Gold Medal and a posthumous statue in the United States Capitol's National Statuary Hall. Upon her death in 2005, she was the first woman and second non-U.S. government official granted the posthumous honor of lying in honor at the Capitol Rotunda. She was inducted into the Alabama Women's Hall of Fame in 2008.
Her refusal to move
After a day at work at Montgomery Fair department store, Parks boarded the Cleveland Avenue bus at around 6 p.m., Thursday, December 1, 1955, in downtown Montgomery. She paid her fare and sat in an empty seat in the first row of back seats reserved for blacks in the "colored" section, which was near the middle of the bus and directly behind the ten seats reserved for white passengers. Initially, she had not noticed that the bus driver was the same man, James F. Blake, who had left her in the rain in 1943. As the bus traveled along its regular route, all of the white-only seats in the bus filled up. The bus reached the third stop in front of the Empire Theater, and several white passengers boarded.
The No. 2857 bus on which Parks was riding before she was arrested (a GM "old-look" transit bus, serial number 1132), is now a museum exhibit at the Henry Ford Museum.
Following prevailing practice, bus driver Blake noted that the front of the bus was filled with white passengers and two or three white men were standing. He then moved the "colored" section sign behind Parks and demanded that four black people give up their seats in the middle section so that the white passengers could sit. Years later, in recalling the events of the day, Parks said, "When that white driver stepped back toward us, when he waved his hand and ordered us up and out of our seats, I felt a determination cover my body like a quilt on a winter night."
By Parks' account, Blake said, "Y'all better make it light on yourselves and let me have those seats."   Three of them complied. Parks said, "The driver wanted us to stand up, the four of us. We didn't move at the beginning, but he says, 'Let me have these seats.' And the other three people moved, but I didn't."  The black man sitting next to her gave up his seat. Parks moved, but toward the window seat; she did not get up to move to the newly repositioned colored section.   Blake then said, "Why don't you stand up?" Parks responded, "I don't think I should have to stand up." Blake called the police to arrest Parks. When recalling the incident for Eyes on the Prize, a 1987 public television series on the Civil Rights Movement, Parks said, "When he saw me still sitting, he asked if I was going to stand up, and I said, 'No, I'm not.' And he said, 'Well, if you don't stand up, I'm going to have to call the police and have you arrested.' I said, 'You may do that.'"
Rosa Parks' arrest
Booking photo of Parks
During a 1956 radio interview with Sydney Rogers in West Oakland several months after her arrest, when asked why she had decided not to vacate her bus seat, Parks said, "I would have to know for once and for all what rights I had as a human being and a citizen."
She also detailed her motivation in her autobiography, My Story:
People always say that I didn't give up my seat because I was tired, but that isn't true. I was not tired physically, or no more tired than I usually was at the end of a working day. I was not old, although some people have an image of me as being old then. I was forty-two. No, the only tired I was, was tired of giving in.
When Parks refused to give up her seat, a police officer arrested her. As the officer took her away, she recalled that she asked, "Why do you push us around?" The officer's response as she remembered it was, "I don't know, but the law's the law, and you're under arrest."   She later said, "I only knew that, as I was being arrested, that it was the very last time that I would ever ride in humiliation of this kind…"
Parks was charged with a violation of Chapter 6, Section 11 segregation law of the Montgomery City code, even though she technically had not taken up a white-only seat—she had been in a colored section.   Edgar Nixon and Clifford Durr bailed Parks out of jail the evening of December 2.