Mayor Michael Bloomberg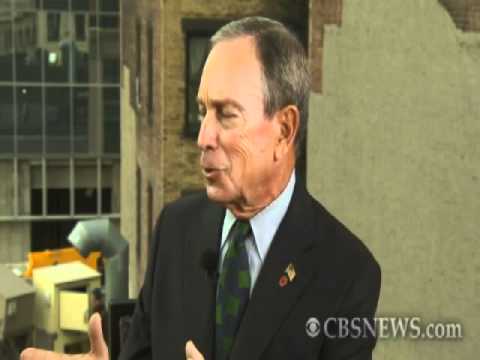 Bob Schieffer speaks with New York City Mayor Michael Bloomberg about how New York has changed since 9/11.
Michael Rubens Bloomberg (born February 14, 1942) is an American businessman and politician who is currently Mayor of New York City. With a net worth of $22 billion in 2012, he is also the 11th-richest person in the United States.  He is the founder and 88% owner of Bloomberg L.P., a financial data-services firm.
A Democrat before seeking elective office, Bloomberg switched his registration in 2001 and ran for mayor as a Republican, winning the election that year and a second term in 2005. Bloomberg left the Republican Party over policy and philosophical disagreements with national party leadership in 2007 and ran for his third term in 2009 as an independent candidate on the Republican ballot line. He was frequently mentioned as a possible independent candidate for the 2008 presidential election, which fueled further speculation when he left the Republican Party.   There was also speculation that he would run as a vice-presidential candidate.   Bloomberg did not, however, seek the presidency nor was he selected as a running mate by any of the presidential candidates.
In the fall of 2008, Bloomberg successfully campaigned for an amendment to New York City's term-limits law, in order to allow him to run for a third term in 2009. Bloomberg won the election on November 3, 2009.
Early life
He was born at St. Elizabeth's Hospital in the Brighton neighborhood of Boston on February 14, 1942.[10] His family was Jewish. His father, William Henry Bloomberg (1906–1963), was a real estate agent, and the son of Alexander "Elick" Bloomberg, an immigrant. His mother, Charlotte Rubens Bloomberg, was born on January 2, 1909, in New Jersey, the daughter of a Russian-born immigrant and a New Jersey–born mother. She died, aged 102, on June 19, 2011.
The family lived in Allston, Massachusetts, until Michael Bloomberg was two years old; they then moved to Brookline, Massachusetts, for the next two years, finally settling in Medford, a Boston suburb, where he lived until after he graduated from college.   Bloomberg is also an Eagle Scout.
Bloomberg attended Johns Hopkins University, where he joined Phi Kappa Psi, worked as a parking lot attendant to pay his tuition, and graduated in 1964 with a Bachelor of Science in electrical engineering.   Later he received his Master of Business Administrationfrom Harvard Business School.
Business career
In 1973, Bloomberg became a general partner at Salomon Brothers, a bulge-bracket, Wall Street investment bank, where he headed equity trading, and later, systems development. In 1981, Salomon Brothers was bought, and Bloomberg was fired from the investment bank and given a $10 million severance package.   Using this money, Bloomberg went on to set up a company named Innovative Market Systems. His business plan was based on the realization that Wall Street (and the financial community generally) was willing to pay for high quality business information delivered as quickly as possible and in as many usable forms as technically possible (such as graphs of highly specific trends).
In 1982, Merrill Lynch became the new company's first customer, installing 22 of the company's Market Master terminals and investing $30 million in the company. The company was renamed Bloomberg L.P. in 1986. By 1987, it had installed 5,000 terminals. Within a few years, ancillary products including Bloomberg Tradebook (a trading platform), the Bloomberg Messaging Service, and the Bloomberg newswire were launched. As of 2009, the company had more than 250,000 terminals worldwide. His company also has a radio network which currently has its flagship station as 1130 WBBR-AM in New York City. He left the position of CEO to pursue a political career as the mayor of New York. Bloomberg was replaced as CEO by Lex Fenwick. The company is now led by president Daniel Doctoroff, a former deputy mayor under Bloomberg.
As the mayor of New York, Bloomberg declines to receive a city salary, accepting remuneration of $1.00 annually for his services. He maintains a public listing in the New York City phone directory, residing not in Gracie Mansion – the official mayor's mansion – but instead at his own home on the Upper East Side of Manhattan, at 17 East 79th Street between Madison and Fifth Avenues. He owns additional homes in London, Bermuda and Vail.
Bloomberg says that he frequently rides the New York City Subway, particularly in the commute from his 79th Street home to his office at City Hall. An August 2007 story in The New York Times asserted that he was often seen chauffeured by two New York Police Department-owned SUVs to an express train station to avoid having to change from the local to the express trains on the Lexington Avenue line.
Bloomberg wrote an autobiography, with help from a ghost writer, called Bloomberg by Bloomberg (1997, ISBN 0-471-15545-4).
Wealth
In March 2009, Forbes reported Bloomberg's wealth at $16 billion, a gain of $4.5 billion over the previous year, enjoying the world's biggest increase in wealth in 2009.   At that time, there were only four fortunes in the U.S. that were larger (although the Wal-Mart family fortune is split among four people). He moved from 142nd to 17th in the Forbes list of the world's billionaires in only two years (March 2007 – March 2009).   In March 2011, his total wealth had increased to $19.5 billion, ranking 12th in the Forbes 400 and 30th in the world.   As of 2012, Forbes ranks his fortune at $22 billion.
Philanthropy
Bloomberg's personal net worth, in addition to aiding his political career, has allowed him to engage in substantial philanthropic endeavors, including the donation of over $300 million to Johns Hopkins University, where he served as the chairman of the board from 1996 to 2002.
According to the Chronicle of Philanthropy, Bloomberg, through his Bloomberg Family Foundation, donated and/or pledged $138 million in 2004, $144 million in 2005, $165 million in 2006, and $205 million in 2007, making him the seventh-largest individual contributor to philanthropy in the U.S. for 2007.   2006 recipients include the Campaign for Tobacco-Free Kids; Centers for Disease Control and Prevention; Johns Hopkins Bloomberg School of Public Health; World Lung Foundation and the World Health Organization. In 2008, Bloomberg's website announced a combined donation of $500 million with Bill Gates to help governments in developing countries with tobacco control.
According to The New York Times, Bloomberg has been an "anonymous donor" to the Carnegie Corporation each year for the last several years, with gifts ranging from $5 to $20 million. The Carnegie Corporation has distributed this contribution to hundreds of New York City organizations ranging from the Dance Theatre of Harlem to Gilda's Club, a non-profit organization that provides support to people and families living with cancer.
In 1996, Bloomberg endowed the William Henry Bloomberg Professorship at Harvard with a $3 million gift in honor of his father, who died in 1963, saying, "throughout his life, he recognized the importance of reaching out to the nonprofit sector to help better the welfare of the entire community."  Bloomberg also endowed his hometown synagogue, Temple Shalom, which was renamed for his parents as the William and Charlotte Bloomberg Jewish Community Center of Medford.
Bloomberg reports giving $254 million in 2009 to almost 1,400 nonprofit organizations, saying, "I am a big believer in giving it all away and have always said that the best financial planning ends with bouncing the check to the undertaker."
On July 21, 2011, Bloomberg announced that he would donate $50 million to Sierra Club's "Beyond Coal" campaign, the grassroots organization's efforts to close older coal plants and prevent new ones from being built. The gift, spread out over four years, will come from Bloomberg Philanthropies.