Lincoln (2012 film)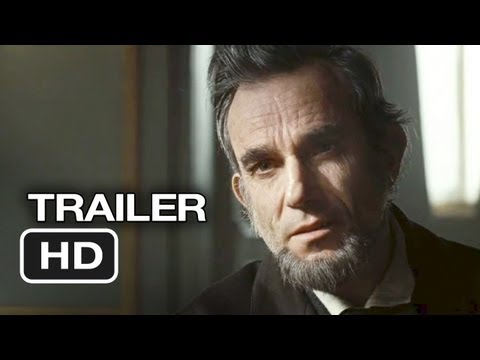 As the Civil War nears its end, President Abraham Lincoln clashes with members of his cabinet over the issue of abolishing slavery.
Lincoln is an upcoming 2012 biographical war drama film directed and produced by Steven Spielberg, starring Daniel Day-Lewis as United States President Abraham Lincoln and Sally Field as Mary Todd Lincoln.   The film is based on Doris Kearns Goodwin's biography of Lincoln, Team of Rivals: The Political Genius of Abraham Lincoln, and covers the final four months of Lincoln's life. Filming began Monday, October 17, 2011 and ended on December 19, 2011.  The film is scheduled for limited release on November 9, 2012 and wide release on November 16, 2012 in the United States by DreamWorks Studios through Disney's Touchstone distribution label in the U.S.   and January 25 in the United Kingdom, with distribution in international territories, including the UK, by 20th Century Fox.   The timing of the film's release coincides with the 150th anniversary of the days leading to the issuance of the Emancipation Proclamation.
Plot summary
DreamWorks has announced that the film "will focus on the political collision of Lincoln and the powerful men of his cabinet on the road to abolition and the end of the Civil War."   According to Spielberg, Doris Kearns Goodwin's entire book about Lincoln's presidency is "much too big" for a film, and said that the film will focus on the last few months of Lincoln's life, the ending of slavery and the Union victory in the Civil War. Spielberg said that "what permanently ended slavery was the very close vote in the House of Representatives over the Thirteenth Amendment – that story I'm excited to tell." Spielberg plans to show "Lincoln at work, not just Lincoln standing around posing for the history books…arguably the greatest working President in American history doing some of the greatest work for the world."
Screenwriter Tony Kushner has said that he worked on the script for six years and that he was very interested in "the relationship of Lincoln to the abolitionist GOP" and that Lincoln's "incredible ability to finesse very, very treacherous political circumstances and continue to move the country forward, I mean, to lead the country forward in the midst of the most horrendously difficult period in its history, I think, is breathtaking and awe-inspiring."
Cast
Liam Neeson was originally cast as Lincoln in January 2005, having previously worked with Spielberg in Schindler's List.

   

In preparation for the role, Neeson studied Lincoln extensively.

  

However, in July 2010, Neeson left the project, saying that he had grown too old for the part.

  

In November 2010, it was announced that Day-Lewis would replace Neeson in the role.

  

Doris Kearns Goodwin described Lincoln in his final months as a leader with "the rare wisdom of a temperament that consistently displayed an uncommon magnanimity to those who opposed him." Producer Kathleen Kennedy described Day-Lewis's performance as "remarkable" after 75% of the filming had been completed, and said, "Every day you get the chills thinking that Lincoln is sitting there right in front of you." Kennedy described Day-Lewis's method acting immersion into the role: "He is very much deeply invested and immersed throughout the day when he's in character, but he's very accessible at the end of the day, once he can step outside of it and not feel that – I mean, he's given huge scenes with massive amounts of dialogue and he needs to stay in character, it's a very, very performance-driven movie."
Field was first announced to join the cast as early as September 2007, but officially joined the cast in April 2011.

  

Field said, "To have the opportunity to work with Steven Spielberg and Daniel Day-Lewis and to play one of the most complicated and colorful women in American history is simply as good as it gets."

  

Spielberg said, "she has always been my first choice to portray all the fragility and complexity that was Mary Todd Lincoln."
Robert Lincoln had recently completed his studies at Chicago University and was newly named a Union Army captain and personal attendant to General Grant. He returned to the White House on April 14, 1865 to visit his family, and his father was assassinated that night.
Tad was 12 years old, and toured Richmond, Virginia, with his father.
A fervent abolitionist, Stevens feared that Lincoln would "turn his back on emancipation." Stevens "excoriated him on the floor of the House" for meeting with a Confederate peace delegation.
According to John Hay, "The history of governments affords few instances of an official connection hallowed by a friendship so absolute and sincere as that which existed between these two magnanimous spirits", namely Seward and Lincoln. Seward had been seriously injured in a carriage accident nine days before Lincoln's assassination. He and his son Frederick W. Seward were attacked by Lewis Powell simultaneous with Lincoln's shooting, and were both severely injured but both survived.
Wood became a Copperhead Democratic Congressman sympathetic to the Confederacy
Stephens had served with Lincoln in Congress from 1847 to 1849. He met with Abraham Lincoln on the steamboat River Queen at the unsuccessful Hampton Roads Conference on February 3, 1865
Campbell was a former Supreme Court Justice who had resigned at the start of war and then served as Assistant Secretary of War in the Confederate government. He was also a member of the Confederate delegation that met with Lincoln at the Hampton Roads Conference
Stanton took charge of the investigation of the assassination plot
Hutchins broke with his party to cast a decisive vote in favor of the Thirteenth Amendment to the United States Constitution which abolished slavery
Keckley was a former slave who was dressmaker and confidant to Mary Todd Lincoln
Commanded the Union Army from March 1864 and directed the strategy that led to Union Victory.
Bilboe had been imprisoned but was freed by Lincoln, and then lobbied for passage of the Thirteenth Amendment.
Latham founded Lincoln College in 1865
Blair was an influential Republican politician who tried to arrange a peace agreement between the Union and the Confederacy
Schell was politician who later represented New York in the United States House of Representatives.
Hay was assistant and secretary to Abraham Lincoln
Nicolay was secretary to Abraham Lincoln
Usher was the Secretary of the Interior in Lincoln's cabinet
Blair was the son of Francis Preston Blair, was the former Postmaster-General and was a political opponent of the Radical Republicans
Speed was United States Attorney General and brother of Joshua Speed, Lincoln's oldest personal friend
Smith was Thaddeus Stevens's biracial housekeeper. Stevens was a bachelor and Smith lived with him for many years.
Lee was the daughter of Francis Preston Blair, and wrote hundreds of letters documenting events during the Civil War