Katharine Hepburn
Anthony Hopkins' tribute to Katharine Hepburn from TCM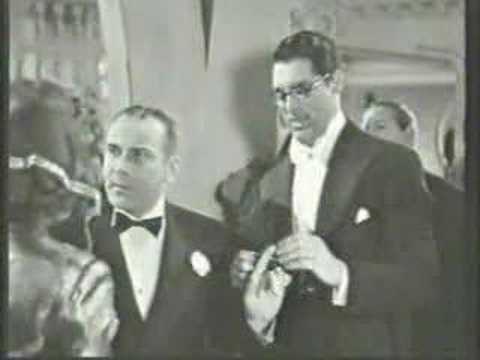 This segment was aired on the Turner Classic Movies channel. It's Anthony Hopkins' tribute to Katharine Hepburn. The first ten seconds are missing though.
Studio publicity photograph, ca. 1941
Katharine Houghton Hepburn (November 9, 1907 – June 29, 2003) was an American actress of film, stage, and television. Known for her headstrong independence and spirited personality, Hepburn's career as a Hollywood leading lady spanned more than 60 years. Her work came in a range of genres, from screwball comedy to literary drama, and she received four Academy Awards for Best Actress—a record for any performer. Hepburn's characters were often strong, sophisticated women with a hidden vulnerability.
Raised in Connecticut by wealthy, progressive parents, Hepburn began to act while studying at Bryn Mawr College. After four years in the theatre, favorable reviews of her work on Broadway brought her to the attention of Hollywood. Her early years in the film industry were marked with success, including an Academy Award for her third picture, Morning Glory (1933), but this was followed by a series of commercial failures. In 1938 she was labeled "box office poison". Hepburn masterminded her own comeback, buying out her contract with RKO Radio Pictures and acquiring the film rights to The Philadelphia Story, which she sold on the condition that she be the star. In the 1940s she was contracted to Metro-Goldwyn-Mayer, where her career focused on an alliance with Spencer Tracy. The screen-partnership spanned 25 years, and produced nine movies.
Hepburn challenged herself in the latter half of her life, as she regularly appeared in Shakespeare stage productions and tackled a range of literary roles. She found a niche playing middle-aged spinsters, such as in The African Queen (1951), a persona the public embraced. Three more Oscars came for her work in Guess Who's Coming to Dinner (1967), The Lion in Winter (1968), and On Golden Pond (1981). In the 1970s she began appearing in television movies, which became the focus of her career in later life. She remained active into old age, making her final screen appearance in 1994 at the age of 87. After a period of inactivity and ill-health, Hepburn died in 2003 at the age of 96.
Hepburn famously shunned the Hollywood publicity machine, and refused to conform to societal expectations of women. She was outspoken, assertive, athletic, and wore pants before it was fashionable. She married once, as a young woman, but thereafter lived independently. A 26-year affair with her co-star Spencer Tracy was hidden from the public. With her unconventional lifestyle and the independent characters she brought to the screen, Hepburn came to epitomize the "modern woman" in 20th-century America and helped change perceptions of women. In 1999, she was named by the American Film Institute as the top female Hollywood legend.
Career – Breaking into theatre (1928–1932)
Hepburn left Bryn Mawr determined to become an actress.   The day after graduating, she traveled to Baltimore to meet Edwin H. Knopf, who ran a successful stock theatre company. Impressed by her eagerness, Knopf cast Hepburn in his current production, The Czarina.   She received good reviews for her small role; the Printed Word described her performance as "arresting."   She was given a part in the following week's show, but here Hepburn was less accomplished. She was criticized for her shrill voice, and so left Baltimore to study with an acclaimed voice tutor in New York City.
Hepburn in the role that brought her to the attention of Hollywood, 1932's The Warrior's Husband
Knopf decided to produce The Big Pond in New York and called for Hepburn to be the understudy to the leading lady. A week before opening, the lead was fired and replaced with Hepburn, which gave her a starring role after only four weeks in the theatre.   On opening night, Hepburn turned up late, mixed her lines, tripped over her feet, and spoke too high and fast to be comprehensible. She was promptly fired, and the original leading lady rehired. Undeterred, Hepburn joined forces with producer Arthur Hopkins, and accepted the role of a schoolgirl in These Days. Her Broadway debut came on November 12, 1928, at the Cort Theatre, but reviews for the show were poor and it closed after eight nights.   Hopkins promptly hired Hepburn as the lead understudy in Philip Barry's play Holiday. In early December, after only two weeks, she quit to marry Ludlow Ogden Smith, her beau from college. She planned to leave the theatre behind, but began to miss the work and quickly resumed the understudy role in Holiday, which she held for six months.
In 1929, Hepburn turned down a role with the Theatre Guild to play the lead in Death Takes a Holiday. She felt the role was perfect, but again she was fired.   Hepburn went back to the Guild and took an understudy role for minimum pay in A Month in the Country. In the spring of 1930, Hepburn joined a stock company in Stockbridge, Massachusetts. She left halfway through the summer season, and continued studying with a drama tutor.   In early 1931, she was cast in the Broadway production ofArt and Mrs. Bottle. She was released from the role after the playwright took a dislike to her, saying "She looks a fright, her manner is objectionable, and she has no talent", but then rehired when no other actress could be found.   It went on to be a small success.
Hepburn appeared in a number of plays with a summer stock company in Ivoryton, Connecticut, and she proved to be a hit.   During the summer of 1931, Philip Barry asked her to appear in his new play, The Animal Kingdom, alongside Leslie Howard. They began rehearsals in November, Hepburn feeling sure this was the role to make her a star, but Howard disliked the actress and again she was fired.   When she asked Barry why she had been let go, he responded, "Well, to be brutally frank, you weren't very good."   This unsettled the self-assured Hepburn, but she continued to look for work.   She took a small role in an upcoming play, but as rehearsals began she received an offer to read for the lead role in the Greek fable The Warrior's Husband.  
The Warrior's Husband proved to be Hepburn's break-out performance. Biographer Charles Higham states that the play was ideal for the actress, requiring an aggressive energy and athleticism, and she enthusiastically involved herself with its production.   It opened on March 11, 1932, at the Morosco Theatre on Broadway. Hepburn's first entrance called for her to leap down a narrow stairway with a stag over her shoulder, wearing a short silver tunic. The show ran for three months, and Hepburn received positive reviews.   Richard Garland of the New York World-Telegram wrote, "It's been many a night since so glowing a performance has brightened the Broadway scene."
Hollywood success (1932–1934)
Hepburn's first movie appearance, in the melodrama A Bill of Divorcement (1932). Critics loved the performance and she became an instant star.
A scout for the Hollywood agent Leland Hayward spotted Hepburn's appearance in The Warrior's Husband, and asked her to test for the part of Sydney Fairfield in the upcoming RKO film A Bill of Divorcement. Hepburn was unhappy with her test scene, and sent material from Holidayinstead.   Director George Cukor was impressed by what he saw: "There was this odd creature," he recalled, "she was unlike anybody I'd ever heard." He particularly liked the manner in which she picked up a glass: "I thought she was very talented in that action."   Offered the role, Hepburn demanded $1,500 a week, a large amount for an unknown actress.   Cukor encouraged the studio to accept her demands and they signed Hepburn to a temporary contract with a three-week guarantee.   RKO head David O. Selznick recounted that he took a "tremendous chance" in casting the unusual actress.
Hepburn arrived in California in July 1932, at 25 years old. She starred in A Bill of Divorcementopposite John Barrymore, showing no sign of intimidation.   Although she struggled to adapt to the nature of film acting, Hepburn was fascinated by the industry from the start.   The picture was a success and Hepburn received rave reviews.  Mordaunt Hall of The New York Timescalled her performance "exceptionally fine … Miss Hepburn's characterization is one of the finest seen on the screen."   The Variety review declared, "Standout here is the smash impression made by Katharine Hepburn in her first picture assignment. She has a vital something that sets her apart from the picture galaxy."   On the strength of A Bill of Divorcement, RKO signed the actress to a long-term contract.   George Cukor became a lifetime friend and colleague—he and Hepburn made ten films together.
Film still from Little Women (1933), which was one of the most popular movies of its day
Hepburn's second film was Christopher Strong (1933), the story of an aviatrix and her affair with a married man. The picture was not commercially successful, but Hepburn's own reviews were good.   Regina Crewe wrote in the Journal American that although her mannerisms were grating, "they compel attention, and they fascinate an audience. She is a distinct, definite, positive personality."   Her third picture confirmed Hepburn as a major actress in Hollywood.   For playing aspiring actress Eva Lovelace in Morning Glory, she won an Academy Award for Best Actress. She had seen the script on the desk of producer Pandro S. Berman and, convinced that she was born to play the part, insisted that the role be hers.   Hepburn chose not to attend the awards ceremony—as she would not for the duration of her career—but was thrilled with the win.   Her success continued with the role of Jo in the screen adaptation of Little Women (1933). The movie was a hit, one of the film industry's biggest successes to date, and Hepburn won the Best Actress prize at the Venice Film Festival. Little Women was one of Hepburn's personal favorites and she was proud of her performance, later saying, "I defy anyone to be as good as I was [as Jo]."
By the end of 1933 Hepburn was at the top of her profession, but yearned to prove herself on Broadway.   Jed Harris, one of the most successful theatre producers of the 1920s, was going through a career slump.   He asked Hepburn to appear in the play The Lake, which she agreed to do for a low salary.   Before she was given leave, RKO asked that she film Spitfire (1934). Hepburn's role in the movie was Trigger Hicks, an uneducated mountain girl. It is widely considered one of her worst films, and Hepburn received poor reviews for the effort.   Hepburn kept a picture of Hicks in her bedroom throughout her life to "[keep] me humble."
The Lake previewed in Washington, D.C., where there was a large advance sale.  Harris's poor direction had eroded Hepburn's confidence, and she struggled with the performance.   Despite this, Harris moved the play to New York without further rehearsal. It opened at the Martin Beck Theatre on December 26, 1933, and Hepburn was roundly panned by the critics.   Dorothy Parker quipped, "Katharine Hepburn runs the gamut of emotions from A to B."   Already tied to a ten-week contract, she had to endure the embarrassment of rapidly declining box office sales.   Harris decided to take the show to Chicago, saying to Hepburn, "My dear, the only interest I have in you is the money I can make out of you." Hepburn refused, and paid Harris $14,000 to close the production instead.   She later referred to Harris as "hands-down the most diabolical person I have ever met," and claimed this experience was important in teaching her to take responsibility for her career.
Career struggles, "box office poison" (1934–1938)
In Mary of Scotland (1936), one of a series of unsuccessful films Hepburn made in this period.
After the failure of Spitfire and The Lake, RKO cast Hepburn in The Little Minister (1934), based on a Victorian novel by James Barrie, in an attempt to repeat the success of Little Women.   There was no such recurrence, and the picture was a commercial failure.   The romantic drama Break of Hearts (1935) with Charles Boyer was poorly reviewed and also lost money at the box office.   After three forgettable movies, success returned to Hepburn with Alice Adams (1935), the story of a girl's desperation to climb the social ladder. Hepburn loved the book and was delighted to be offered the role.   The picture was a hit, one of Hepburn's personal favorites, and gave the actress her second Oscar nomination.
Berman allowed Hepburn to select her next feature.   She chose George Cukor's new project, Sylvia Scarlett (1935), which paired her for the first time with Cary Grant. Her hair was cut short for the part, as her character masquerades as a boy for much of the film. Critics disliked Sylvia Scarlett and it was unpopular with the public.   For her next film she played Mary Stuart in John Ford's Mary of Scotland(1936). It met with a similarly poor reception.   A Woman Rebels (1937) followed, a Victorian era drama where Hepburn's character fights against convention. Quality Street (1937) also had a period setting, this time a comedy. Neither movie was popular with the public, which meant she had made four unsuccessful pictures in a row.
Alongside a series of unpopular films, problems arose from Hepburn's attitude.   She had a difficult relationship with the press, with whom she could be rude and provocative.   When asked if she had any children, she snapped back, "Yes I have five: two white and three colored."   She would not give interviews and denied requests for autographs, which earned her the nickname "Katharine of Arrogance."   The public were also baffled by her boyish behavior and fashion choices, and she became a largely unpopular figure.  Hepburn sensed that she needed to leave Hollywood, so returned east to star in a theatrical adaptation of Jane Eyre. It had a successful tour, but uncertain about the script and unwilling to risk failure after the disaster of The Lake, Hepburn decided against taking the show to Broadway.   Towards the end of 1936, Hepburn vied for the role of Scarlett O'Hara in Gone With The Wind.   Producer David O. Selznick refused to offer her the part because he felt she had no sex appeal. He reportedly told Hepburn, "I can't see Rhett Butler chasing you for twelve years."
Hepburn made four films with Cary Grant. They are seen here in Bringing Up Baby (1938), which flopped on release but has since become a classic screwball comedy.
For her next feature, Stage Door (1937) paired Hepburn with Ginger Rogers in a role that mirrored her own life—that of a wealthy society girl trying to make it as an actress.   Hepburn was praised for her work at early previews, which gave her top billing over Rogers, and the film was nominated for Best Picture at the Academy Awards. But it was not the box office hit RKO had hoped.   Industry pundits blamed Hepburn for the small profit, but the studio continued its commitment to resurrecting her popularity.   She was cast in Howard Hawks' screwball comedyBringing Up Baby (1938) alongside Cary Grant. Hepburn played the physical comedy of the film with confidence, and took tips on comedic timing from her co-star Walter Catlett. Bringing Up Baby was acclaimed by critics, but it was nevertheless unsuccessful at the box office.   With the genre and Grant both hugely popular at the time, biographer A. Scott Berg believes the blame lay with moviegoers' rejection of Hepburn.
Bringing Up Baby was the last picture Hepburn did at RKO. After its release, the Independent Theatre Owners of America included Hepburn on a list of actors considered "Box Office Poison."  The next film offered to her was Mother Carey's Chickens, a B movie with poor prospects.   Hepburn turned it down, and instead opted to buy herself out of her contract for $75,000.   Many actors were afraid to leave the stability of the studio system at the time, but Hepburn's personal wealth meant she could afford to be independent.  She signed on for the film version of Holiday (1938) with Columbia Pictures, pairing her for the third time with Grant. The comedy was well received by critics, but it failed to draw much of an audience, and the next script offered to Hepburn came with a salary of $10,000—less than she had received at the start of her film career.   Reflecting on this change in fortunes, Andrew Britton writes of Hepburn, "No other star has emerged with greater rapidity or with more ecstatic acclaim. No other star, either, has become so unpopular so quickly for so long a time."
Revival (1939–1942)
As Tracy Lord in The Philadelphia Story (1940), alongside James Stewart. Hepburn said of the role, "I gave her life and she gave me back my career."
Following this decline in her career, Hepburn took action to create her own comeback vehicle. She left Hollywood to look for a stage project, and signed on to star in Philip Barry's new play, The Philadelphia Story. It was tailored to showcase the actress, with the character of socialite Tracy Lord incorporating a mixture of humor, aggression, nervousness, and vulnerability.   Howard Hughes, Hepburn's beau at the time, sensed that the play could be her ticket back to Hollywood stardom and bought her the film rights before it even debuted on stage.   The pair also contributed a quarter of the play's production costs.   The Philadelphia Story first toured the United States, to positive reviews, and then opened in New York at the Schubert Theatre on March 29, 1939.   It was a big hit, critically and financially, running for 417 performances and then going on a second successful tour.
Several of the major film studios approached Hepburn to produce the movie version of Barry's play.   She chose to sell the rights to Metro-Goldwyn-Mayer (MGM), Hollywood's number one studio, on the condition that she be the star. As part of the deal she also received the director of her choice, George Cukor, but the co-stars she wanted, Clark Gable and Spencer Tracy, were both unavailable. Louis B. Mayer promised her James Stewart and $150,000 "for anyone else you want or can get."   Hepburn chose her friend and previous co-star, Cary Grant, to whom she ceded top billing.   Before filming began, Hepburn shrewdly noted, "I don't want to make a grand entrance in this picture. Moviegoers … think I'm too la-di-da or something. A lot of people want to see me fall flat on my face." Thus the film began with Grant knocking the actress flat on her backside. Berg describes how the character was crafted to have audiences "laugh at her enough that they would ultimately sympathize with her", which Hepburn felt was crucial in "re-creating" her public image.   The Philadelphia Story was one of the biggest hits of 1940, breaking records at Radio City Music Hall.   The review in Time declared, "Come on back, Katie, all is forgiven."   Herb Golden of Variety stated, "It's Katharine Hepburn's picture … The perfect conception of all flighty but characterful Main Line socialite gals rolled into one, the story without her is almost inconceivable."   Hepburn was nominated for her third Academy Award for Best Actress, and won the New York Film Critics Circle Award for Best Actress.
Hepburn was also responsible for the development of her next project, the romantic comedy Woman of the Year. The idea for the film was proposed to her by Garson Kanin in 1941. Hepburn passed the outline onto Joseph L. Mankiewicz at MGM, who expressed an interest in the picture. Kanin recalled how Hepburn contributed to the script: reading it, suggesting cuts and word changes, and generally providing helpful enthusiasm for the project.   Hepburn presented the finished product to MGM and demanded $250,000—half for her, half for the authors, Michael Kanin and Ring Lardner, Jr.   Her terms accepted, Hepburn was also given the director and co-star of her choice, George Stevens and Spencer Tracy. Released in 1942, Woman of the Year was another success. Critics praised the chemistry between the stars and, says Higham, noted Hepburn's "increasing maturity and polish."  The World-Telegram commended two "brilliant performances," and Hepburn received a fourth Academy Award nomination for her role as independent career-woman Tess Harding. During the course of the movie, Hepburn signed a star contract with MGM.
Slowing in the 1940s (1942–1949)
In 1942, Hepburn returned to Broadway to appear in another Philip Barry play, Without Love, which was also written with the actress in mind.   Critics were unenthusiastic about the production but with Hepburn's popularity at a high it ran for 16 sold-out weeks. MGM were eager to reunite Tracy and Hepburn for a new picture, and settled on Keeper of the Flame (1942). A dark mystery with a propaganda message on the dangers of fascism, the film was seen by Hepburn as an opportunity to make a worthy political statement.   It received poor notices but was a financial success, confirming the popularity of the Tracy–Hepburn pairing.
The majority of films Hepburn did in this period were with Spencer Tracy. She later said the partnership did much to advance her career, as he was the more popular star at the time.   The pair are seen here in one of their most successful outings, Adam's Rib (1949).
Since Woman of the Year Hepburn had committed to a romantic relationship with Tracy and dedicated herself to helping the star, who suffered from alcoholism and insomnia.   Her career slowed as a result, and she worked less for the remainder of the decade than she had done in the 1930s—notably by not appearing on-stage again until 1950.   Her only appearance in 1943 was a cameo in the morale-building wartime film Stage Door Canteen, playing herself. She took an atypical role in 1944, playing a Chinese peasant in the high-budget drama Dragon Seed. Hepburn was enthusiastic about the film, but it met with a tepid response and she was described as miscast.   She then reunited with Tracy for the film version of Without Love (1945), after which she turned down a role in The Razor's Edge to support Tracy through his return to Broadway.   Without Love received poor reviews, but a new Tracy–Hepburn picture was a big event and it was popular on release, selling a record number of tickets over Easter weekend 1945.
Hepburn's next film was Undercurrent (1946), a film noir with Robert Taylor and Robert Mitchum that was poorly received.   A fourth film with Tracy came in 1947: a drama set in the American Old West entitled The Sea of Grass. Similarly to Keeper of the Flame andWithout Love, a lukewarm response from critics did not stop it from being a financial success both at home and abroad.   The same year, Hepburn portrayed Clara Wieck Schumann in Song of Love. She trained intensively with a pianist for the role.   By the time of its release in October, Hepburn's career had been significantly affected by her public opposition to the growing anti-communist witch-hunt in Hollywood. Viewed by some as dangerously progressive, she was not offered work for nine months and people reportedly threw things at screenings of Song of Love.   Her next film role came unexpectedly, as she agreed to replace Claudette Colbert only days before shooting began on Frank Capra's political drama State of the Union (1948).   Tracy had long been signed to play the male lead, and so Hepburn was already familiar with the script and stepped up for the fifth Tracy–Hepburn picture.   Critics responded positively to the film and it performed well at the box office.
Tracy and Hepburn appeared on screen together for a third consecutive year in the 1949 film Adam's Rib. Like Woman of the Year, it was a "battle of the sexes" comedy, and was written specifically for the duo by their friends Garson Kanin and Ruth Gordon. A story of married lawyers who oppose each other in court, Hepburn described it as "perfect for [Tracy] and me."  She was instrumental in getting Judy Holliday cast in the film, which kick-started the young actress's Hollywood career.   Although Hepburn's political views still prompted scattered picketing at theatres around the country, Adam's Rib was a hit, favorably reviewed and the most profitable Tracy–Hepburn picture to date.   The New York Times critic Bosley Crowther was full of praise for the film and hailed the duo's "perfect compatibility."
Professional expansion (1950–1952)
Hepburn often worked abroad in the 1950s, beginning with The African Queen (1951), which was shot on location in Africa. Pictured is a promotional image for the film, with co-star Humphrey Bogart.
The 1950s saw Hepburn take on a series of professional challenges, and stretch herself further than at any other point in her life at an age when most actresses began to retreat.   Berg describes the decade as "the heart of her vast legacy" and "the period in which she truly came into her own."   In January 1950, Hepburn made her first venture into Shakespeare, playing Rosalind in As You Like It. She hoped to prove she could play already established material, and said, "It's better to try something difficult and flop than to play it safe all the time."   It opened at the Cort Theatre in New York to a capacity audience, and was virtually sold out for 148 shows.  The production then went on tour. Reviews for Hepburn varied, but she was noted as the only leading lady in Hollywood who was performing high-caliber material on the stage.
In 1951, Hepburn filmed The African Queen, her first movie in Technicolor. She played Rose Sayer, a prim spinster missionary living in German East Africa at the outbreak of World War I. Co-starring Humphrey Bogart, The African Queen was shot mostly on location in the Belgian Congo, an opportunity Hepburn embraced.   It proved a difficult experience, however, and Hepburn became ill with dysentery during filming.   Later in life, she released a memoir about the experience. The movie was released at the end of 1951 to popular support and critical acclaim, and gave Hepburn her fifth Best Actress nomination at the Academy Awards. The first successful film she had made without Tracy since The Philadelphia Story a decade earlier, it proved that she could be a hit without him and fully reestablished her popularity.
Hepburn went on to make the sports comedy Pat and Mike (1952), the second film written specifically as a Tracy–Hepburn vehicle by Kanin and Gordon. Hepburn was a keen athlete, and Kanin later described this as his inspiration for the film: "As I watched Kate playing tennis one day … it occurred to me that her audience was missing a treat." Hepburn was asked to gain weight for the role, and she was under pressure to perform several sports to a high standard, many of which did not end up in the film.  Pat and Mike was one of the team's most popular and critically acclaimed films, and it was also Hepburn's personal favorite of the nine films she made with Tracy.  The performance brought her a nomination for the Golden Globe Award for Best Actress – Motion Picture Musical or Comedy.
In the summer of 1952, Hepburn appeared in London's West End for a ten-week run of George Bernard Shaw's The Millionairess. Her parents had read Shaw to her when she was a child, which made the play a special experience for the actress.   Two years of intense work had left her exhausted, however, and her friend Constance Collier wrote that Hepburn was "on the verge of a nervous breakdown."  Widely acclaimed, The Millionairess was brought to Broadway.   In October 1952 it opened at the Shubert Theatre, where despite a lukewarm critical response it sold out its ten-week run. Hepburn subsequently tried to get the play adapted into a film: a script was written by Preston Sturges, and Hepburn offered to work for nothing and pay the director herself, but no studio picked up the project.   She later referred to this as the biggest disappointment of her career.