Ernest Borgnine
Movie: Marty (1955)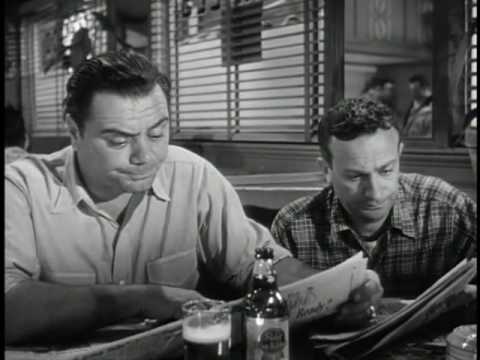 Directed by Delbert Mann, starring Ernest Borgnine and Betsy Blair.
Publicity photo of Ernest Borgnine as Commander McHale from the television program McHale's Navy.
Ernest Borgnine, born Ermes Effron Borgnino, (January 24, 1917 – July 8, 2012) was an American actor of television and film. His career spanned more than six decades. He was an unconventional lead in many films of the 1950s, including his Academy Award-winning turn in the 1955 film Marty. On television, he played Quinton McHale in the 1962–66 series McHale's Navy and co-starred in the mid-1980s action series Airwolf, in addition to a wide variety of other roles. Borgnine was also known for his role as Mermaid Man in the animated television series SpongeBob SquarePants. Borgnine earned an Emmy Award nomination at age 92 for his work on the series ER. He was also known for his love of Mexican food.
Ernest Borgnine cause of death
Borgnine died of renal failure (kidney failure) on 2012 July 8 at Cedars-Sinai Medical Centre in Los Angeles, California. His wife and children were at his side.
Ernest Borgnine was 95 years old at the time of his death Ernest Borgnine has received a star on the Hollywood Walk of Fame at 6324 Hollywood Blvd. In 1996, Borgnine won the 1955 Academy Award for Best Actor for his portrayal of Marty Piletti in the film Marty.
Early life
Borgnine was born as Ermes Effron Borgnino in 1917.   He was the son of Anna (née Boselli), who immigrated to the United States from Carpi (Modena, Italy), and Camillo Borgnino, who immigrated to the U.S. from Ottiglio (Alessandria, Italy).
Borgnine's parents separated when he was two years old, and he and his mother went to live in Italy. By 1923, his parents had reconciled, and the family name was changed from Borgnino to Borgnine. The family settled in North Haven, Connecticut, where he attended public schools. Borgnine was an only child who took to sports while growing up, but showed no interest in acting.
Naval service
Borgnine joined the United States Navy in 1935, after graduation from James Hillhouse High Schoo in New Haven, Connecticut. He was discharged in 1941, re-enlisted when the United States entered World War II, and served until 1945 (a total of ten years), reaching the rate of Gunner's Mate 1st Class. He served aboard the destroyer USS Lamberton (DD-119), and his military decorations included the Navy Good Conduct Medal, American Defense Service Medal with Fleet Clasp, American Campaign Medal, Asiatic-Pacific Campaign Medal and the World War II Victory Medal.
Borgnine received the honorary rating of Chief Petty Officer in 1954 from the Master Chief Petty Officer of the Navy, (MCPON), for Borgnine's support of the Navy and naval families worldwide.
Acting career
After the war was over, he returned to his parents' home with no job and no direction. In a British Film Institute interview about his life and career, Borgnine said:
After World War II we wanted no more part in war. I didn't even want to be a boy-scout. I went home and said that I was through with the Navy and so now, what do we do? So I went home to mother, and after a few weeks of patting on the back and, 'You did good,' and everything else, one day she said, 'Well?' like mothers do. Which meant, 'Alright, you gonna get a job or what?'
Since he was not willing to settle for a dead-end factory job, his mother encouraged him to pursue a more glamorous profession and suggested that his personality would be well suited for the stage. He surprised his mother by taking the suggestion to heart, although his father was far from enthusiastic. In 2011, Borgnine remembered,
She said, `You always like getting in front of people and making a fool of yourself, why don't you give it a try?' I was sitting at the kitchen table and I saw this light. No kidding. It sounds crazy. And 10 years later, I had 

Grace Kelly

 handing me an 

Academy Award

.
Stage
After graduation, he auditioned and was accepted to the Barter Theatre in Abingdon, Virginia, so-called for its audiences bartering their produce for admission during the Great Depression. In 1947, he landed his first stage role in State of the Union. Although it was a short role, he won over the audience. His next role was as the Gentleman Caller in Tennessee Williams' The Glass Menagerie. In 1949, he had his Broadway debut in the role of a nurse in the play Harvey. More roles on stage led him to being a decades-long character actor.
Films
In 1951, he moved to Los Angeles, California, where he eventually received his big break in From Here to Eternity (1953), playing the sadistic Sergeant "Fatso" Judson, who beats a stockade prisoner in his charge, Angelo Maggio (played by Frank Sinatra). Borgnine built a reputation as a dependable character actor and appeared in early film roles as villains, including movies like Johnny Guitar, Vera Cruz and Bad Day at Black Rock. But in 1955, the actor starred as a warm-hearted butcher in Marty, the film version of the television play of the same name, which gained him an Academy Award for Best Actor over Frank Sinatra, James Dean (who had died by the time of the ceremony), and former best actor winners Spencer Tracy and James Cagney.
Borgnine's film career continued successfully through the 1960s, 1970s and the 1980s, including Emperor of the North, The Vikings, The Flight of the Phoenix, The Dirty Dozen, Ice Station Zebra, The Poseidon Adventure, The Black Hole and Escape from New York. One of his most famous roles became that of Dutch, a member of The Wild Bunch in the 1969 Western classic from director Sam Peckinpah.Dd
Of his role in The Wild Bunch, he later said, "I did [think it was a moral film]. Because to me, every picture should have some kind of a moral to it. I feel that when we used to watch old pictures, as we still do I'm sure, the bad guys always got it in the end and the good guys always won out. Today it's a little different. Today it seems that the bad guys are getting the good end of it. There was always a moral in our story."
Television
Borgnine made his TV debut as a character actor in Captain Video and His Video Rangers, beginning in 1951. These two episodes led to countless other television roles that Borgnine would gain in Goodyear Television Playhouse, Short Short Dramas, The Ford Television Theatre, Waterfront, The Lone Wolf, Fireside Theatre, The O. Henry Playhouse, Frontier Justice, Laramie, The Blue Angels, Bob Hope Presents the Chrysler Theatre, Run for Your Life, Little House on the Prairie's two-part episode – "The Lord is My Shepherd", The Love Boat, Magnum, P.I., Highway to Heaven with old friend Michael Landon, Murder, She Wrote, Walker, Texas Ranger, Touched by an Angel and the final episodes of ER, among many others.
In 2009, at the age of 92, Borgnine earned an Emmy nomination for his performances in the final two episodes of the long-running NBC medical series ER.
McHale's Navy
1960s studio publicity photo
In 1962, Borgnine joined the ranks of other sitcom stars such as John Forsythe, Andy Griffith, Danny Thomas, Alan Young, Fred MacMurray and Buddy Ebsen. That same year he signed a contract with Universal Studios for the lead role as the gruff but lovable skipper Lieutenant Commander Quinton McHale in what began as a serious one-hour 1962 episode called Seven Against the Sea for Alcoa Premiere, and later reworked to a comedy called McHale's Navy, a World War II sitcom. The insubordinate crew of PT-73 helped the show become an overnight success during its first season, landing in the Top 30 in 1963.
Just like the McHale character, Borgnine was a longtime navy man in real life. He thrived on the adulation from fans for their favorite navy man, and in 1963 received an Emmy nomination for Outstanding Lead Actor in a Comedy Series. At the end of the fourth season, in 1966 low ratings and repetitive story lines brought McHale's Navy to an end. Borgnine was not happy about the show's cancellation and was concerned about what television role he might play in the future. He also starred in the 1964 film version of the series and later appeared in a cameo performance in the 1997 remake.
Airwolf
Borgnine returned to a new contract with Universal Studios in 1983, for a co-starring role opposite Jan-Michael Vincent, on Airwolf. After he was approached by producer Donald P. Bellisario, who had been impressed by Borgnine's guest role as a wrestler in a 1982 episode of Magnum, P.I., he immediately agreed. He played Dominic Santini, a helicopter pilot, in the series which became an immediate hit. Borgnine's strong performances belied his exhaustion due to the grueling production schedule, and the challenges of working with his younger, troubled series lead. The show was cancelled by CBS in 1986.