St. Barnabas Hospital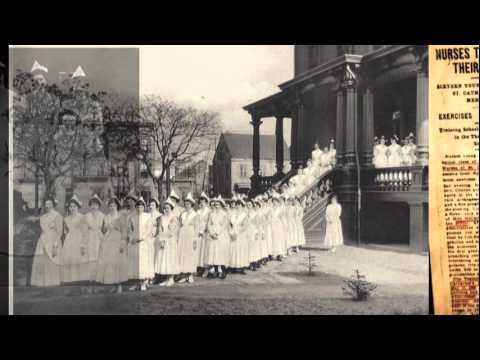 History of St. Catherine's Hospital and Nursing School in Bushwick Brooklyn, NY and the Sisters of St. Dominic.
History
St. Barnabas Hospital was incorporated as "The Home for the Incurables" on April 6, 1866, less than a year after the close of the Civil War. At the time, it was the world's second chronic disease hospital, America's first, and the inspiration for many to follow.
The Hospital was founded by the Reverend Washington Rodman, rector of Grace Episcopal Church, in the West Farms area of what is now the Bronx. He called together a group of public-spirited citizens to explore how to provide a haven for so-called incurables who could not be cared for in existing hospitals. Reverend Rodman's goal was to bring hope and medical care to a group that had neither.
Dr. P.C. Pease, the Home for Incurables' first physician, noted that, "…where the faintest hope exists, no efforts are spared nor are any new remedies left untried." It was here that nitrous oxide was first successfully used as an anesthetic in prolonged operations. The Home received its first patients in 1867 in a small, frame building that had been a temperance house. Thirty-three patients were admitted the first year.
For many years, the annual meetings of the Society of the Homes for the Incurables were held on June 11, the feast of St. Barnabas. In the words of the Reverend T. Galludet, D.D., at the annual meeting in 1868: "St. Barnabas was the Son of Consolation and that simple expression suggests to us a blessing from the Lord. We hope to be sons of consolation to many afflicted hearts." For those reasons, as well as many others, the name "St. Barnabas Hospital" seemed to have particular suitability, since our objective is the consolation and alleviation of the afflictions of the chronically disabled, in terms of modern practices and accepted procedures.
Today, St. Barnabas is a 461-bed nonsectarian community hospital and Level I Trauma Center providing the highest quality of care to a diverse and changing Bronx community.