World War II & The Korean War Film Collection
AFRICAN-AMERICAN IN WORLD WAR II
AND THE KOREAN WAR
List of 160 interviews from the
Lawrence E. Walker Foundation Military Collection
___________________________________________
ORAL LIVING MILITARY HISTORY COLLECTION (1996-2005)
AFRICAN-AMERICAN WOMEN OF WORLD WAR II
6888th REGIMENT 1941-1946
NEW JERSEY/PHILADELPHIA, PENN. /WASHINGTON, D.C.
World War II- Major Charity Adams- 6888 Postal Battalion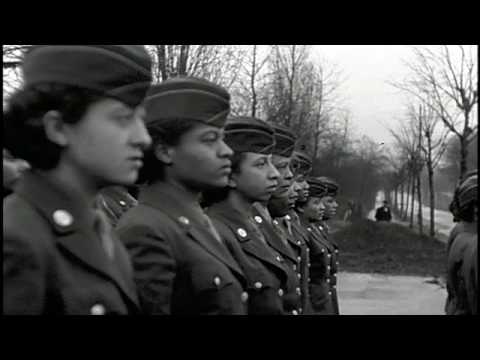 The eight hundred WACs of the Army's Central Postal Directory Battalion, the 'Six Triple Eight,' were stationed overseas and in charge of redirecting all 'V-Mail' for Europe. Major Charity Adams was the battalion's commanding officer.
1. Pfc. Gladys S. Carter, 6888 Regiment, Albany, New York
2. Msgt. Sgt. Mary Copeland, 6888 Regiment, Mount Holly, New Jersey
3. Estelle Terry, (Husband Capt. Terry-Tuskegee Airmen) Morristown,
New Jersey
4. Pfc. Janice Stovall. Taylor, 6888 Regiment, Philadelphia, Penn.
5. Pfc. Queen Esther Woods, 6888 Regiment, Metuchen, New Jersey
6. 1st. Lt. Martha S. Putney, 6888 Regiment, Washington, D.C.
7. Dr. Warren Hill, National Archives, Washington, D.C.
8. Janel Sims-Wood, Howard University, Washington, D.C.
9. Regina Akens, Naval History Museum, Washington, D.C.
10. Dr. Qaaim Saalik, Historian, Morristown, New Jersey
11. Barbara Burger, National Archives, Washington, D.C.
12. Pfc. Azalia Oliver, 6888 Regiment, World War II, Band Leader/Nurse
13. Tech Sgt. George W. Taylor (All-Black Unit) 367th World War II,
Korean War-Air Force
14. *Major Noel C. Mitchael, 6888 World War II
15. 1st. Lt. Bertha Laster, Korean War, Air National Guard
16. Major Caesar W. Smith, Vietnam War, 82nd Air Bourne
17. Sgt. Odessa Taylor, 6888th, 92nd & 93rd World War II
18. Staff Sgt. Edna E. Brown, World War II 6888th
19. *Chief CW3 U.S. Ret. Doris I. Luck Allen, Ph.D.,
Korean War/Vietnam War
20. 1st. Lt. Lelia L. Hamilton, Air Force World War II
21. Sgt. Doris Richardson, Nurse/Army, World War II
22. *2nd Class Harold Johnson (All-Black Unit) Firemen 1st.
Class Motor Machine, Navy War Ship World War II
23. Cp. Charles Smink, (All Black Unit) World War II
24. Sgt. 1st. Class Myrtle Jackson World War II
25. Cpl. Evelyn B. Anderson, Air Force, World War II
26. Cpl. Evelyn B. Anderson, Air Force, World War II, Part I
27. *Lt. Col. Emma Louise Vaiton, Korean War/Vietnam War
28. 1st. Sgt. Ruby M. Porter Robinson, (Parachute Jumper) Vietnam War
29. Sgt. Major Susie M. Stephens-McAruther, Vietnam War, Army Part I & II
30. Sgt. 1st. Class Carrie L. Wynne (All-Black Unit, Company B) Army,
Korean War/Vietnam War
31. Kathleen E. Davis World War II
32. 2nd Class Sammy D. Clay, Air Force, Korean War/Vietnam War
33. *Staff Sgt. 3rd Class Dena M. Hutchins, 6888 World War II
34. *Jr. 1st. Lt. Clydia J. Williams, Coast Guard Army/Navy
Korean War/Vietnam War
___________________________________
AFRICAN-AMERICAN MEN/WOMEN OF THE
WORLD WAR II 1941-1946 AND THE KOREAN WAR 1950-1955,
KOREAN WAR VETS
1. 2nd Lt. Capt. Major Isaiah Oglesy, Korean War
2. Dr. Charles Johnson Morgan, Korean War
3. Pvt. II/ Major James L. Jackson, World War II & Korean War
4. Cpl. William H. Perkins, Korean War
5. 1st. Lt. William L. Jackson, Korean War
6. 1st. Class-31st. Regt. (Pow) Larry Hogan, Korean War
7. Lt. Col. Solomon J. Jameson, Korean War
8. Master Sgt. (Pow Vet.) Leroy L. Sykes, Korean War
9. Joseph Steele, Korean War
10. 1st. Lt. Leila Hamilton, Korean War
11. * Sgt. 1st. (24th Inf. Regt. All-Black Unit) Richard Sanders, Korean War
12. * Col. /Capt. Hong Ki Kim, South Korean Troop
13. Dr. Debra Newman Ham, Morgan State University
14. Dr. Regina T. Akers, Historian U.S. Militarily, Washington, D.C.
15. 3rd Military Command Britain General Carrie Nero, Korean War
16. Chief Martin K. Gordon, Korean War
17. * Cpl. 24th Regt. (All-Black Unit) Lonnie Smith, Korean War
18. * 18th Fighter Bomber Charles E. McGree, World War II (Tuskegee Airmen)
& Korean War
19. Cpl. Samuel Gilliam, 503rd Battalion Wing, Korean War
20. Cpl. Harvey Sanford, World War II & Korean War
21. Sgt. 1st. Class E7 William D. Vickers, Korean War
22. Cpl. Ralph B. Francis, E4, 272nd Field Arterial, Korean War
23. * Cpl. Ralph Wise (Army) Korean War (Part 1# & Part #2)
24. * Msgt. Shade M. Lee, Radio Operators, Communications, 25th & 27th
All-Black Unit, Tuskegee Airmen, Walterboro (Part #1 & Part #2
James Fraigson, (Army) World War II, Tank-Gunner, 367th, 365th
and 366 All-Black Unit
26. *James McDonald (Navy) World War II and Korean War, 3rd Class Radio
Operator
27. 1st. Sgt. Lawrence W. Brown (Marine Corp) Korean War
28. *Staff Sgt. Johnnie Stevens (Army) World War II, 761st. Tank Unit,
All-Black Unit
_________________________________________________
KOREAN WAR SOLDIERS 1950-1955
VIETNAM WAR SOLDIERS 1961-1975
PERSIAN GULF WAR 1990-1991
POST 336 BURLINGTON, NEW JERSEY
1. Richard A. Timbers Sr., Korean War
2. George Coates (Air Force) Korean War
3. William T. Taylor, Vietnam War
4. Huddle L. Burress, Korean War/Vietnam War
5. David T. Johnson, Korean War/Vietnam War
6. Jessi Belbren, Korean War/Vietnam War
7. Sam Tiller, Korean War/Vietnam War (Part #1 & Part #2)
8. Frank Lowman (Air Force) Vietnam War
9. Al Mason, Vietnam War
10. Willie Lane, Korean War
11. Willie M. Mack, Korean War/Vietnam War
12. Kennie Fryer, Vietnam War/Desert Shield/Desert Storm Persian Gulf War
13. Ernest R. Curry, Korean War (Part #1 & Part #2)
14. Willie Lancer Jr., (Air Force) Korean War/Vietnam War
15. Walter Trueman, (Native-American Indian) Persian Gulf War
16. Woodrow Wilson Brown, Korean War
17. Arthur Perrlman, (Parachute) World War II
18. Allen Mosley, (Air Force) Korean War/Vietnam War (Part #1 & Part #2)
19. Garfield Harper, Vietnam War
________________________________________________
WORLD WAR II
KOREAN WAR SOLDIERS 1950-1955
VIETNAM WAR SOLDIERS 1961-1975
1. Major Dorothy Lee, Nurse Vietnam War, France
2. Pvt. Jimmy Green, (Burial Dead-African American) World War II
3. 1st Class Annette Ware-Smith (Airmen/USAF) East Orange, NJ
4. Master Sergeant William H. Simons, Washington, DC
5. Lt. Col. William E. Calbert, Washington, DC, World War II,
Korean War, Vietnam War
6. * Sergeant Charles B. Rangel (Member of Congress) Korean War
7. * John Conyers, Jr., (Member of Congress) Korean War
8. * Alphonso Pendergrass (555th Regiment Airborne/Jumper) Korean War
9. * 3rd Class Winfred Roberts (Navy Electrician Mate, All Black Crew)
USS Mason World War II
10. Rev. Doctor Edward Verner Captain (USAF) World War II
11. Spc. 4 Alfredo Boyce (Army) Vietnam War, New York, NY
12. Pvt. Herbert Sweet (Army) Vietnam War, New York, NY (Part #1 & #2)
13. Supplies Truck Ceriela A. Bonner (Army) Vietnam War, New York, NY
14. Master James D. Elliott Jr., (USAF) Vietnam War New York, NY
15. Pvt. Price E. Taitt, (Army) Vietnam War, New York, NY
16. Staff Sgt. Herbert G. Hicks (USAF) Korean War, Vietnam War
17. * Horace J. Banks Sr., (3rd Class Motor Machine, All Black Crew) USS Mason,
World War II (Part #1 & #2)
18. Sgt. E5 Junius Tat um Sr., Marine Corp
19. Sgt. Curtis Marshall (Marine Corp) Vietnam War
_______________________________________________
AMERICAN LEGION POST 182
WORLD WAR II
KOREAN WAR SOLDIERS 1950-1955
VIETNAM WAR SOLDIERS 1961-1975
1. Edward Baxton (Army) Vietnam War & World War II
2. Harold Baker (Army) Korean War
3. Robert Yawcey (Army-Navy, 7 years) World War II & Vietnam War
4. Robert George (Army) Korean War
5. Frank Hall (Navy) World War II
6. Percy Rainer (Navy & Marines) Vietnam War
7. Cotes Hicks (Army) World War II
___________________________________________
24TH INFANTRY REGIMENT ALL-BLACK UNIT
(BUFFALO SOLDIERS & BLOCKHOUSE SOLDIERS)
NORTHEAST CHAPTER WORLD WAR II
KOREAN WAR SOLDIERS 1950-1955
VIETNAM WAR SOLDIERS 1961-1975
1. Elles W. Dean, E7 Sgt., 1st Class (Army) 24th Korean War & World War II
2. Ralph H. Hubbard, Sgt., 1st Class (Army) 24th Korean War
3. Rollie J. Ebans sr. (Army) 24th Korean War & Vietnam War
4. James Williams (Army) 24th Korean War
5. Franklin R. Roberson (Army) 24th Korean War
6. Henry T. Washington (Army) 10th Calvary All-Black Unit, World War II
7. Jackie R. Lewis (Army) Vietnam
8. Robert Burton (Army) Korean War, 24th
9. Nathan Street (Army) Korean War, 24th
_________________________________________________
369th REGIMENT ALL-BLACK UNIT
HISTORIC ARMORY HARLEM
NEW YORK CITY, NEW YORK

1. Sgt. Marilyn Lopera, 369th Regiment, Iraq War
2. 2nd Lt. Edar S. Jones, 366th All-Black Unit, World War II
3. Lt. Col. Charles Ashby, 15th, 37th, 3rd Red, World War II
4. Sgt. E5 Anthony6 Austin, Cook, Persian Gulf War
5. Sgt. William Miles, 369th Regiment, World War II
6. Sgt. T5 Arthur G. Weaver, 369th Regiment, World War II, Korean War
7. Tech Sgt. TE Claude William Chamlee, 369th Regiment, World War II
8. Tech 5 Cp. Leslie H. Williams, 22nd Regiment, World War II
9. Sgt. T5 Alvin McKinney, 369th Regiment, World War II,
Medical Corp., (Part #1 & #2)
10. Tech Sgt. John W. Smith, 367th All-Black Unit, 10th All-Black Unit
World War II
11. *Clarence A. DeChabert (Store-keeper) All-Black Unit, Navy,
World War II & Korean War
12. 2nd Class Wilbert C. Zachary, Air Force, 369th Regiment Korean War
13. Staff Sgt. Clifford Parham, 15th Regiment, World War II
14. *Colonel Jong Gag Park (Ret. South Korea) Korean War Veteran
____________________________________________________
NATIONAL GUARD MILITIA MUSEUM OF NEW JERSEY
1. Spencer C. Moore, World War II, E.T.O. (Europe) U.S. Army
2. Johnnie Stevens, World War II, E.T.O., 761st Tank Bn.,
Purple Heart, U.S. Army
3. Campbell Gonzales, World War II, E.T.O., U.S. Army Inf., Purple Heart
4. William Knox, World War II- South Pacific/Korean War/Vietnam War
U.S. Army, Bronze Star
5. Leon D. Bryant, World War II, U.S.M.C., P.T.O. (Pacific)
Special Service, (Playing Basketball)
6. Quartermaster Sgt. John B. Knox, World War II, E.T.O., U.S. Army
Normandy: Battle of the Bulge
7. *Angelo N. Colbourne, World War II, P.T.O., U.S. Navy, Iwo Jima Survivor (All-Black Unit)
8. *Calvin Roberts, World War II, P.T.O., U.S. Navy
9. Harvey Keyes, Korean War, Staff Sgt., Air Force
10. *Clifford Wooden, World War II, Staff Sgt., (All-Black Unit) Army
11. John Slater, Vietnam War, Staff Sgt., EC 555 Regt., Army Part I & II
12. Rockwell Maxell, Tech, 4th Grade, 856th Aviation Engineer,
World War II, Army, (All-Black Unit) 90 years of age at 2005
13. John Jackson Cummins, (Secret Red Dog) Sgt. 1st. Field Arty,
Korean War
Floyd Kirklad Sr. (Red Ball Express Truck Unit) Master Engineer,
All-Black Unit, World War II, age 82 years old
15. *Dr. William Neal Brown (Captain, First Lieutenant, U.S. Army Air Force, Ground Officer – Tuskegee Airmen) Information-Education Officer, 618th Fighter & 477th Bombardment Group Part I & Part II interview with
16. *Dr. Manning Marble on Malcolm X
17. *Richard Louis Taylor, Sgt. E.E., Vietnam War, former Mayor of Plainfield, New Jersey
(c. Lawrence E. Walker Foundation Collection, 2007)