Schindler's List
Schindler's List Trailer (Best Picture 1993)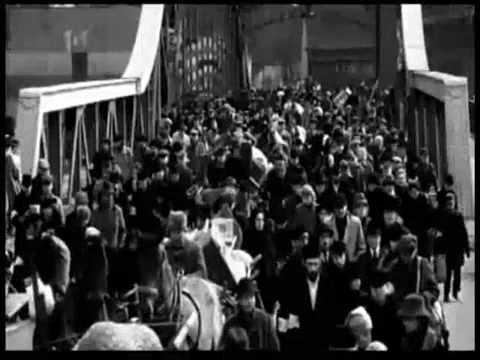 Schindler's List is an American 1993 historical film directed by Steven Spielberg. It is a dramatized account of the true story of Oskar Schindler (Liam Neeson), a German businessman who saved the lives of more than one thousand Polish Jews during the Holocaust by employing them in his factories.  Liam Neeson (born 7 June 1952) is an Academy Award nominated Irish actor from Ballymena, County Antrim. Neeson is probably best known for his role as Oskar Schindler in Steven Spielberg's Schindler's List (Best Picture 1993). Neeson himself was nominated in the Best Actor category that year but was beaten by Tom Hanks (Philadelphia).
Theatrical release poster
Schindler's List is a 1993 film about Oskar Schindler, a German businessman who saved the lives of more than a thousand mostly Polish-Jewish refugees during theHolocaust by employing them in his factories. The film was directed by Steven Spielberg, and based on the novel Schindler's Ark by Australian novelist Thomas Keneally. It stars Liam Neeson as Schindler, Ralph Fiennes as Schutzstaffel (SS)-officer Amon Göth, and Ben Kingsley as Schindler's Jewish accountant Itzhak Stern.
The film was a box office success and recipient of seven Academy Awards, includingBest Picture, Best Director, and Best Original Score, as well as numerous other awards (7 BAFTAs, 3 Golden Globes). In 2007, the American Film Institute ranked the film 8th on its list of the 100 best American films of all time (up one position from its 9th place listing on the 1998 list).
Plot
In 1939, the Germans relocate Polish Jews to the Kraków Ghetto before World War IIbegins. Oskar Schindler (Liam Neeson), an ethnic German businessman from Moravia, arrives in the city hoping to make a fortune as a war profiteer. Schindler, a member of the Nazi Party, lavishes bribes upon Wehrmacht and SS officials. Sponsored by the military, Schindler acquires a factory for the production of army mess kits. Not knowing much about how to run such an enterprise, he gains a collaborator in Itzhak Stern (Ben Kingsley), an official of Krakow's Judenrat (Jewish Council) who has contacts with the Jewish business community and the black marketers inside the Ghetto. The Jewish businessmen lend Schindler money in return for a share of products produced. Opening the factory, Schindler pleases the Nazis and enjoys newfound wealth and status as "Herr Direktor", while Stern handles administration. Schindler hires Jewish Poles instead of Catholic Poles because they cost less. Workers in Schindler's factory are allowed outside the ghetto, and Stern ensures that as many people as possible are deemed "essential" to the German war effort, saving them from being transported to concentration camps or killed.
SS-Lieutenant (Untersturmführer) Amon Goeth (Ralph Fiennes) arrives in Kraków to oversee construction of the Płaszów concentration camp. Once the camp is completed, he orders the liquidation of the ghetto and Operation Reinhard in Kraków begins, with hundreds of troops emptying the cramped rooms and arbitrarily murdering anyone who is uncooperative, elderly or infirm. Schindler watches the massacre and is profoundly affected. He nevertheless is careful to befriend Goeth and, through Stern's attention to bribery, Schindler continues enjoying SS support. Schindler bribes Goeth into allowing him to build a sub-camp for his workers, so that he can keep his factory running smoothly and protect them. As time passes, Schindler tries to save as many lives as he can. As the war shifts, Goeth is ordered to ship the remaining Jews to the Auschwitz concentration camp.
Schindler prepares to leave Kraków with his fortune. He finds himself unable to do so, however, and prevails upon Goeth to allow him to keep his workers so he can move them to a factory in his old home of Zwittau-Brinnlitz, away from the Final Solution. Goeth charges a massive bribe for each worker. Schindler and Stern assemble a list of workers to be kept off the trains to Auschwitz.
"Schindler's List" comprises these "skilled" inmates, and for many of those in Płaszów, being included means the difference between life and death. Almost all of the people on Schindler's list arrive safely at the new site. The train carrying the women is accidentally redirected to Auschwitz. Schindler bribes the camp commander, Rudolf Höß, with a cache of diamonds in exchange for releasing the women to Brinnlitz. Once the women arrive, Schindler institutes firm controls on the SS guards assigned to the factory, forbidding them to enter the production areas. He encourages the Jews to observe the Sabbath. To keep his workers alive, he spends much of his fortune bribing Nazi officials and buying shells from other companies; he never produces working shells during the seven months his factory operates. He runs out of money just as the Wehrmacht surrenders, ending the war in Europe.
As a Nazi Party member and a self-described "profiteer of slave labour", in 1945, Schindler must flee the advancing Red Army. Although the SS guards have been ordered to kill the Jews, Schindler persuades them to return to their families as men, not murderers. In the aftermath, he packs a car in the night and bids farewell to his workers. They give him a letter explaining he is not a criminal to them, together with a ring secretly made from a worker's gold dental bridge and engraved with a Talmudic quotation, "Whoever saves one life saves the world entire". Schindler is touched but deeply ashamed as he leaves, feeling he could have done more to save lives, such as selling his car and Golden Party Badge.
The Schindler Jews are awakened by sunlight the next morning. A Soviet dragoon announces that they have been liberated by the Red Army. The Jews walk to a nearby town in search of food.
After a few scenes depicting post-war events such as the execution of Amon Goeth and a summary of what happened to Schindler in his later years, the Jews are shown walking to the nearby town. The black-and-white frame changes to one in color of present-day Schindler Jews at Schindler's grave site in Jerusalem, where he wanted to be interred.  A procession of now-elderly Jews who worked in Schindler's factory set stones on his grave—a traditional Jewish custom denoting gratitude to the deceased. The actors portraying the major characters walk with them. Ben Kingsley is accompanied by the widow of Itzhak Stern, who died in 1969. A title card reveals that at the time of the film's release, there were fewer than 4,000 Jews left alive in Poland, but more than 6,000 descendants of the Schindler Jews throughout the world. In the final scene, Liam Neeson places a pair of roses on the grave and stands over it.
Cast – Main
Secondary
Ezra Dagan – Rabbi Lewartow, a rabbi who acquires skills as a welder in Schindler's camp.
Malgoscha Gebel – Wiktoria Klonowska, Schindler's mistress.
Shmuel Levy – Wilek Chilowicz.
Mark Ivanir – Marcel Goldberg.
Béatrice Macola – Ingrid.
Friedrich von Thun – Rolf Czurda.
Krzysztof Luft – Herman Toffel.
Harry Nehring – Leo John.
Norbert Weisser – Albert Hujar.
Adi Nitzan – Mila Pfefferberg, Poldek Pfefferberg's wife.
Michael Schneider – Juda Dresner.
Miri Fabian – Chaja Dresner.
Anna Mucha – Danka Dresner.
Ben Darby – Man in grey.
Albert Misak – Mordecai Wulkan.
Hans-Michael Rehberg – Rudolf Höss.
Daniel Del Ponte – Dr. Josef Mengele.