Sammy Davis, Jr. Show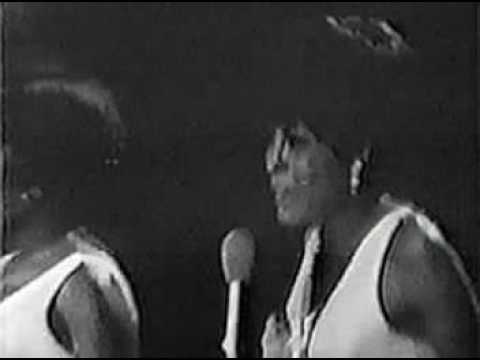 Sammy Davis Jr. Show with The Supremes from March 1966 – The Supremes sing "My World is Empty Without You" & "Fancy Passes"
1986 portrait by Allan Warren
Samuel George "Sammy" Davis, Jr. (December 8, 1925 – May 16, 1990) was an American entertainer. Primarily a dancer and singer, he was also known for his impersonations of actors and other celebrities.
Davis started as a child vaudevillian who became known for his performances onBroadway and Las Vegas. He went on to become a world famous recording artist, television and film star. Davis was also a member of Frank Sinatra's "Rat Pack".
At the age of three Davis began his career in vaudeville with his father and "uncle" as the Will Mastin Trio, toured nationally, and after military service, returned to the trio. Davis became an overnight sensation following a nightclub performance at Ciro's after the 1951 Academy Awards. With the trio, he became a recording artist. In 1954, he lost his left eye in an automobile accident.
His film career began as a child in 1933. In 1960 he appeared in the first Rat Pack film, Ocean's 11. After a starring role on Broadway in 1956's Mr Wonderful, Davis returned to the stage in 1964's Golden Boy, and in 1966 had his own TV variety show,The Sammy Davis Jr. Show. Davis' career slowed in the late sixties, but he had a hit record with "The Candy Man", in 1972, and became a star in Las Vegas earning him the nickname Mister Show Business.
As an African American, Davis was the victim of racism throughout his life, and was a large financial supporter of civil rights causes. Davis had a complex relationship with the African-American community, and attracted criticism after physically embracing Richard Nixon in 1972. One day on a golf course with Jack Benny, he was asked what his handicap was. "Handicap?" he asked. "Talk about handicap—I'm a one-eyed Negro Jew."  This was to become a signature comment, recounted in his autobiography, and in countless articles.
After reuniting with Sinatra and Dean Martin in 1987, Davis toured with them and Liza Minnelli internationally, before dying of throat cancer in 1990. He died in debt to the Internal Revenue Service, and his estate was the subject of legal battles.
Davis was awarded the Spingarn Medal by the NAACP, and was nominated for a Golden Globe and an Emmy Award for his television performances. He was the recipient of the Kennedy Center Honors in 1987, and in 2001, he was posthumously awarded the Grammy Lifetime Achievement Award.
Career
Sammy Davis Jr. during the 1963 March on Washington
During service in WWII, the Army assigned Davis to an integrated entertainment Special Services unit and he found that the spotlight lessened the prejudice. Even prejudiced white men admired and respected his performances. "My talent was the weapon, the power, the way for me to fight. It was the one way I might hope to affect a man's thinking," he said.
After his discharge, Davis rejoined the family dance act, which played at clubs around Portland, Oregon. He began to achieve success on his own and was singled out for praise by critics, releasing several albums.   This led to Davis being hired to sing the title track for the Universal Pictures film Six Bridges to Cross in 1954, and later to his appearance in the Broadway play Mr. Wonderful in 1956.
In 1959, Davis became a member of the famous "Rat Pack", led by his friend Frank Sinatra, which included fellow performers such as Dean Martin, Joey Bishop and Peter Lawford. Initially, Sinatra called the gathering "the Clan", but Sammy voiced his opposition, saying that it reminded people of the racist Ku Klux Klan. Sinatra renamed the group "the Summit", but the media referred to them as the Rat Pack.
Davis was a headliner at The Frontier Casino in Las Vegas, Nevada, but he was required (as were all black performers in the 1950s) to lodge in a rooming house on the west side of the city, instead of in the hotels as his white colleagues did. No dressing rooms were provided for black performers, and they had to wait outside by the swimming pool between acts. Davis and other black artists could entertain, but could not stay at the hotels where they performed, gamble in the casinos, or dine or drink in the hotel restaurants and bars. Davis later refused to work at places which practiced racial segregation.
Sammy Davis Jr. (left) with Walter Reuther (center) and Roy Wilkins (right) at the 1963 March on Washington.
In 1964, Davis was starring in Golden Boy at night and shooting his own New York-based afternoon talk show during the day. When he could get a day off from the theater, he would be recording new songs in the studio, or performing live, often at charity benefits as far away as Miami, Chicago, and Las Vegas, or doing television variety specials in Los Angeles. Davis knew he was cheating his family of his company, but he could not help himself; as he later said, he was incapable of standing still.
Although he was still a draw in Las Vegas, Davis' musical career had sputtered by the latter 1960s, although he had a No. 11 hit (#1 on the Easy Listening singles chart) with "I've Gotta Be Me" in 1969. His effort to update his sound and reconnect with younger people resulted in some "hip" musical efforts with the Motown record label.   But then, even as his career seemed at its nadir, Sammy had an unexpected #1 hit with "The Candy Man" in 1972. Although he did not particularly care for the song and was chagrined that he was now best known for it, Davis made the most of his opportunity and revitalized his career. Although he enjoyed no more Top 40 hits, he did enjoy popularity with his 1976 performance of the theme song from the Baretta TV series, "Baretta's Theme (Keep Your Eye on the Sparrow)" (1975–1978), which was released as a single (20th century 2282). He occasionally landed television and film parts, including cameo visits to the television shows I Dream of Jeannie, All in the Family (during which he famously kisses Archie Bunker (Carroll O'Connor) on the cheek) and, with wife Altovise Davis, on Charlie's Angels. In the 1970s, he appeared in commercials in Japan for Suntory whiskey.
On December 11, 1967, NBC broadcast a musical-variety special entitled Movin' With Nancy. In addition to the Emmy Award-winning musical performances, the show is notable for Nancy Sinatra and Sammy Davis Jr. greeting each other with a kiss, one of the first black-white kisses in U.S. television history.
Davis had a friendship with Elvis Presley in the late 60's, as they both were top draw acts in Vegas at the same time. Davis was in many ways just as reclusive during his hotel gigs as Elvis, holding parties mainly in his penthouse suite, and Elvis went to them occasionally. Davis sang a cover-version of Presley's song "In The Ghetto" and made a cameo-appearance in Presley's concert-film Elvis: That's the Way It Is. One year later, he made a cameo appearance in a James Bond film, but the scene he appeared in was deleted.
In Japan, Davis appeared in television commercials for coffee, and in the U.S. he joined Sinatra and Martin in a radio commercial for a Chicago car dealership.
Davis was a fan of the daytime soap operas, particularly the shows produced by the American Broadcasting Company. This led to a cameo appearance on General Hospital and a recurring role as character Chip Warren on One Life to Live, for which he received a Daytime Emmynomination in 1980. He was also a game show fan, appearing on the ABC version of Family Feud in 1979. He appeared on Tattletales with third wife Altovise Davis in the 1970s. He made a cameo during an episode of the NBC version of Card Sharks in 1981.