Negro Motorist Green Book
The Green Book
Until the Civil Rights Act passed in 1964, the Green Book was critical for black Americans wanting to travel across the country.
Forging a sense of Hopewell Furnace's history through its citizens and visitors 
It's Labor Day weekend, the last chance for a summer road trip this year.
Eight decades ago, in August of 1938, families piled into cars to visit America's newest national site, the historic Hopewell iron furnace near Reading, Pennsylvania.
For some, it may not have been easy.
Imagine an African-American family in 1938, itching to take a summer vacation. Suppose dad had a factory job in Cleveland and got a good deal on a Hudson Terraplane, the kind with a radio built into the dash.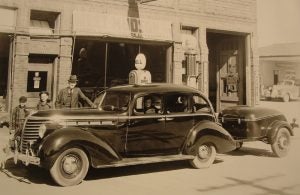 It would be nothing fancy, factory black, an affordable car but one that he really loves. He wants to get the family out of the city for a couple days, so the wife makes some sandwiches, he piles the kids in the back, and points the nose of that Terraplane toward Pennsylvania, about 10 hours away.
They fight over the radio. The kids want to hear a station that will play that new Big Joe Turner recording with the heavy backbeat, "Roll 'Em Pete." But dad usually wins these kinds of arguments; he prefers the station that plays the big bands and that new Ella Fitzgerald song, "A-Tisket A-Tasket."
This family has a copy of the new Negro Motorist Green Book, updated every year between 1936 and 1964 as an annual atlas for African-Americans to navigate the sometimes dangerous midcentury American landscape. It listed — by state — all the black-friendly gas stations, restaurants, taverns, and hotels where a person of color could safely stop without (hopefully) being harassed.
It's a long drive to Pennsylvania, and they need to stop somewhere for the night. The nearest city to the Hopewell Furnace is Reading. The 1938 Green Book listed only one place in Reading: a tourist house at 441 Buttonwood Road, run by Mrs. C Dawson.
A gracious hostess
Mrs. Dawson – Elizabeth – is a woman now nearly lost to history.
"I had not heard of Elizabeth Dawson," said Bradley Smith, a curator at the Berks County History Center in downtown Reading, about a half mile from 441 Buttonwood Road.
I asked him to hunt for any record of Dawson. Aside from census data and property records – she sold the house in 1977 when she was in her 90s, and died in 1986 – there wasn't much. To learn more about the Green Book go to the link below:
Forging a sense of Hopewell Furnace's history through its citizens and visitors