James Cagney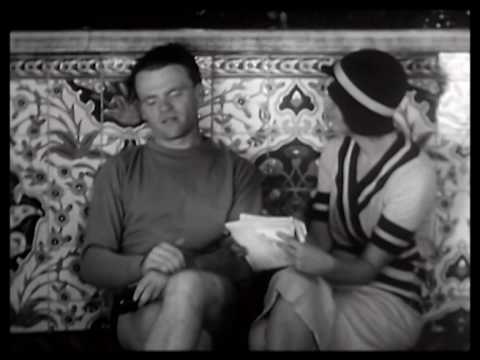 A 1939 publicity photo
James Francis Cagney, Jr. (July 17, 1899 – March 30, 1986) was an American actor, first on stage, then in film, where he had his greatest impact. Although he won acclaim and major awards for a wide variety of performances, he is best remembered for playing tough guys.   In 1999, the American Film Institute ranked him eighth among its 50 Greatest American Screen Legends.
In his first professional acting performance, he danced dressed as a woman in the chorus line of the 1919 revue Every Sailor. He spent several years in vaudeville as a hoofer and comedian, until he got his first major acting part in 1925. He secured several other roles, receiving good notices, before landing the lead in the 1929 playPenny Arcade. After rave reviews, Warner Bros. signed him for an initial $500-a-week, three-week contract to reprise his role; this was quickly extended to a seven-year contract.
Cagney's seventh film, The Public Enemy, became one of the most influential gangster movies of the period. Notable for its famous grapefruit scene, the film thrust Cagney into the spotlight, making him one of Warners' and Hollywood's biggest stars. In 1938, he received his first Academy Award for Best Actor nomination, for Angels with Dirty Faces, before winning in 1942 for his portrayal of George M. Cohan inYankee Doodle Dandy.   He was nominated a third time in 1955 for Love Me or Leave Me. Cagney retired for twenty years in 1961, spending time on his farm, before returning for a part in Ragtime, mainly to aid his recovery from a stroke. Cagney walked out on Warners several times over the course of his career, each time coming back on better personal and artistic terms. In 1935, he sued Warners for breach of contract and won; this marked one of the first times an actor had beaten a studio over a contract issue. He worked for an independent film company for a year while the suit was being settled, and also established his own production company, Cagney Productions, in 1942, before returning to Warners again four years later. Jack Warner called him "The Professional Againster," in reference to Cagney's refusal to be pushed around. Cagney also made numerous morale-boosting troop tours before and during World War II, and was president of the Screen Actors Guild for two years.
Early career (1919–1930)
While working at Wanamaker's Department Store in 1919, Cagney learned, from a colleague who had seen him dance, of a role in the upcoming production Every Sailor. A wartime play in which the chorus was made up of servicemen dressed as women, it was originally titled Every Woman. Cagney auditioned for the role of a chorus girl, despite considering it a waste of time; he only knew one dance step, the complicated Peabody, but he knew it perfectly   This was enough to convince the producers that he could dance, and he copied the other dancers' moves while waiting to go on.   He did not find it odd to play a woman, nor was he embarrassed. He later recalled how he was able to shed his own natural shy persona when he stepped onto the stage: "For there I am not myself. I am not that fellow, Jim Cagney, at all. I certainly lost all consciousness of him when I put on skirts, wig, paint, powder, feathers and spangles."
Had Cagney's mother had her way, his stage career would have ended when he quit Every Sailor after two months; proud as she was of his performance, she preferred that he get an education.   Cagney appreciated the $35 a week he was paid, which he called "a mountain of money for me in those worrisome days."   In deference to his mother's worries, he got employment as a brokerage house runner.   This did not stop him looking for more stage work, however, and he went on to successfully audition for a chorus part in Pitter Patter, for which he earned $55 a week—he sent $40 to his mother each week. So strong was his habit of holding down more than one job at a time, he also worked as a dresser for one of the leads, portered the casts' luggage, and understudied for the lead.   Among the chorus line performers was sixteen-year-old Frances Willard "Billie" Vernon, whom he would marry in 1922.   The show began Cagney's ten year association with vaudeville and Broadway. Cagney and his wife were among the early resident of Free Acres, a social experiment established by Bolton Hall in Berkeley Heights, New Jersey.
Pitter Patter was not hugely successful, but it did well enough to run for 32 weeks, enabling Cagney to join the vaudeville circuit. He and Vernon toured separately with a number of different troupes, reuniting as "Vernon and Nye" to do simple comedy routines and musical numbers. "Nye" was a rearrangement of the last syllable of Cagney's surname.   One of the troupes that Cagney joined was Parker, Rand and Leach, taking over the spot vacated when Archie Leach—who would later change his name to Cary Grant—left.
After years of touring and struggling to make money, Cagney and Vernon moved to Hawthorne, California in 1924, partly for Cagney to meet his new mother-in-law, who had just moved there from Chicago, and partly to investigate breaking into the movies. Their train fares were paid for by a friend, the press officer of Pitter Patter, who was also desperate to act.   They were not very successful at first; the dance studio Cagney set up had few clients and folded, and he and Vernon toured the studios, but garnered no interest. Eventually, they borrowed some money and headed back to New York via Chicago and Milwaukee, enduring failure along the way when they attempted to make money on the stage.
Cagney and Gloria Stuart in 1934's Here Comes the Navy. The movie was filmed on the ill-fated USS Arizona. Cagney's long film career would see him in a naval uniform on more than one occasion.
Cagney secured his first significant non-dancing role in 1925. He played a young tough guy in the three-act play Outside Looking In by Maxwell Anderson, earning $200 a week. As with Pitter Patter, Cagney went to the audition with little confidence of getting the part; he had had no experience with drama at this point.   Cagney felt that he only got the role because his hair was redder than that of Alan Bunce, the only other red-headed performer in New York.  Both the play and Cagney received good reviews; Life magazine wrote, "Mr. Cagney, in a less spectacular role [than his co-star] makes a few minutes silence during his mock-trial scene something that many a more established actor might watch with profit". Burns Mantle wrote that it "contained the most honest acting now to be seen in New York."
Following the show's four month run, Cagney went back to vaudeville for the next couple of years. He achieved varied success, but after appearing in Outside Looking In, the Cagneys were more financially secure. During this period, he met George M. Cohan, whom he would go on to portray in Yankee Doodle Dandy, though they never spoke.
Cagney secured the lead role in the 1926–27 season West End production of Broadwayby George Abbott. The show's management insisted that he copy Broadway lead Lee Tracy's performance, despite Cagney's discomfort in doing so, but the day before the show sailed for England, they decided to replace him.   This was a devastating turn of events for Cagney; apart from the logistical difficulties this presented—the couple's luggage was in the hold of the ship and they had given up their apartment—he almost quit show business. As Billie recalled, "Jimmy said that it was all over. He made up his mind that he would get a job doing something else."
The Cagneys had run-of-the-play contracts, which lasted as long as the play did. Billie was in the chorus line of the show, and with help from the Actors' Equity Association, Cagney understudied Tracy on the Broadway show, providing them with a desperately needed steady income. Cagney also established a dance school for professionals, then landed a part in the play Women Go On Forever, directed by John Cromwell, which ran for four months. By the end of the run, Cagney was exhausted from acting and running the dance school.
He had built a reputation as an innovative teacher, so when he was cast as the lead in Grand Street Follies of 1928, he was also appointed the choreographer. The show received rave reviews and was followed by Grand Street Follies of 1929. These roles led to a part in George Kelly's Maggie the Magnificent, a play generally not liked by the critics, although Cagney's performance was. Cagney saw this role (and Women Go on Forever) as significant because of the talented directors he encountered; he learned "what a director was for and what a director could do. They were directors who could play all the parts in the play better than the actors cast for them."
Warner Bros. (1930–1935)
Playing opposite Cagney in Maggie the Magnificent was Joan Blondell, who would star again with him a few months later in Marie Baumer's new play Penny Arcade.  While the critics panned Penny Arcade, Cagney and Blondell were both highly praised. Al Jolson, sensing film potential, bought the rights for $20,000. He then sold the play to Warner Brothers, with the stipulation that Cagney and Blondell be cast in the film version. Retitled Sinners' Holiday, the film was released in 1930.   Cagney was given a $500-a-week, three-week contract.   In the film, he portrays Harry Delano, a tough guy who becomes a killer, but generates sympathy because of his unfortunate upbringing. This role of the sympathetic "bad" guy would be a recurring character type for Cagney throughout his career.   During filming of Sinners' Holiday, he also demonstrated the stubbornness that would characterize his work attitude. He later recalled an argument he had with director John Adolfi about a line: "There was a line in the show where I was supposed to be crying on my mother's breast… [The line] was 'I'm your baby, ain't I?' I refused to say it. Adolfi said 'I'm going to tell Zanuck.' I said 'I don't give a shit what you tell him, I'm not going to say that line'". They took the line out.
Despite this outburst, the studio liked him, and before his three-week contract was up—while the film was still shooting—they gave Cagney a three-week extension, which was followed by a full seven-year contract at $400 a week.  The contract, however, allowed Warners to drop him at the end of any 40-week period, effectively only guaranteeing him 40 weeks income at a time. As when he was growing up, Cagney shared his income with his family.
With the good reviews that Cagney received, he immediately starred in another gangster role in The Doorway to Hell. The film was a financial hit, helping cement Cagney's growing reputation.   He made four more movies before his breakthrough role.
Cagney mashes a grapefruit into Mae Clarke's face in a famous scene from Cagney's breakthrough movie, The Public Enemy (1931)
Warner Brothers′ succession of gangster movie hits, in particular Little Caesarwith Edward G. Robinson, culminated with the 1931 film The Public Enemy. Due to the strong reviews in his short film career, Cagney was cast as nice-guy Matt Doyle, opposite Edward Woods as Tom Powers. However, after the initial rushes, each was reassigned the other's part.  The film cost only $151,000 to make, but it became one of the first low budget films to gross $1 million.
Cagney received widespread praise for his role. The New York Herald Tribune described his performance as "the most ruthless, unsentimental appraisal of the meanness of a petty killer the cinema has yet devised."  He received top billing after the film, but while he acknowledged the importance of the role to his career, he always disputed that it changed the way heroes and leading men were portrayed; he cited Clark Gable's slapping of Barbara Stanwyck six months earlier (in Night Nurse) as more important.   Night Nurse was actually released three months after The Public Enemy and Gable punched Stanwyck in the film, knocking her character unconscious, then carried her across the hall, where she woke up later.
The scene in which Cagney pushes a grapefruit into Mae Clarke's face is viewed by many critics as one of the most famous moments in movie history.   The scene itself was a very late addition, and who originally thought of the idea is a matter of debate; producer Darryl Zanuck claimed he thought of it in a script conference, director William Wellman claimed that the idea came to him when he saw the grapefruit on the table during the shoot, and writers Glasmon and Bright claimed it was based on the real life of gangster Hymie Weiss, who threw an omelet into his girlfriend's face. Cagney himself usually cited the writers' version, but the fruit's victim, Clarke, agreed that it was Wellman's idea, saying, "I'm sorry I ever agreed to do the grapefruit bit. I never dreamed it would be shown in the movie. Director Bill Wellman thought of the idea suddenly. It wasn't even written into the script."  However, according to Turner Classic Movies (TCM), the grapefruit scene was a practical joke that Cagney and costar Mae Clarke decided to play on the crew while the cameras were rolling. Wellman liked it so much that he left it in. TCM also notes that the scene made Clarke's ex-husband, Lew Brice, very happy. "He saw the film repeatedly just to see that scene, and was often shushed by angry patrons when his delighted laughter got too loud."
Filmmakers have mimicked it many times, such as Lee Marvin's character splashing scalding coffee in the face of Gloria Grahamein The Big Heat.   Cagney himself was offered grapefruit in almost every restaurant he visited for years after, and Clarke claimed it virtually ruined her career due to typecasting.
Cagney's stubbornness was starting to become well known behind the scenes, not least after his refusal to join in a 100 percent participation free charity drive that was being pushed by Douglas Fairbanks, Jr. Cagney did not object to donating money to charity, but rather to being forced to. Already he had acquired the nickname "The Professional Againster."
Along with George Raft, Edward G. Robinson and Humphrey Bogart, Warner Bros. actors all, Cagney defined what a movie gangster was. In G Men (1934), though, he played a lawyer who joins the FBI.
Warners was quick to team its two rising gangster stars – Cagney and Edward G. Robinson – for the 1931 film Smart Money. So keen was the studio to follow up the success of Robinson's Little Caesar that Cagney actually shot Smart Money (for which he received second billing) at the same time as The Public Enemy.  As in The Public Enemy, Cagney was required to be physically violent to a woman on screen, a signal that Warners was keen to keep Cagney in the public eye; this time he slapped co-star Evalyn Knapp.
With the introduction of the United States Motion Picture Production Code of 1930, and particularly its edicts concerning on-screen violence, Warners decided to allow Cagney a change of pace. They cast him in the comedy Blonde Crazy, again opposite Blondell. As he completed filming, The Public Enemy was filling cinemas with all-night showings. Cagney began to compare his pay with his peers, thinking his contract allowed for salary adjustments based on the success of his films. Warners disagreed, however, and refused to give him a raise. The studio heads also insisted that Cagney continue promoting their films, even the ones he was not in, something he opposed. Cagney moved back to New York, leaving his apartment to his brother Bill to look after.
While Cagney was in New York, his brother, who had effectively become his agent, angled for a substantial pay rise and more personal freedom for his brother. Warners' hand was forced by the success of The Public Enemy and Blonde Crazy; they eventually offered Cagney a contract paying $1000 a week.   Cagney's first film upon returning from New York was 1932's Taxi!. The film is notable for not only being the first time that Cagney danced on screen, but it was also the last time he would allow himself to be shot at with live ammunition (a relatively common occurrence at the time, as blank cartridges and squibs were considered too expensive and hard to find to be used in most motion picture filming). He had been shot at in The Public Enemy, but during filming for Taxi!, he was almost hit.   In his opening scene, Cagney spoke fluent Yiddish, a language he had picked up during his boyhood in New York City.   The film was again praised by critics.