Immigration Through Ellis Island – Award Winning Documentary Video Film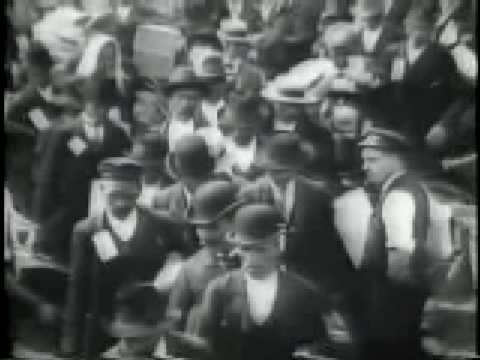 Island of Hope – Island of Tears; Charles Guggenheim; National Park Service; AVA15996VNB1 1992 (1989); From 1892-1954, Ellis Island was the port of entry for millions of European immigrants. Fascinating archival footage tells the moving story of families with dreams of opportunity, leaving their homes with what they could carry. CINE – Golden Eagle Award 1990; Columbus International Film and Video Festival – Chris Award 1990; Earthwatch; Institute Film Award – 1991; National; Educational Film & Video Festival – Bronze Apple 1991. Director: Charles Guggenheim; Producer: National Park Service; Creative Commons license: Public Domain; Credits; Uploaded by Public.Resource.Org under a joint venture with NTIS. Rebroadcast of "Island of Hope – Island of Tears" is made possible on the Internet by a grant from Joseph McFadden of Philadelphia. Between 1892 and the early 1950s, nearly 15 million people streamed through Ellis Island in search of a new life. Here are the stories of those extraordinary immigrants, largely in their own poignant words.
Coming primarily from Southern and Eastern Europe, and from widely diverse backgrounds, the émigrés represented in this remarkable volume recount their adventures with dignity, wit, and unflagging honesty. From 1892 to 1954, over twelve million immigrants entered the United States through the portal of Ellis Island, a small island in New York Harbor. Ellis Island is located in the upper bay just off the New Jersey coast, within the shadow of the Statue of Liberty. Through the years, this gateway to the new world was enlarged from its original 3.3 acres to 27.5 acres by landfill supposedly obtained from the ballast of ships, excess earth from the construction of the New York City subway system and elsewhere. Before being designated as the site of one of the first Federal immigration station by President Benjamin Harrison in 1890, Ellis Island had a varied history. The local Indian tribes had called it "Kioshk" or Gull Island. Due to its rich and abundant oyster beds and plentiful and profitable shad runs, it was known as Oyster Island for many generations during the Dutch and English colonial periods. By the time Samuel Ellis became the island's private owner in the 1770's, the island had been called Kioshk, Oyster, Dyre, Bucking and Anderson's Island.
In this way, Ellis Island developed from a sandy island that barely rose above the high tide mark, into a hanging site for pirates, a harbor fort, ammunition and ordinance depot named Fort Gibson, and finally into an immigration station. Despite the island's reputation as an "Island of Tears", the vast majority of immigrants were treated courteously and respectfully, and were free to begin their new lives in America after only a few short hours on Ellis Island. Only two percent of the arriving immigrants were excluded from entry. The two main reasons why an immigrant would be excluded were if a doctor diagnosed that the immigrant had a contagious disease that would endanger the public health or if a legal inspector thought the immigrant was likely to become a public charge or an illegal contract laborer. In 1965, President Lyndon Johnson declared Ellis Island part of the Statue of Liberty National Monument. Ellis Island was opened to the public on a limited basis between 1976 and 1984. Starting in 1984, Ellis Island underwent a major restoration, the largest historic restoration in U.S. history. The $160 million dollar project was funded by donations made to the Statue of Liberty – Ellis Island Foundation, Inc. in partnership with the National Park Service. The Main Building was reopened to the public on September 10, 1990 as the Ellis Island Immigration Museum. Today, the museum receives almost 2 million visitors annually. Creative Commons license: Public Domain