Hattie McDaniel
Scarlet and Mammy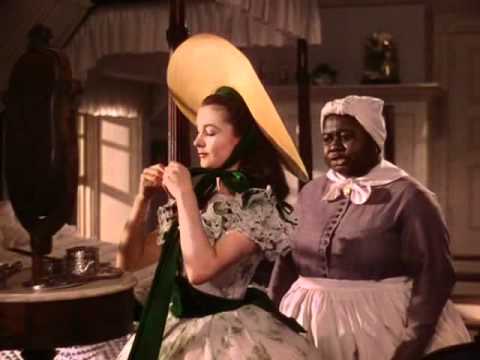 Hattie McDaniel in 1941
Hattie McDaniel (June 10, 1895 – October 26, 1952) was an American actress. McDaniel was the first African-American to win an Academy Award. She won the award for Best Supporting Actress for her role of Mammy in Gone with the Wind (1939).
In addition to having acted in many films, McDaniel was a professional singer-songwriter, comedian, stage actress, radio performer, and television star; she was the first black woman to sing on the radio in America.   Over the course of her career, McDaniel appeared in over 300 films, although she received screen credits for only about 80. She gained the respect of the African American show business community with her generosity, elegance, great beauty, and charm.
McDaniel has two stars on the Hollywood Walk of Fame in Hollywood: one for her contributions to radio at 6933 Hollywood Boulevard, and one for motion pictures at 1719 Vine Street. In 1975, she was inducted into the Black Filmmakers Hall of Fame and in 2006 became the first black Oscar winner honored with a US postage stamp.
Background and early acting career
Hattie McDaniel was born June 10, 1895, in Wichita, Kansas, to former slaves. She was the youngest of 13 children. Her father, Henry McDaniel, fought in the Civil War with the 122nd USCT and her mother, Susan Holbert, was a singer of religious music.   In 1900, the family moved to Colorado, living first in Fort Collins and then in Denver, where Hattie graduated from Denver East High School. Her brother, Sam McDaniel (1886–1962), played the butler in the 1948 Three Stooges' short film Heavenly Daze. Another acting sibling of Hattie and Sam was actress Etta McDaniel.
In addition to performing, Hattie was also a songwriter, a skill she honed while working with her brother's minstrel show. After the death of her brother Otis in 1916, the troupe began to lose money, and it wasn't until 1920 that Hattie received another big opportunity. During 1920–25, she appeared with Professor George Morrison's Melody Hounds, a touring black ensemble, and in the mid-1920s she embarked on a radio career, singing with the Melody Hounds on station KOA in Denver.   In 1926–1929 she also recorded many of her songs on Okeh Records and Paramount Records in Chicago. In total, McDaniel recorded 7 sessions; 1 in summer of 1926 for the rare Kansas City label Meritt, 4 sessions in Chicago for OKeh (late 1926-late 1927) – of the 10 sides, only 4 were issued, and 2 sessions in Chicago for Paramount (both in March, 1929).
In McDaniel's time, America was segregated in virtually every respect in terms of race.  In the South, blacks were barred by law from attending school with whites and subjected to segregation in all other public places.   Even outside the South, many restaurants and hotels refused to accept black customers. Job opportunities were limited. Custom or restrictive covenants kept blacks from living in "white" neighborhoods.   Marriage between blacks and whites was illegal in most states of the United States.   The United States military required blacks to serve in all-black regiments.   Black Americans also faced the terrorism of lynch mobs without the assurance of federal or state protection. Indeed, in 2005, the U.S. Congress issued an apology for the federal government's failure to enact lynching legislation to protect blacks in that era.
The field of entertainment emerged as a profession in which blacks were allowed to reach white and black customers. Still, however, the success of black entertainers and their ability to rise into ownership and management was limited by racial restrictions. Often, many of the same places that allowed blacks to be on stage, did not allow them to sit in the audience as patrons.   State laws allowing discrimination and requiring segregation assured that black entertainers were not allowed the same benefits and opportunities as white ones.   Black actors were cast repeatedly in menial roles and were consistently required to speak in contrived stereotypical "Negro dialects." If black actors did not know how to speak that way, they had to learn to in order to succeed in Hollywood. Movie houses often hired white dialect coaches to teach the so-called "Negro dialect."
When the stock market crashed in 1929, the only work McDaniel could find was as a washroom attendant and waitress at Club Madrid in Milwaukee. Despite the owner's reluctance to let her perform, McDaniel was eventually allowed to take the stage and became a regular.
In 1931, McDaniel made her way to Los Angeles to join her brother Sam and sisters Etta and Orlena. When she could not get film work, she took jobs as a maid or cook. Sam was working on KNX radio program called The Optimistic Do-Nut Hour, and he was able to get his sister a spot. She appeared on radio as Hi-Hat Hattie, a bossy maid who often "forgets her place." Her show became extremely popular, but her salary was so low that she had to continue working as a maid.
Her first film appearance was in The Golden West (1932), as a maid; her second was in the highly successful Mae West film I'm No Angel (1933), as one of the black maids West camped it up with backstage. She received several other uncredited film roles in the early 1930s, often singing in choruses.
In 1934, McDaniel joined the Screen Actors Guild (SAG). She began to attract attention and finally landed larger film roles that began to win her screen credits. Fox Film Corporation put her under contract to appear in The Little Colonel (1935), with Shirley Temple, Bill "Bojangles" Robinson and Lionel Barrymore.
Judge Priest (1934), directed by John Ford and starring Will Rogers, was the first film in which she played a major role. She had a leading part in the film and demonstrated her singing talent, including a duet with Rogers. McDaniel and Rogers became friends during filming.
In 1935 McDaniel had prominent roles with her performance as a slovenly maid in RKO Pictures' Alice Adams, a comic part as Jean Harlow's maid/traveling companion in MGM's China Seas, the latter her first film with Clark Gable, and as Isabella the maid in Murder by Television, with Béla Lugosi. She also appeared in the 1938 film Vivacious Lady starring by James Stewart and Ginger Rogers
She had a featured role as Queenie in Universal Pictures' 1936 version of Show Boat starring Irene Dunne, and sang a verse of Can't Help Lovin' Dat Man with Dunne, Helen Morgan, Paul Robeson, and the African-American chorus. Later in the film she and Robeson sang I Still Suits Me, a song written especially by Kern and Hammerstein for the film.
After Show Boat she had major roles in MGM's Saratoga (1937), starring Jean Harlow and Clark Gable, The Shopworn Angel (1938) with Margaret Sullavan, and The Mad Miss Manton (1938), starring Barbara Stanwyck and Henry Fonda. She had a very minor role in the Carole Lombard/Frederic March vehicle Nothing Sacred (1937), in which she appeared as the wife of a shoeshine man (Troy Brown) masquerading as a sultan.
McDaniel had befriended several of Hollywood's most popular stars, including Joan Crawford, Tallulah Bankhead, Bette Davis, Shirley Temple, Henry Fonda, Ronald Reagan, Olivia de Havilland and Clark Gable, with the last two of whom she would star in Gone with the Wind.
It was around this time that she began to be criticized by members of the black community for roles she was choosing to take and her decision to aggressively pursue the roles and not to rock the Hollywood boat. For example, The Little Colonel (1935) depicted black servants longing for a return to the Old South. Ironically, McDaniel's portrayal of Malena in RKO Pictures' Alice Adams angered white Southern audiences. She managed to steal several scenes away from the film's star, Katharine Hepburn. She would become best known for the role of the sassy and opinionated maid.
Gone with the Wind
The competition to play Mammy in Gone with the Wind (1939) had been almost as stiff as that for Scarlett O'Hara. Eleanor Roosevelt wrote to film producer David O. Selznick to ask that her own maid, Elizabeth McDuffie, be given the part.   McDaniel did not think she would be chosen, because she was known for being a comic actress. One source claims that Clark Gable recommended the role go to McDaniel; when she went to her audition dressed in an authentic maid's uniform, she won the part.
Upon hearing of the planned film adaptation, the NAACP fought hard to require the film's producer and director to delete racial epithets from the film (in particular the offensive slur "nigger") and to alter scenes that might be incendiary and that, in their view, were historically inaccurate. Of particular concern was scene from the novel in which black men attack Scarlett O'Hara and the Ku Klux Klan, which had a long history of practicing racial terrorism on black communities, is presented as the savior.   Throughout the south, black men were being lynched based on baseless allegations that they had harmed white women. That attack scene was altered and some offensive language was changed. However, another epithet, "darkey," remained in the film and the film's message with respect to slavery remained essentially the same. Consistent with the book, the film's script also referred to poor whites as "white trash," and it ascribed these words to black and white characters.
The Loew's Grand Theater on Peachtree Street in Atlanta, Georgia, was selected as the theater for the premiere of Gone with the Wind, Friday, December 15, 1939. When the date of the Atlanta premiere approached, all the black actors were barred from attending and excluded from being in the souvenir program as well as southern advertising for the film. David Selznick had attempted to bring Hattie McDaniel, but MGM advised him not to because of Georgia's segregationist laws. Clark Gable angrily threatened to boycott the Atlanta premiere unless McDaniel was allowed to attend, but McDaniel convinced him to attend anyway.
Most of Atlanta's 300,000 citizens crowded the route of the seven-mile motorcade that carried the film's other stars and executives from the airport to the Georgian Terrace Hotel, where they stayed.   While the Jim Crow laws kept McDaniel from the Atlanta premiere, she did attend the Hollywood debut on December 28, 1939. This time, upon Selznick's insistence, her picture was featured prominently in the program.
It was her role as the house slave who repeatedly scolds her owner's daughter, Scarlett O'Hara (Vivien Leigh), and scoffs at Rhett Butler(Clark Gable), that won McDaniel the 1939 Academy Award for Best Supporting Actress, making her the first black American to win an Oscar. She was also the first black American ever to be nominated. "I loved Mammy," McDaniel said when speaking to the white press about the character. "I think I understood her because my own grandmother worked on a plantation not unlike Tara."  Her role in Gone with the Wind had alarmed some whites in the Southern audience; there were complaints that in the film she had been too familiar with her white owners.   However, one author has observed that McDaniel's character is not far off from the persona of Mammy that Margaret Mitchell created in the book, that in both the film and the book the much younger Scarlett speaks to Mammy in a way that would be unacceptable for a Southern teen of that era to speak to a much older white person, and that neither the book nor the film make any hint to Mammy's own children (dead or alive), her own family (dead or alive) or her desires to have anything other than her life at Tara serving on a slave plantation.   Moreover, while she scolds the younger Scarlett, Mammy never crosses the senior white female in that household: Mrs. O'Hara.   Some critics felt that McDaniel not only accepted the roles but in her press comments actively affirmed Hollywood's stereotypical practices as appropriate, providing fuel for critics of those who fought for black civil rights.   Later, when McDaniel tried to take her "Mammy" character on a road show, black audiences did not prove receptive.
While many blacks were happy over McDaniel's personal victory, they also viewed it as bittersweet. They saw Gone With the Wind as a book that celebrated the slave system and condemned the forces that destroyed it.   For them, the unique accolade McDaniel had won suggested that only those who did not protest Hollywood's systemic racial stereotypes would find work and success there.
1940 Academy Awards
The Twelfth Academy Awards took place at the Cocoanut Grove of the Ambassador Hotel in Los Angeles. It was preceded by a banquet in the same room. Louella Parsons, an American gossip columnist, wrote about Oscar night, February 29, 1940:
"Hattie McDaniel earned that gold Oscar, by her fine performance of "Mammy" in Gone with the Wind. If you had seen her face when she walked up to the platform and took the gold trophy, you would have had the choke in your voice that all of us had when Hattie, hair trimmed with gardenias, face alight, and dress up to the queen's taste, accepted the honor in one of the finest speeches ever given on the Academy floor. ..
"Academy of Motion Picture Arts and Sciences, fellow members of the motion picture industry and honored guests: This is one of the happiest moments of my life, and I want to thank each one of you who had a part in selecting me for one of their awards, for your kindness. It has made me feel very, very humble; and I shall always hold it as a beacon for anything that I may be able to do in the future. I sincerely hope I shall always be a credit to my race and to the motion picture industry. My heart is too full to tell you just how I feel, and may I say thank you and God bless you."—Hattie McDaniel: Acceptance Speech delivered on February 29, 1940 at the 12th Annual Academy Awards