Guess Who's Coming To Dinner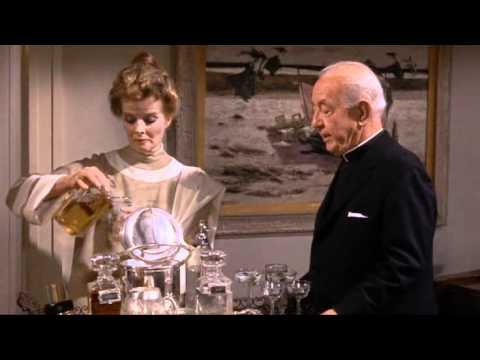 This film was made 45 years ago! The word 'Negro' was more prevalent then and, though far less used today, is not a derogatory term. As for your second observation,well that's the story, a last star vehicle for Tracey & Hepburn and a drama (not a debate) about a white, middle class couple and their different reactions to their daughters choice of husband. Tracey's realisation & final speech is the perfect ending – and he was always going to have the last word. Grancino1697
original movie poster
Guess Who's Coming to Dinner is a 1967 American drama film starring Spencer Tracy, Sidney Poitier and Katharine Hepburn, and featuring Hepburn's niece Katharine Houghton. The film contains a (then rare) positive representation of the controversial subject of interracial marriage, which historically had been illegal in most states of the United States, and was still illegal in 17 states, mostly Southern states, up until June 12 of the year of the film's release, when anti-miscegenation laws were struck down by the Supreme Court in Loving v. Virginia. The film was produced and directed by Stanley Kramer and written by William Rose. The movie's Oscar-nominated score was composed by Frank DeVol.
The film is notable for being the ninth and final on-screen pairing of Tracy and Hepburn (filming ended just 17 days before Tracy's death). Hepburn never saw the completed film; she said the memories of Tracy were too painful. The film was released in December 1967, six months after his death.
Summary
Katharine Hepburn and Spencer Tracy as Christina and Matt Drayton.
The film tells the story of Joanna "Joey" Drayton (Katharine Houghton), a young white woman who has had a whirlwind romance with Dr. John Prentice (Sidney Poitier), a young, idealistic black physician she met while in Hawaii. The plot centers on Joanna's return to her liberal upper-class American home in San Francisco, bringing her new fiancé to dinner to meet her parents (newspaper publisher Matt Drayton (Spencer Tracy), perhaps a Hearst characterization, and his wife, small art gallery owner Christina Drayton (Katharine Hepburn)).
Brought up by her parents as a liberal, Joanna finds it difficult to comprehend the behavior of her parents on meeting John. While they taught her to treat blacks and members of other racial groups as equals, they cannot accept their daughter's actions for they did not expect her to introduce to them a black man as their future son-in-law. John's parents (Roy E. Glenn, Beah Richards) fly up from Los Angeles to the Draytons' dinner but don't know that Joanna is white until they meet her. Monsignor Ryan (Cecil Kellaway), a senior Catholic priest friend of Matt, is also present at dinner and is a voice for tolerance.
The film depicts the reaction of family and friends, and the discomfort of their parents, as all try to accept the couple's choice. The film also touches on black-on-black racism when John is taken to task by his father and the household maid Tillie (Isabel Sanford) for his perceived presumption. Unbeknown to Joey, John conditions the marriage as dependent upon the approval of Matt, whose decision in turn faces a deadline dependent on John's tight airline flight schedules.
Cast
Production list
Produced by: Stanley Kramer
Associate Producer: George Glass
Directed by: Stanley Kramer
Assistant Director: Ray Gosnell
Original Screenplay by: William Rose
Photography by: Sam Leavitt
Special Effects by: Geza Gaspar
Process Photography by: Larry Butler
Production Designer: Robert Clatworthy
Set Decorator: Frank Tuttle
Music by: Frank de Vol
Sound Recorders: Charles J. Rice, Robert Martin
Film Editor: Robert C. Jones
Costumes by: Joe King
Wardrobe Supervisor: Jean Louis
Song "Glory of Love" by: Billy Hill, sung by Jacqueline Fontaine
According to Kramer, he and Rose intentionally structured the film to debunk ethnic stereotypes; the young doctor, a typical role for the young Sidney Poitier, was purposely created idealistically perfect, so that the only possible objection to his marrying Joanna would be his race, or the fact she had only known him for ten days: the character has thus graduated from a top school, begun innovative medical initiatives in Africa, refused to have premarital sex with his fiancée despite her willingness, and leaves money in an open container on his future father-in-law's desk in payment for a long distance phone call he has made.
Kramer and Rose composed the film script in five weeks.
Kramer stated later that the principal actors believed so strongly in the premise that they agreed to act in the project even before seeing the script. Production had been set for January 1967 and ended on May 26, 1967.  Spencer Tracy was dying and insurance companies refused to cover him; Kramer and Hepburn put their salaries in escrow so that if he died, filming could be completed with another actor. According to Kramer, "'You're never examined for insurance until a few weeks before a picture starts. [Even] with all his drinking and ailments, Tracy always qualified for insurance before, so nobody thought it would be a problem in this case. But it was. We couldn't get insurance for Spence. The situation looked desperate. So then we figured out a way of handling it. Kate and I put up our own salaries to compensate for the lack of an insurance company for Spence. And we were allowed to proceed.'"
The filming schedule was altered to accommodate Tracy's failing health.   All of Tracy's scenes and shots were filmed between 9:00AM and noon of each day in order to give him adequate time to rest.   For example, most of Tracy's dialogue scenes were filmed in a such a way that during close-ups on other characters, a stand-in was substituted for him.
Tracy's failing health was more serious than most people are aware of. According to Sidney Poitier: "The illness of Spencer dominated everything. I knew his health was very poor and many of the people who knew what the situation was didn't believe we'd finish the film, that is, that Tracy would be able to finish the film. Those of us who were close knew it was worse than they thought. Kate brought him to and from the set. She worked with him on his lines. She made sure with [Stanley] Kramer that his hours were right for what he could do, and what he couldn't do was different each day. There were days when he couldn't do anything. There were days when he was great, and I got the chance to know what it was like working with Tracy."
A bust of Spencer Tracy sculpted by Hepburn herself was used as a prop, on the bookshelf behind the desk where Sidney Poitier makes his phone call. Tracy died two weeks after he completed his work on the film.
Katharine Hepburn significantly helped cast her niece, Katharine Houghton, for the role of Joey Drayton. Concerning the matter, Hepburn stated: "There was a lovely part for Kathy [Houghton], my niece […] She would play Spencer's and my daughter. I loved that. She's beautiful and she definitely had a family resemblance. It was my idea."
According to Hepburn, the role of Joey Drayton would be one of Houghton's first major roles as a young actress. "The part of my daughter," Kate said, "was a difficult one. A young unknown actress needs more opportunity to win the sympathy of the audience. Otherwise, too much has to depend on her youth, innocence, and beauty. She had one good speech to win the audience, but it was cut. Instead she only talks with her father about the differences between the principles he taught her and the way he's behaving."
Sidney Poitier frequently found himself star-struck and as a result, a bit tongue-tied, in the presence of Hepburn and Tracy, whom he considered to be "giants" as far as acting is concerned.   However, Poitier found a way to overcome his nerves. "When I went to play a scene with Tracy and Hepburn, I couldn't remember a word. Finally Stanley Kramer said to me, 'What are we going to do?' I said, 'Stanley, send those two people home. I will play the scene against two empty chairs. I don't want them here because I can't handle that kind of company.' He sent them home. I played the scene in close-up against two empty chairs as the dialogue coach read Mr. Tracy's and Miss Hepburn's lines from off camera."
Given the tense nature of racial tension in America during the time of the film's production, Poitier felt he was "under close observation by both" Tracy and Hepburn during their first dinner meetings prior to production.   But he swiftly won them over. Due to Tracy and Hepburn's close history with Kramer, Poitier cited that Hepburn and Tracy came to bear on him "the kind of respect they had for Kramer, and they had to say to themselves (and I'm sure they did), This kid has to be pretty okay, because Stanley is nuts about working with him."