Errol Flynn
Errol Flynn & Mulholland Farm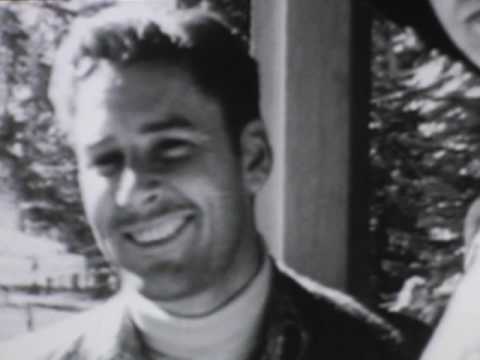 Video about Errol Flynn and Mulholland Farm, his famous home in the Hollywood Hills that was later owned by gospel singer, songwriter, and radio star Stuart Hamblen, and by recording star Rick Nelson.
Errol Leslie Thomson Flynn 1940
Errol Leslie Thomson Flynn (20 June 1909 – 14 October 1959) was an Australian-born American actor. He was known for his romantic swashbuckler roles in Hollywood films and his playboy lifestyle.
Early life
Errol Flynn was born in Hobart, Tasmania, where his father, Theodore Thomson Flynn, was a lecturer (1909) and later professor (1911) of biology at the University of Tasmania. Flynn was born at the Queen Alexandra Hospital in Battery Point. His mother was born Lily Mary Young, but dropped the first names Lily Mary shortly after she was married and changed her name to Marelle.   Flynn described his mother's family as "seafaring folk" and this appears to be where his lifelong interest in boats and the sea originated. Despite Flynn's claims, the evidence indicates that he was not descended from any of the Bounty mutineers.   Married at St John's Church of England, Balmain North, Sydney, New South Wales, on 23 January 1909, both of his parents were native-born Australians of Irish, English, and Scottish descent, with convict links to Tasmania long before Flynn's birth.   Flynn, living at Mclean Avenue Chatswood, Sydney in 1926, attended Sydney Church of England Grammar School (Shore School)[11] where he was the classmate of future Australian Prime Minister, John Gorton.   He was expelled for fighting and, allegedly, having sex with a school laundress.   He was also expelled from several other schools he had attended in Tasmania. At the age of 20 he moved to New Guinea where he bought a tobacco plantation, a business which failed. A copper mining venture in the hills near the Laloki Valley, behind the present national capital, Port Moresby, also failed.
In the early 1930s, Flynn left for England and, in 1933, snagged an acting job with the Northampton repertory company at the town's Royal Theatre, where he worked for seven months. He also performed at the 1934 Malvern Festival and in Glasgow and London's West End.
In 1933, he starred in the Australian film In the Wake of the Bounty, directed by Charles Chauvel, and in 1934 appeared in Murder at Monte Carlo, produced at the Warner Bros. Teddington Studios, England. This latter film is now considered a lost film.   During the filming of Murder at Monte Carlo, Flynn was discovered by a Warner Brothers executive, signed to a contract and emigrated toAmerica as a contract actor. He became a naturalised citizen of the United States in 1942, eight months after America entered World War II.
Acting career
Flynn was an overnight sensation in his first starring role, Captain Blood (1935). Quickly typecast as a swashbuckler, he followed it with The Charge of the Light Brigade (1936). After his appearance as Miles Hendon in The Prince and the Pauper (1937), he was cast in his most celebrated role as Robin Hood in The Adventures of Robin Hood(1938), his first film in Technicolor. He went on to appear in The Dawn Patrol (1938) with David Niven, Dodge City (1939), The Sea Hawk (1940) and Adventures of Don Juan(1948).
Working throughout his career with a cross section of Hollywood's best fight arrangers, Flynn became noted for his fast-paced sword fights as seen in The Adventures of Robin Hood, The Sea Hawk and Captain Blood.
Flynn co-starred with Olivia de Havilland in eight films: Captain Blood (1935), The Charge of the Light Brigade (1936), The Adventures of Robin Hood (1938), Four's a Crowd (1938), Dodge City (1939), The Private Lives of Elizabeth and Essex (1939), Santa Fe Trail (1940), and They Died with Their Boots On (1941).
While Flynn acknowledged his attraction to de Havilland, film historian Rudy Behlmer's assertions that they were romantically involved during the filming of Robin Hood (see the Special Edition of Robin Hood on DVD, 2003) have been disputed by de Havilland. In an interview for Turner Classic Movies, she said that their relationship was platonic, mostly because Flynn was already married to Lili Damita.
During the shooting of The Private Lives of Elizabeth and Essex (1939), Flynn and co-star Bette Davis quarrelled off-screen, causing Davis to allegedly strike him harder than necessary while filming a scene. Although their relationship was always strained, Warner Bros. co-starred them twice. Their off-screen relationship was later resolved. A contract was even drawn up to lend them out for the roles of Rhett Butler and Scarlett O'Hara in Gone with the Wind, but that prospect failed to materialise.
Flynn was a member of the Hollywood Cricket Club with David Niven. His suave, debonair, and devil-may-care attitude toward both ladies and life has been immortalised in the English language by author Benjamin S. Johnson as, "Errolesque," in his treatise on the subject, An Errolesque Philosophy on Life.
As Capt. Nelson in Objective, Burma! (1945).
When Flynn became a naturalised American citizen on 15 August 1942, he also became eligible for the military draft, as the United States had entered World War II eight months earlier. Grateful to the country that had given him fame and wealth, Flynn attempted to join every branch of the armed services. But he had several health problems. His heart was enlarged, with a murmur, and he'd already suffered at least one heart attack. That was not all: he had recurrent malaria (contracted in New Guinea), chronic back pain (for which he self-medicated with morphine and later, with heroin), lingering chronic tuberculosis, and numerous venereal diseases. Flynn, famous for his athletic roles and promoted as a paragon of physical beauty, was classified 4-F – unqualified for military service because of not meeting the minimum physical fitness standards.
This created a public image problem for both Flynn and Warner Brothers. Flynn was often criticised for his failure to enlist while continuing to play war heroes in films. The studios' failure to counter the criticism was due to a desire to hide the state of Flynn's health.
By the 1950s, Flynn had become a parody of himself. Heavy alcohol and drug abuse left him prematurely aged and bloated, but he won acclaim as a drunken ne'er-do-well in The Sun Also Rises (1957), and as his idol John Barrymore in Too Much, Too Soon(1958). Flynn starred in a 1956 anthology series The Errol Flynn Theatre that was filmed in England, where he presented the episodes and sometimes appeared in them. About this time he also guest starred on NBC's comedy/variety show, The Martha Raye Show.
Flynn and Beverly Aadland met with Stanley Kubrick to discuss appearing together in Lolita.
Flynn went to Cuba in late 1958 to meet with the rebel leader Fidel Castro. Flynn was a great supporter of Castro and narrated a short movie titled Cuban Story: The Truth About Fidel Castro Revolution, one of his last works as an actor.