Dorothy Dandridge
Dorothy Dandridge
Biography of another of my favorite ladies, actress Dorothy Dandridge.

Dorothy Dandridge as "Mahia" in the trailer from the M-G-M thriller The Decks Ran Red
Dorothy Jean Dandridge (November 9, 1922 – September 8, 1965) was an Americanactress and popular singer, and was the first African-American to be nominated for anAcademy Award for Best Actress.   She performed as a vocalist in venues such as the Cotton Club and the Apollo Theater.
After several minor bit parts in films, Dandridge landed her first noted film role inTarzan's Peril (starring Lex Barker), in 1951. Dandridge won her first starring role in 1953, playing a teacher in a low-budget film with a nearly all-black cast, Bright Road, released by Metro-Goldwyn-Mayer.
In 1954, she was nominated for an Academy Award for Best Actress and a BAFTA Award for Best Actress in a Leading Role for Carmen Jones, and in 1959 she was nominated for a Golden Globe Award for Best Actress in a Motion Picture Musical or Comedy for Porgy and Bess. In 1999, she was the subject of the HBO biopicIntroducing Dorothy Dandridge, starring Halle Berry as Dandridge. She has been recognized on the Hollywood Walk of Fame.
Dandridge was married and divorced twice, first to dancer and entertainer Harold Nicholas (the father of her daughter, Harolyn Suzanne) and then to Jack Denison. Dandridge died of an accidental drug overdose at age 42.
Early life
Dorothy Dandridge was born on November 9, 1922 in Cleveland, Ohio, to Cyril Dandridge (October 25, 1895 – July 9, 1989), a cabinetmaker and minister, and to Ruby Dandridge (née Butler), an aspiring entertainer. Dandridge's parents separated shortly before her birth   Ruby Dandridge soon created an act for her two young daughters, Vivian and Dorothy, under the name of "The Wonder Children." The daughters toured the Southern United States for five years while Ruby worked and performed in Cleveland. During this time, they toured almost non-stop and rarely attended school.
At the onset of the Great Depression, work virtually dried up for the Dandridges, as it did for many of the Chitlin' circuit performers. Ruby Dandridge moved to Hollywood, California, where she found steady work on radio and film in small parts as a domestic servant. "The Wonder Children" were renamed "The Dandridge Sisters" and booked into such venues as the Cotton Club and the Apollo Theater in Harlem, New York City. Dorothy Dandridge and her older sister, Vivian, starred in an act called The Wonder Kids. In 1937, when Dorothy was fifteen years old, she, her sister, and another girl formed a group called The Dandridge Sisters. In 1954, Dorothy's big break finally came with the film Carmen Jones. Carmen Jones is based on an opera. Dorothy was nominated for an Academy Award for her role. Dorothy continued acting in several other movies.
Career – Early career
Dandridge's first screen appearance was a bit part in an Our Gang comedy, Teacher's Beau (1935).   In 1937, she appeared as one of the many singers in the Marx Brothers' feature film A Day at the Races.   The following year Dandridge, her sister Vivian would make a brief appearance in Going Places. In 1940, Dandridge played a murderer in the race film Four Shall Die — her first credited film role. Though the part was a supporting role and the film was somewhat of a success, Dandridge struggled to find good film roles.
The following year, Dandridge was cast opposite John Wayne in Lady From Louisiana (1941), playing the small part of Felice. That same year she teamed with her future husband Harold Nicholas to film a brief role in Sun Valley Serenade. Dandridge, Nicholas, and Nicholas's brother Fayard Nicholas, appeared in a part described as "speciality act". In 1942, Dandridge won another supporting role as Princess Malimi in Drums of the Congo. In her next few films she would play mainly in bit parts, but she managed to get a small and yet good role in Hit Parade of 1943 (1943). In 1944, Dandridge would play two uncredited roles in Since You Went Away and Atlantic City. In the following year of 1945, she would play again a small role in the musical Pillow to Post. Two years later she appeared in a tiny role in Ebony Parade (1947). By the later months 1947, Dandridge's luck for winning small roles in films had disappeared. She would only rarely appear in nightclubs and wouldn't make any films.
Dorothy Dandridge and Nicholas Brothers Chattanooga Choo Choo 1941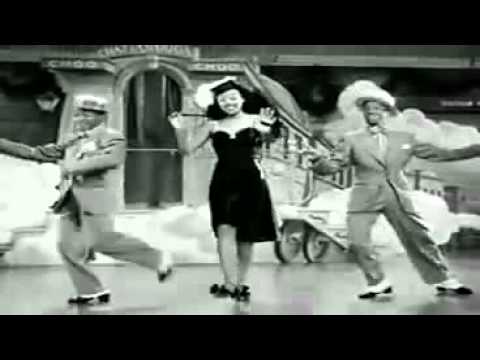 In 1951, Dandridge was cast as Melmendi, Queen of the Ashuba, in her comeback film, Tarzan's Peril, starring Lex Barker as Tarzan and Virginia Huston as Jane. Dandridge's role was somewhat minor, but she would be noticed by many. One night while at a party, she was introduced to music manager Earl Mills. Mills had agreed to get Dandridge a career started as a singer, but Dandridge preferred to focus on the motion picture industry. Despite this disagreement, Dandridge signed Mills as her agent. She would next appear as Ann Carpenter in The Harlem Globetrotters (1951). In this film Dandridge really only makes a co-starring appearance, but receives second billing.
After the release of The Harlem Globetrotters, Dandridge's film career stalled again. Mills then arranged for Dandridge to make her first appearance at the Mocambo. She continued to perform in nightclubs around the country through most of 1952.
Bright Road
In December 1952, a Metro-Goldwyn-Mayer studio agent noticed Dandridge performing in the Mocambo, and cast her in her first starring role: as Jane Richards in Bright Road, co-starring Philip Hepburn and Harry Belafonte.
The film tells the story of a teacher who reaches out to a troubled student during his time of need. The film contains nearly an all-black cast: a few minor white characters are seen. Bright Road became a box-office flop, but Dandridge was at the top of her game as a nightclub performer.
Bright Road was to showcase Dandridge as a serious leading actress, but the film's terrible reception didn't help matters of her being taken seriously; it hurt them more than she knew. The feature was named "the lowest box-office gross of the South".
After Bright Road, Dandridge would start performing again in nightclubs; and, eventually she won a supporting role as herself in the musical-drama film Remains to Be Seen.
Carmen Jones
In 1954, Dandridge signed a three movie deal with 20th Century Fox. Soon after director and writer Otto Preminger cast Dandridge along with Harry Belafonte, Pearl Bailey, Brock Peters, Diahann Carroll, Madame Sul-Te-Wan (uncredited), Olga James, and Joe Adams, in his all-black production of Carmen Jones.   However, Dandridge's singing voice was dubbed by opera singer Marilyn Horne.
Upon release in 1954, Carmen Jones grossed $60,000 during its first week and $47,000 in its second week. The film received favorable reviews, and Dandridge was nominated for an Academy Award for Best Actress, becoming only the third African American to receive a nomination in any Academy Award category (after Hattie McDaniel and Ethel Waters) but the first African-American to be nominated for best actress. Grace Kelly won the award for her performance in The Country Girl. At the awards ceremony, Dandridge presented the Academy Award for Film Editing to Gene Milford for On the Waterfront.
In 1955, 20th Century Fox selected Dandridge to play the supporting role of Tuptim in the film version of the Broadway hit, The King and I, starring Deborah Kerr and Yul Brynner. The character was a slave, which made Dorothy decline the offer. After some convincing from Fox chief, Darryl F. Zanuck, that the role was a good one, Dandridge agreed to take the part. Otto Preminger, however, told her the role was too small, and that she would be better off to wait for a leading role in a big-budget motion picture: Dandridge would again decline the role of Tuptim.
A few months before the offer of The King and I, Dandridge was asked to play Sandra Roberts in The Lieutenant Wore Skirts, a romantic–comedy film starring Tom Ewell and Sheree North. She turned this role down for the same reasons that she would turn down The King and I, in future months—it was too small. Had Dandridge agreed to make The Lieutenant Wore Skirts, her character would have been a parody of Marilyn Monroe's character in Fox's The Seven Year Itch (1955). Dorothy was not a fan of parodies, which was another reason she turned the part down. Not making these two films started the slow, but steady, decline of Dandridge's film career.