Clark Gable
Clark Gable: Gone With the Wind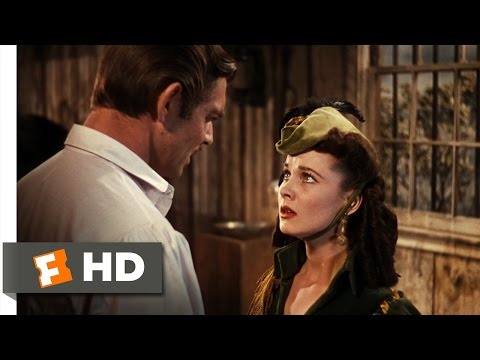 Rhett (Clark Gable) reveals that he can see through Scarlett's (Vivien Leigh) act and that she and her family are in dire straits.
William Clark Gable (February 1, 1901 – November 16, 1960), known as Clark Gable, was an American film actor most famous for his role as Rhett Butler in the 1939 Civil War epic film Gone with the Wind, in which he starred with Vivien Leigh. His performance earned him his third nomination for the Academy Award for Best Actor; he won for It Happened One Night (1934) and was also nominated for Mutiny on the Bounty (1935). Later movies included Run Silent, Run Deep, a submarine war film, and his final film, The Misfits (1961), which paired Gable with Marilyn Monroe, also in her last screen appearance. In 1999, the American Film Institute named Gable seventh among the greatest male stars of all time.   He was nicknamed 'The King of Hollywood.'
Gable appeared opposite some of the most popular actresses of the time. Joan Crawford, who was his favorite actress to work with, was partnered with Gable in eight films, Myrna Loy worked with him seven times, and he was paired with Jean Harlow in six productions. He also starred with Lana Turner in four features, and with Norma Shearer and Ava Gardner in three each. In the mid-1930s, Gable was often named the top male movie star, and second only to the top box-office draw of all, Shirley Temple.
Life and career
Clark Gable was born in Cadiz, Ohio to William Henry "Will" Gable, an oil-well driller, and his wife Adeline Hershelman. He was named William after his father, but even in childhood he was almost always called Clark.   He was mistakenly listed as a female on his birth certificate. Gable's ancestry included Pennsylvania Dutch Rhinelanders and Bavarians.   When he was six months old, his mother had him baptized as a Catholic. She died when he was ten months old, possibly from a brain tumor. Gable's father refused to raise him as a Catholic, provoking enmity with his mother's side of the family. The dispute was resolved when his father's family agreed to allow Gable to spend time with his uncle, Charles Hershelman, and his wife on their farm in Vernon, Pennsylvania.
In April 1903, Gable's father married Jennie Dunlap, whose family came from the small neighboring town of Hopedale. Gable was a tall, shy child with a loud voice. After his father purchased some land and built a house, the new family settled in. Jennie played the piano and gave her stepson lessons at home; later he took up brass instruments. She raised Gable to be well-dressed and well-groomed; he stood out from the other kids. Gable was very mechanically inclined and loved to strip down and repair cars with his father. At thirteen, he was the only boy in the men's town band. Even though his father insisted on Gable doing "manly" things, like hunting and hard physical work, Gable loved language. Among trusted company, he would recite Shakespeare, particularly the sonnets. Will Gable did agree to buy a seventy-two volume set of The World's Greatest Literature to improve his son's education, but claimed he never saw his son use it.   In 1917, when Gable was in high school, his father had financial difficulties. Will decided to settle his debts and try his hand at farming and the family moved to Ravenna, just outside of Akron. Gable had trouble settling down in the area. Despite his father's insistence that he work the farm, Gable soon left to work in Akron's B.F. Goodrich tire factory.
At seventeen, Gable was inspired to be an actor after seeing the play The Bird of Paradise, but he was not able to make a real start until he turned 21 and inherited some money. By then, his stepmother Jennie had died and his father moved to Tulsa to go back to the oil business. He toured in stock companies as well as working the oil fields and as a horse manager. Gable found work with several second-class theater companies and thus made his way across the Midwest to Portland, Oregon, where he then took work as a necktie salesman in the Meier & Frank department store. While there, he met Laura Hope Crews, a stage and film actress, who encouraged him to return to the stage and into another theater company. Many years later, Crews would play "Aunt Pittypat" in Gable's most famous film, Gone With the Wind (1939). His acting coach was a theater manager in Portland named Josephine Dillon, who was 17 years his senior. She paid to have his teeth repaired and his hair styled. She guided him in building up his chronically undernourished body, and taught him better body control and posture. She spent considerable time training his naturally high-pitched voice, which Gable slowly managed to lower, and to gain better resonance and tone. As his speech habits improved, Gable's facial expressions became more natural and convincing. After the long period of rigorous training, Dillon eventually considered him ready to attempt a film career.[9]
Stage and silent films
In 1924, with Dillon's financial aid, the two went to Hollywood, where she became his manager—and first wife. He changed his stage name from W. C. Gable to Clark Gable. He found work as an extra in such silent films as Erich von Stroheim's The Merry Widow (1925), The Plastic Age (1925), which starred Clara Bow, Forbidden Paradise (1924) starring Pola Negri, plus a series of two-reel comedies called The Pacemakers. By coincidence he appeared as an extra in Fox's The Johnstown Flood (1926) and also appearing as an extra in the film was 17 year old Carole Lombard but they were not in the same scene and Lombard was little more than a teenager. Gable also appeared as a bit player in a series of shorts. However, he was not offered any major roles and so he returned to the stage. He became lifelong friends with Lionel Barrymore, who in spite of his bawling Gable out for amateurish acting initially, urged Gable to pursue a career on stage.   During the 1927–28 theater season, Gable acted with the Laskin Brothers Stock Company in Houston, where he played many roles, gained considerable experience and became a local matinee idol. Gable then moved to New York and Dillon sought work for him on Broadway. He received good reviews in Machinal; "He's young, vigorous and brutally masculine", wrote the critic at the Morning Telegraph.   The start of the Great Depression and the beginning of talking pictures caused a cancellation of many plays in the 1929–30 season and acting work became harder to get.
Early successes
In 1930, after his impressive appearance as the seething and desperate character Killer Mears in the Los Angeles stage production of The Last Mile, Gable was offered a contract with MGM. His first role in a sound picture was as the unshaven villain in a low-budget William Boydwestern called The Painted Desert (1931). He received a lot of fan mail as a result of his powerful voice and appearance; the studio took notice.
In 1930, Gable and Josephine Dillon were divorced. A few days later, he married Texas socialite Maria Franklin Prentiss Lucas Langham, nicknamed "Ria". After moving to California, they were married again in 1931, possibly due to differences in state legal requirements.
With Jean Harlow in The Secret Six
"His ears are too big and he looks like an ape", said Warner Bros. executive Darryl F. Zanuckabout Clark Gable after testing him for the lead in Warner's gangster drama Little Caesar(1931).   The same year, in Night Nurse, Gable played a villainous chauffeur who was gradually starving two adorable little girls to death, then knocked Barbara Stanwyck's character unconscious with his fist, a supporting role originally slated for James Cagney until the release of The Public Enemy abruptly made Cagney a leading man. After several failed screen tests for Barrymore and Zanuck, Gable was signed in 1930 by MGM's Irving Thalberg. He became a client of well-connected agent Minna Wallis, sister of producer Hal Wallis and very close friend of Norma Shearer. Gable's timing in arriving in Hollywood was excellent, as MGM was looking to expand its stable of male stars and he fitted the bill. Gable first worked mainly in supporting roles, often as the villain. He made two pictures in 1931 with Wallace Beery, a minor role in The Secret Six, then with his part increasing in size to almost match Beery's in the naval aviation film Hell Divers. MGM's publicity manager Howard Strickland developed Gable's studio image, playing up his he-man experiences and his 'lumberjack in evening clothes' persona.
To bolster his rocketing popularity, MGM frequently paired him with well-established female stars.  Joan Crawford asked for him as her co-star in Dance, Fools, Dance (1931). He built his fame and public visibility in such movies as A Free Soul (1931), in which he played a gangster who shoved the character played by Norma Shearer (Gable never played a supporting role again). The Hollywood Reporter wrote "A star in the making has been made, one that, to our reckoning, will outdraw every other star… Never have we seen audiences work themselves into such enthusiasm as when Clark Gable walks on the screen."   He followed that with Susan Lenox (Her Fall and Rise) (1931) with Greta Garbo, and Possessed (1931), in which he and Crawford (then married to Douglas Fairbanks, Jr.) steamed up the screen.  Adela Rogers St. John later dubbed Gable and Crawford's real-life relationship as "the affair that nearly burned Hollywood down." Louis B. Mayer threatened to terminate both their contracts, and for a while they kept apart. Gable shifted his attentions to Marion Davies. On the other hand, Gable and Garbo disliked each other. She thought he was a wooden actor while he considered her a snob.
Rising star
with Mary Astor in Red Dust (1932)
Gable was considered for the role of Tarzan but lost out to Johnny Weissmuller's better physique and superior swimming prowess. However Gable's unshaven lovemaking with braless Jean Harlowin Red Dust (1932) soon made him MGM's most important male star. After the hit Hold Your Man(1933), MGM recognized the goldmine of the Gable-Harlow pairing, putting them in two more films,China Seas (1935; with Gable and Harlow billed above Wallace Beery) and Wife vs. Secretary(1936). An enormously popular combination, on-screen and off-screen, Gable and Jean Harlow made six films together, the most notable being Red Dust (1932) and Saratoga (1937). Harlow died during production of Saratoga. Ninety percent completed, the remaining scenes were filmed with long shots or the use of doubles like Mary Dees; Gable would say that he felt as if he was "in the arms of a ghost."
According to legend, Gable was lent to Columbia Pictures, then considered a second-rate operation, as punishment for refusing roles; however, this has been refuted by more recent biographies. MGM did not have a project ready for Gable and was paying him $2000 per week, under his contract, to do nothing. Studio head Louis B. Mayer lent him to Columbia for $2500 per week, making a $500 per week profit.
Gable was not the first choice to play the lead role of Peter Warne in It Happened One Night(1934). Robert Montgomery was originally offered the role, but he felt that the script was poor.   Filming began in a tense atmosphere,[4] but both Gable and Frank Capra enjoyed making the movie, although Colbert reportedly did not. Gable and Colbert won the Academy Award for Best Actor and Best Actress for their performances in the film and the movie itself won the Academy Award for Best Picture. He returned to MGM a bigger star than ever.
As Fletcher Christian in the trailer for Mutiny on the Bounty (1935)
The unpublished memoirs of animator Friz Freleng mention that this was one of his favorite films. It has been claimed that it helped inspire the cartoon character Bugs Bunny. Four things in the film may have coalesced to create Bugs: the personality of a minor character, Oscar Shapely and his penchant for referring to Gable's character as "Doc", an imaginary character named "Bugs Dooley" that Gable's character uses to frighten Shapely, and most of all, a scene in which Clark Gable eats carrots while talking quickly with his mouth full, as Bugs does.
Gable also earned an Academy Award nomination when he portrayed Fletcher Christian in 1935's Mutiny on the Bounty.
Gone with the Wind
Despite his reluctance to play the role, Gable is best known for his performance in Gone with the Wind (1939), which earned him an Academy Award nomination for Best Actor. Carole Lombard may have been the first to suggest that he play Rhett Butler (and she play Scarlett) when she bought him a copy of the bestseller, which he refused to read.
As Rhett Butler in the trailer for Gone with the Wind (1939)
Butler's last line in Gone with the Wind, "Frankly, my dear, I don't give a damn", is one of the most famous lines in movie industry history.
Gable was an almost immediate favorite for the role of Rhett with both the public and producerDavid O. Selznick. But since Selznick had no male stars under long-term contracts, he needed to go through the process of negotiating to borrow an actor from another studio. Gary Cooperwas Selznick's first choice.   When Cooper turned down the role of Butler, he was quoted as saying, "Gone With the Wind is going to be the biggest flop in Hollywood history. I'm glad it'll be Clark Gable who's falling flat on his nose, not me."   By then, Selznick had become determined to hire Gable, and set about finding a way to borrow him from Metro-Goldwyn-Mayer. Gable was wary of potentially disappointing an audience that had decided that no one else could play the part. He later conceded, "I think I know now how a fly must react after being caught in a spider's web."   Gone with the Wind was Gable's first Technicolor film. Also appearing in Gone with The Wind in the role of "Aunt Pittypat" was Laura Hope Crews who had coaxed Gable back into the theater from Portland.
By all accounts, Gable got along well with his co-stars during filming.   Gable was great friends with actress Hattie McDaniel, and he even slipped her a real alcoholic drink during the scene they were supposed to be celebrating the birth of Scarlett and Rhett's daughter. Gable tried to boycott the premier of Gone with the Wind in Atlanta, Georgia, because the African-American McDaniel was not permitted to attend. He reportedly only went after she pleaded with him to go. Gable remained friends with McDaniel, and he always attended her Hollywood parties, especially when she was raising funds during World War II.
Gable did not want to shed tears for the scene after Bonnie's death. Olivia de Havilland made him cry, later commenting, "… Oh, he would not do it. He would not! Victor (Fleming) tried everything with him. He tried to attack him on a professional level. We had done it without him weeping several times and then we had one last try. I said, "You can do it, I know you can do it and you will be wonderful …" Well, by heaven, just before the cameras rolled, you could see the tears come up at his eyes and he played the scene unforgettably well. He put his whole heart into it."
Decades later, Gable said that whenever his career would start to fade, a re-release of Gone with the Wind would soon revive his popularity, and he continued as a top leading actor for the rest of his life. Thanks in part to MGM's dominance in balloting, Gable was the lead actor in three films that won the Academy Award for Best Picture between 1934 and 1939. Only Dustin Hoffman has subsequently enjoyed a similar trifecta. Gone with the Wind was given theatrical re-releases in 1947, 1954, 1961, 1967 (in a widescreen version), 1971, 1989, and 1998.
Marriage to Carole Lombard
With Carole Lombard after their honeymoon, 1939
Gable's marriage in 1939 to his third wife, actress Carole Lombard (1908–1942), was the happiest period of his personal life. They met while filming 1932's No Man of Her Own, when Lombard was still married to actor William Powell, but their romance did not take off until 1936. They became reacquainted at a party and soon were inseparable, cited in fan magazines and tabloids as an official couple. Gable thrived being around Lombard's youthful, charming, and frank personality, once stating, "You can trust that little screwball with your life or your hopes or your weaknesses, and she wouldn't even know how to think about letting you down."   Lombard, for her part, seemed to gain personal stability and a contented home life that she had previously lacked. She taught herself how to hunt and fish and accompanied Gable on trips with his hunting buddies.
But Gable, who was still legally married, prolonged a lengthy and expensive divorce from his second wife Ria Langham. His salary from Gone with the Wind enabled him to reach a divorce settlement with Langham, however, on March 7, 1939. On March 29, during a production break onGone with the Wind, Gable and Lombard were married in Kingman, Arizona. They purchased a ranch previously owned by director Raoul Walsh in Encino, California and made it their home. They raised chickens, horses, and had a menagerie of cats and dogs.
On January 16, 1942, Lombard was a passenger on Trans-World Airlines Flight 3 with her mother and press agent Otto Winkler. She had just finished her 57th movie, To Be or Not to Be, and was on her way home from a successful war bond selling tour when the flight's DC-3 airliner crashed into a mountain near Las Vegas, Nevada, killing all 22 passengers aboard, including 15 servicemen en route to training in California. Gable flew to the crash site to claim the bodies of his wife, mother-in-law, and Winkler, who had been the best man at Gable and Lombard's wedding. Lombard was declared to be the first war-related American female casualty of World War II, and Gable received a personal condolence note from President Roosevelt. The Civil Aeronautics Board investigation into the crash concluded that "pilot error" was its cause.
Gable returned to his and Lombard's Encino ranch and carried out her funeral wishes as she had requested in her will. A month later he returned to the studio to work with Lana Turner in the movie Somewhere I'll Find You. Having lost twenty pounds since the tragedy, it was evident that Gable was emotionally and physically devastated by the tragedy, but Turner stated that Gable remained the professional for the duration of filming. He would act in 27 more films and remarried twice more. "But he was never the same," said Esther Williams. "His heart sank a bit."